By Princes Elaine Y. Espongja, BA ELS-4, OJT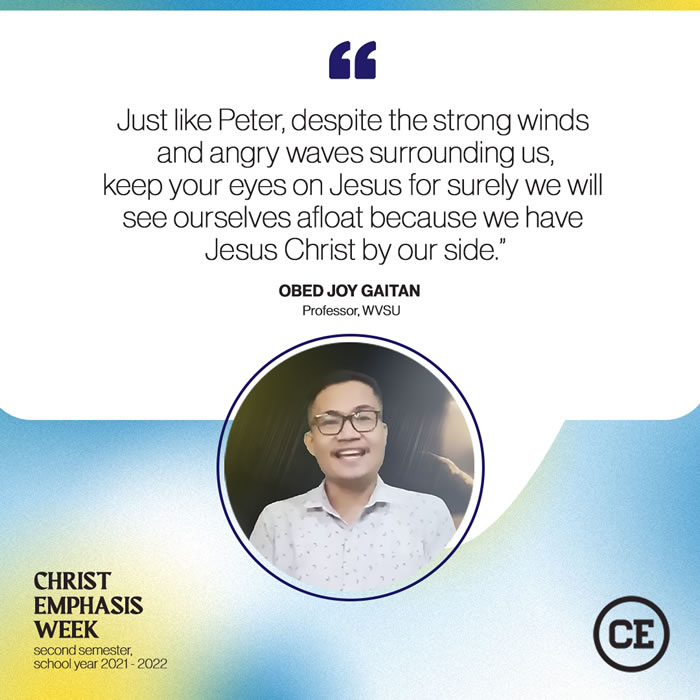 On April 28 – May 7, 2022, the CEW was celebrated by a series of convocations from different departments and colleges. This semester's theme for CEW is "In the Eye of the storm" is inspired from the texts of the book of Isaiah 26:3 and 41:10.
Isaiah 26:3 reads "You will keep him in perfect peace, whose mind is stayed on you: because he trusts in you." The Lord says; "So do not fear, for I am with you; do not be dismayed, for I am your God. I will strengthen you and help you; I will uphold you with my righteous right hand." – Isaiah 41:10.
The celebration commenced with the Junior High School convocation and was opened by CPU President Dr. Teodoro C. Robles with a resonating message of peace and comfort. In his message; "Our peace is in Jesus Christ, our Lord and Savior. In the midst of all the chaos we have the perfect peace in Christ, Jesus. We worship together as a university anchored on Christ's love and praise as one community of believers on the real Christ."
The first speaker for this CEW is Mr. Obed Joy Gaitan, College Professor, West Visayas State University. Where he emphasized that despite the devastating calamities that may shake our faith in the Lord, we are still able to find peace in Him as stated in the book Isaiah 41:10. He ended his note by reminding us that, "We can experience peace when we put our trust in God." He also said that "whenever we experience the storms in life or challenged by difficulties brought by the demands of academic requirements, mental health, relationship of family, friends, and significant others, we should learn to find our way in the eye of the storm which is Jesus Christ."
Other CEW speakers were Pastor Jemuel Harder, Pastor Amor Aurelio Alvarez, and Pastor Justine Mije.
Gloriously finishing this semester's CEW by the convocation of the CPU Kindergarten and Elementary, as they presented a short skit to remind us that Jesus encourages us in tough times so that we could encourage others, and to never forget to share goodness to others who are in need.