By Cyrus A. Natividad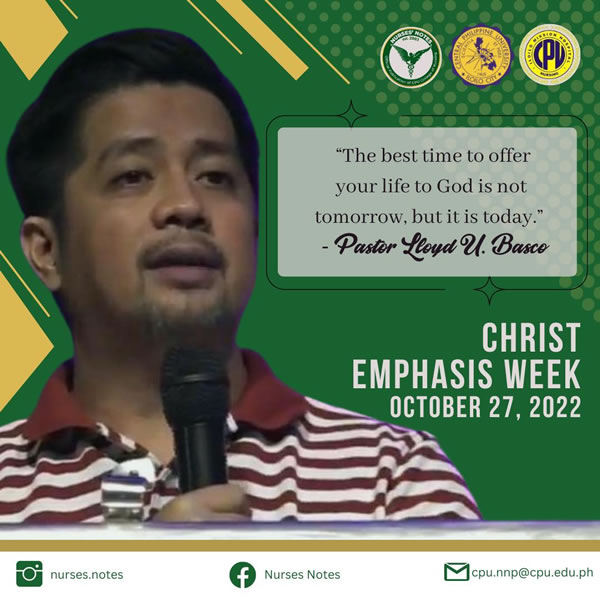 The First Semester 2022-2023 Christ Emphasis Week (CEW) of the University was held from October 24 to 27, 2022 at the Rose Memorial Auditorium, with the theme: "AWAKENED". A Pre-CEW convocation was held for the Faculty and Staff on Friday, October 21, from 4 – 5:30PM at the University Church. The Speaker was Judge Mark Anthony R. Polonan (8th Municipal Trial Courts in Cities). The Opening Celebration was on October 24 at the Big Field from 4:00 PM to 5:30 PM. University Church Senior Pastor, Rev. Cris Amorsolo V. Sian explained the meaning of the Theme and Text.
On October 25, Tuesday, classes in the afternoon for all Colleges, Senior High School, Grad School, College of Law, Medicine, ROTC and NSTP were adjusted. Pastor Lloyd U. Basco, Junior High School Assistant Principal was the Speaker. The Elementary and Junior High School held its convocations from 8:30 to 9:30 AM, and from 10:00-11:30, respectively. The speaker for the Elementary was Pastor Keith Dune R. Gallos, Faculty Junior High School, and Pastor Albert Mark A. Java of Tuburan Baptist Church, Lambunao. No exams were given during the CEW. Proper protocols were also observed at the convocations.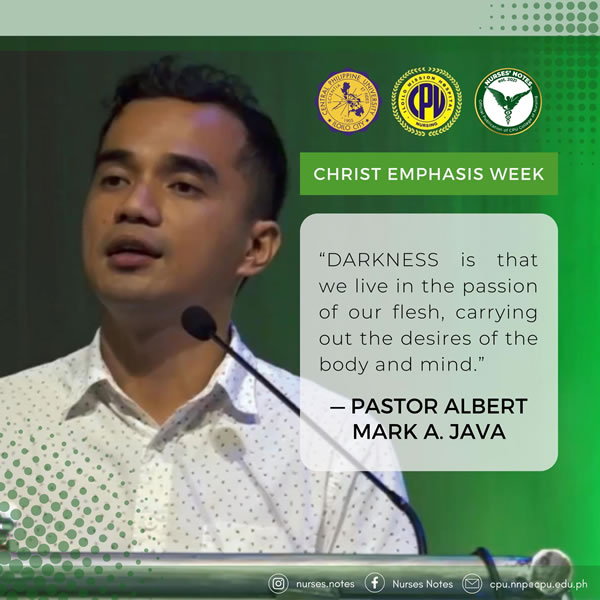 On October 26, the Junior High School had a convocation at 10 to 11:30AM at Rose Memorial Auditorium, with Pastor Albert Mark A. Java; at the same time the Kindergarten (Online) was with Prof. Remedios E. Alog, CPUES Faculty, and the Elementary from 8:30 to 9:30 AM with Pastor Keith Dune Gallos.
On October 27, Thursday, at 4:00-5:30PM, all Colleges and campus residents had a convocation at the Rose Memorial Auditorium while the Graduate School, Law, Medicine, NSTP and ROTC had a Live Stream on CPUTV Facebook Page. The speaker was Pastor Lloyd U. Basco. The Kindergarten had an Online Convocation on Friday morning, October 28 with Prof. Remedios E. Alog.
The Scripture Text of the convocation was taken from the book of Ephesians Chapter 5, verses 15-17 which says, "Wake up, sleeper, rise from the dead, and Christ will shine on you. Be very careful, then, how you live—not as unwise but as wise, making the most of every opportunity, because the days are evil. Therefore do not be foolish, but understand what the Lord's will is."
All the convocations were aired live via the CPU TV Channel Facebook page.