By Keziah G. Huelar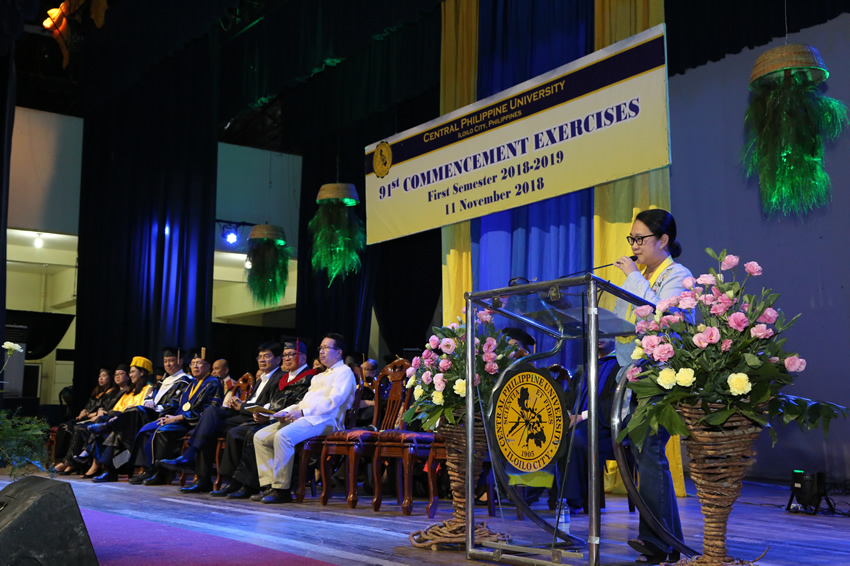 Commencement Speaker, Dr. Rumalie Alparaque-Corvera, President and CEO of the Ruth Foundation for Palliative and Hospice Care encouraged the graduates to make Jesus Christ as the cornerstone of their lives.
Excelsior!
Central Philippine University held its 91st Graduation Ceremonies of the University Colleges of the first semester, school year 2018-2019 at the Rose Memorial Auditorium on November 11, 2018.
Welcoming the 359 graduates with an overture is the CPU Symphonic Band with Mr. Ascencion O. Bautista directing.
The Invocation was led by Mr. Roger T. Quimpo, Outreach Pastor, University Church. It was then followed by the singing of the National Anthem and the Alma Mater Song with Ms. Crista S. Huyong, Director, CPU Cultural Affairs, conducting.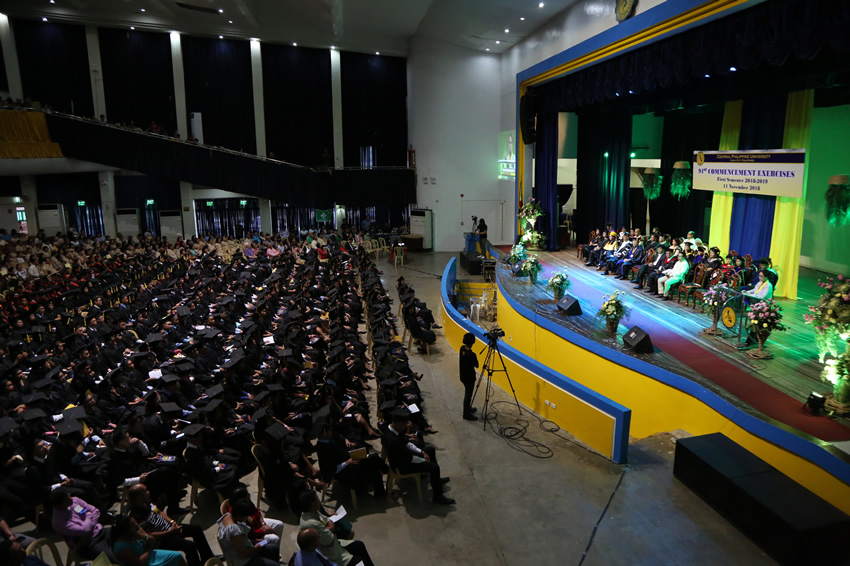 Celebrating the goodness of the Lord in the lives of our graduates.
For the Words of Welcome, CPU President, Dr. Teodoro C. Robles, commended the graduates for their hard work and perseverance. He also encouraged the graduates to recognize the role of God in all their success: "You have completed your college education and will now embark on your professional journey. This graduation ceremony is indeed a wonderful event to celebrate your achievement. This is now your reward for committing yourself to completing the task at hand even if it meant a lot of sacrifices and hard work, but let the recognition of your achievements be tempered with the realization that without God, we are nothing."
After Dr. Robles' message, CPU Vice President of Student Affairs, Rev. Joniel Howard H. Gico, introduced the commencement speaker, Dr. Rumalie Alparaque-Corvera, President and CEO of the Ruth Foundation for Palliative and Hospice Care and a Centralian alumna of the CPU BS Medical Technology program in 1986.
Sharing her testimony, Dr. Corvera talked about the importance of making Jesus the cornerstone of her life: "Choosing the Lord as the cornerstone of my life has been the most important decision that I have ever made."

Rev. Joniel Howard H. Gico, introduced the commencement speaker, Dr. Rumalie Alparaque-Corvera.
In her message, she highlighted that making decisions should be based on what one has chosen to be the cornerstone of his/her life: "We could choose the cornerstone of wealth and power, others the amassing of knowledge or maybe some decide to build their life on the foundations of relationships, or maybe, some haven't decided on their cornerstone yet, perhaps the reason for having no clear direction. Some even think of becoming their own cornerstone, thinking that they will get through life on their own."
Dr. Corvera shared her life in the US and her passion and experiences. One such experience was being diagnosed with dengue in 2009. That experience taught her to conquer her own fears: "I can conquer because He is my cornerstone. Because the Lord is my cornerstone, I have been empowered to live a life of purpose beyond myself."
After the commencement address, Dr. Robles, assisted by Miss Charissa June G. Deocampo, Acting Registrar, and Miss Emerald Joy E. Perucho, Assistant Registrar, led the Conferral of Degrees and Investiture of Hoods.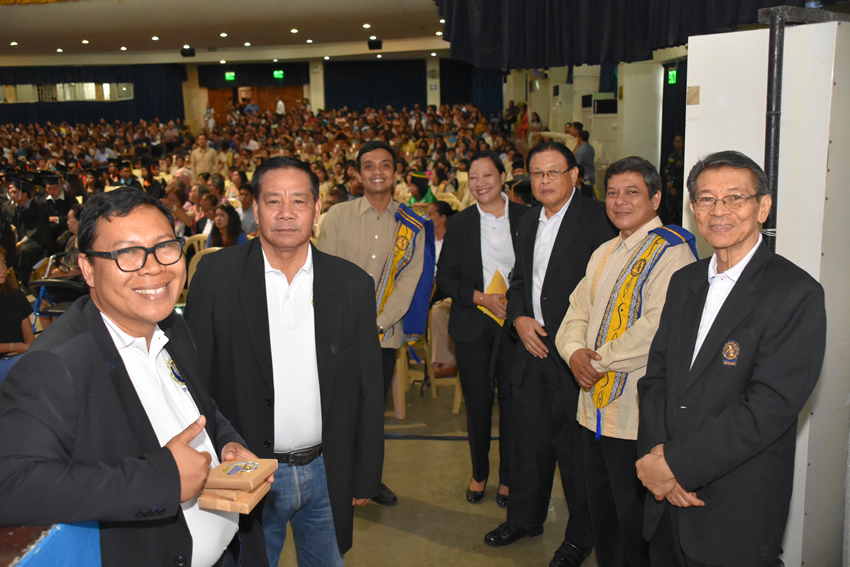 After receiving their diplomas, graduates will receive a token from CPUAAI members.
Graduates from the College of Agriculture, Resources and Environmental Sciences; College of Arts and Sciences; College of Computer Studies; College of Education; College of Hospitality Management; College of Medical Laboratory Science; College of Medicine; College of Pharmacy; College of Engineering; College of Theology; and School of Graduate Studies received their diplomas and hoods.
For the response on behalf of the graduates, Bryan Paul L. Espinosa, BSEd Major in English, magna cum laude, encouraged his fellow Centralians to appreciate their difficulties and to listen to the people who have helped them in their journey. He also highlighted the importance of being hopeful and obedient to the promises of God: "Dear Graduates, God sent many wondrous people who shaped us and fostered in us values and principles to live by. So, as we go on our way and dance to the hymn of life and ascend towards success, let us not forget to breathe a prayer of gratitude for those who helped us get here and there. When setbacks and failure dropped by however, let us embrace them and hear their whisper. Listen to what failures have to say, and drop them to your feet as fertilizers to help your branches bear flowers and fruits. Life was never easy and it will never be, but when we plant seeds of faith and hope in our hearts, we'll grow wings and fly."
The Charge to the Graduates was then given by Rev. Cris Amorsolo V. Sian, Senior Psator, University Church. It was followed by the Pledge of the Alumni led by Engr. Isagani J. Jalbuena, President, CPU Alumni Association Inc.
The hymn "Central Spirit" by Dr. Francis Howard Rose was then sang. After which, Rev. Sian led the Benediction.