by Rusieljs G. Lunasco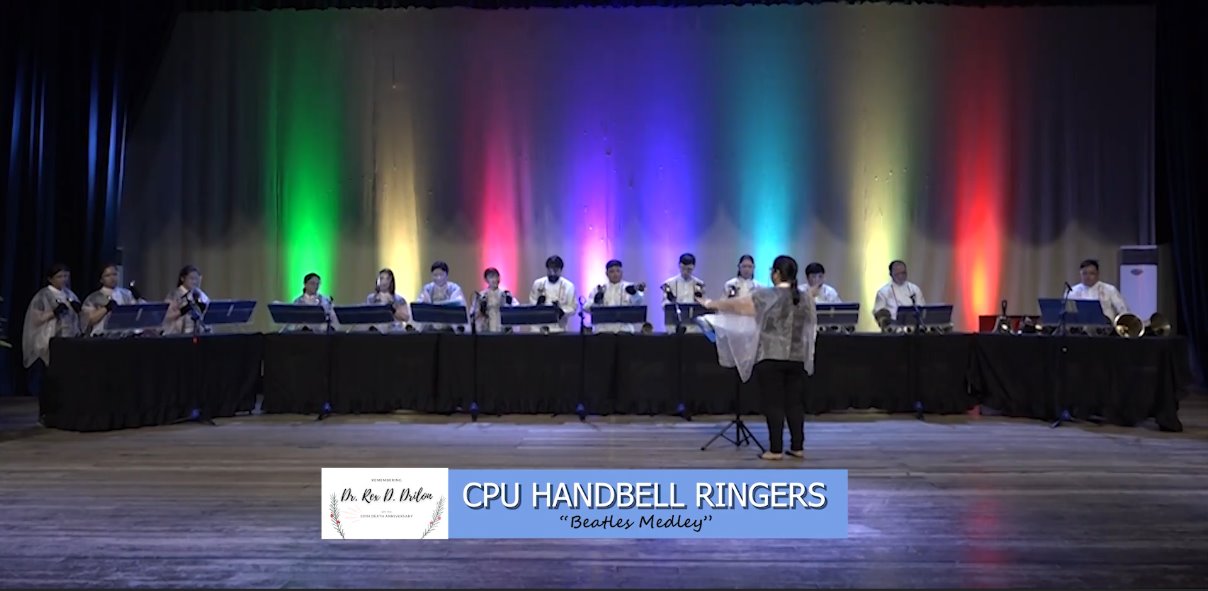 The CPU Handbell Ringers performing the Beatles medley during CCP's Multi Arts Festival.
The CPU Handbell Ringers performed for two online programs of the Cultural Center of the Philippines (CCP). The first, at the Lakbayin ang Sining Book Launch on March 12 and Tuloy po Kayo: The CCP Multi-Arts Open Community Festival from March 19-28, 2021.
During the book launch, the handbell ringers performed the song "Why We Sing" with the Baao Children's Choir. The book launch commemorated four decades of CCP's Outreach Program. Since 2005, the CPU Handbell Ringers has been a partner of the CCP in its outreach programs.
The Multi-Arts Open Community Festival is CCP's way to revitalize the Philippine arts scene that has been greatly affected by the pandemic. It aims to gather as many artists as engaged in as many art forms as possible. The Handbell Ringers performed "Beatles Medley" and You Raise Me Up" in the online event.
"We are thankful for the opportunity to share the music of the Handbells to the viewers online for CCP's programs. To be able to represent, Iloilo and Central Philippine University was such an honor. Our partnership with the Cultural Exchange Department of the CCP has afforded us a platform to share the music of the handbells and for that we are thankful." said CPU Handbell Ringers' Musical Director Dr. Mai Lynn Bermejo- Jacar.
Mrs. Hermely A. Jalando-on, the CPU Handbell Ringers' Adviser, coordinated with the CPU TV Channel in producing the video for the said festival.
The CPU Handbell Ringers is the only five-octave handbell group in the country. It has performed for the Closing Ceremony of the Association of South East Asian Nations (ASEAN) Summit in 2017 as well as the Asia Pacific Economic Forum in 2015.