By Cyrus A. Natividad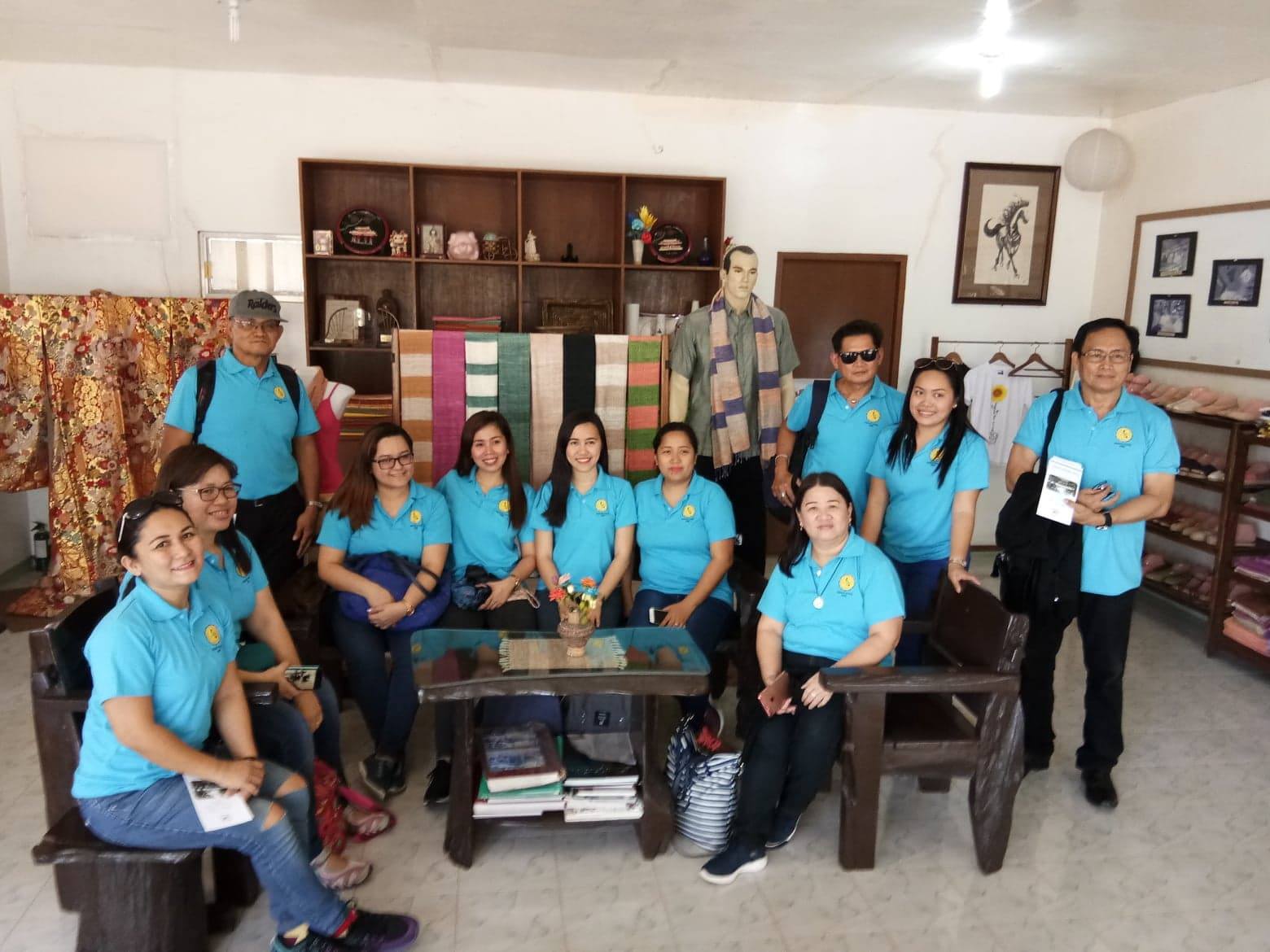 Dr. Mario Tajanlangit (far right) with his graduate students.

On March 18, 2019 the International Marketing Class (D. Mgt. 736) of Dr. Mario Tajanlangit made an in-depth study of two prominent industrial enterprises in Bacolod City and Bago City, Negros Occidental. They studied the silkworm textile production of the Organization for Industrial, Spiritual and Cultural Advancement (OISCA) in Bago City and the timeline of development and production of Bacolod City's popular product BongBong's piaya.
OISCA is a Japan-Philippine cooperation enterprise originally established to educate and train young people in agriculture. Later, it developed a silkworm production laboratory in a 20-hectare lot in Brgy. Tabunan, Bago City. The property was donated by the governments of Japan and the Philippines. The integration of silk production created a demand for local consumption and indirect exportation of silk. The industrial development grew as employment progressed with the out of school youths and jobless folks in nearby communities.
The group of CPU graduate school students was shown how the valuable textile is produced. From the production of the silkworms, to the release of white silk substance, and to the making of artistic and colorful textiles. The students made observations and asked questions of the trainees and operators of the facility to get an understanding of the whole operation.
OISCA's enterprise also produces medicinal and beauty products from organic plants grown by the students. Silk sandals and ternos are elaborately produced with silk materials from OISCA's production labs.
According to one of the technicians, what sets apart OISCA is its practice of social responsibility: "Social entrepreneurship is complimentary to social responsibility."
On the other hand, Bong Bong's Pasalubong Center produces the delicious piaya which is supplied all over Bacolod and Panay. Remarkably, they produce 35,000 piaya daily, not counting the pastries, barquillos, and other bread products.
The piaya factory also prides itself with three more facilities in the outskirts of Bacolod. They also serve tourists and students, and they have their own training center for their staff and marketing representatives.
The visiting group was allowed to cook their own piaya and they were then given the product they produced for free.
BongBong's Piaya can be considered as the fastest growing delicacies enterprise in Bacolod City. The family enterprise started with very small capital of 1,600 pesos. Because of the family's dedication and determination, the small bakeshop became what it is today—the BongBong's Pasalubong Center. However, the company has decided to not branch outside of Western Visayas. They wish to adhere to the concept of selling their products to tourists from coming from the other parts of the Philippines and the world.
BongBong's Piaya's marketing mantra is "Ikaw lang, wala nang iba." This expresses their dedication to serve the best products to their customer, and thereby gain their customer's loyalty to buy only from the best.