By Cyrus A. Natividad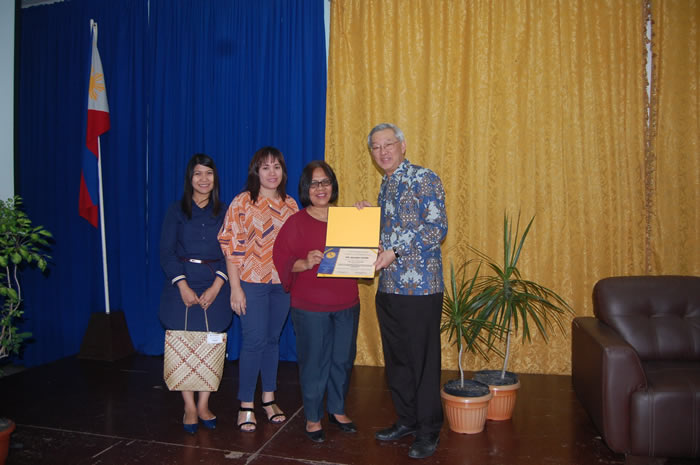 Dr. Jeffrey Kuan receiving a certificate of appreciation from the seminar committee.
Two relevant forums were conducted by Central Philippine University School of Graduate Studies on March 28 -29, 2019 at 5:30-7:30 PM. The first was a "Forum on Strategic Decision – Making and Best Practices in two Academic Institutions: Canada and USA Experiences." The second was a "Forum on Leadership and Governance in an Academic Institution: The Myanmar Experience".
The first forum was held at the CPU EMC Conference Hall and the second at the Audio-Visual Room of the Loreto Tupaz Building. The first forum had two foreign Resource Speakers. They were introduced by Professor Renia De La Peña (Coordinator, MPA/MAELL Programs) as Rev. Dr. Dorcas Gordon, Former Principal of Knox College in Toronto, Canada and Dr. Jeffrey Kuan, President Claremont Theological Seminary in Clairmont, California, USA.
The Resource Speaker on the 2nd evening, was introduced by Dr. April Ann De La Gente (Faculty, School of Graduate Studies) as Dr. Samuel Ngun Ling, Rector Myanmar Institute of Theology in Myanmar.
The Canada and USA experiences dealt on the issue of making strategic decisions and best practices; how managers and leaders cope up with peer pressures and settlements with business partners and the "Higher Ups". Both speakers put up with persuasion and influence as powerful tools in diffusing conflicts in the organization and business.
On the other hand, the Myanmar experience presented by Dr. Ling, provided insights on how a country under Martial Law was able to sustain operation and management of their educational systems. "Much of Biblical understanding has helped our educators to stay on the right path", Ling contended.