by Edwin C. Laru-an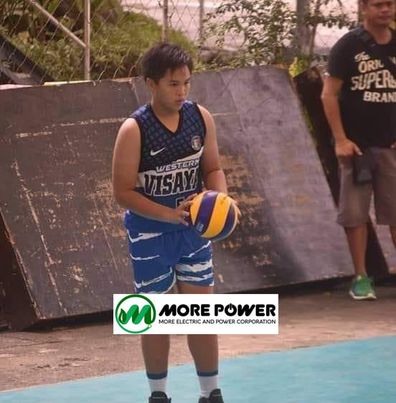 Deocampo is an outside hitter of the volleyball team.
Name: Bryx Colen D. Deocampo
Nickname: Toto Bryx
Height: 5'9″
Grade/year: Gr. 8
Team: Cpu Junior high volleyball team
Playing Position: Outside hitter
Coach: Jeffrey Alcarde
Hometown: Dumangas, Iloilo
Achievements:
All serving as team captain:
Champion 4th CDSA Congressional meet 2018
Champion Integrated Meet 2018
Champion WVRAA Meet 2019
2nd Runner-Up Palarong Pambansa 2019, Davao City
Hobbies:
Playing volleyball, biking and eating
Favorite Player:
Earvin Ngapeth
Most Memorable Game:
Palarong Pambansa 2019 Davao City
Principle in Life:
To do, and to fight for what is right.
What can you say as a player of CPU Golden Lions:
CPU Golden Lions has given me an opportunity to study for free in one of the prestigious schools in Iloilo, and I will be forever grateful for that. It is an opportunity for me to excel more with the talent that God has given to me. Though my entry is tough in these challenging times, it didn't prevent the management to trust me. I thank God for it.
Why did you choose CPU:
My mother is a Centralian and what made me decided to choose CPU is the Central Spirit which I can see in my mother. CPU has given me the avenue to grow in my Christian faith, get the best learning that will enable me to EXCEL!