by Edwin C. Laru-an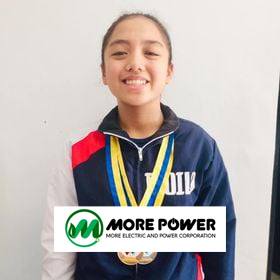 Aylah is a member of the CPU Badminton Girls Team.
Name: Jamila Aylah Jover Lagradante
Nickname: Aylah
Height: 5'0"
Grade/year: Grade 9
Playing Position: Badminton – Singles and Doubles
Team: Badminton Secondary Girls
Coach: Joebert Pillado
Hometown: Pavia, Iloilo
Achievements:
Palarong Pambansa 2019 Silver Medalist
Batang Pinoy 2019 National Finalist
PRISAA 2019 Secondary Girls Doubles- Bronze
PRISAA 2019 Secondary Mixes Doubles- Silver Medalist
Hobbies: Study.Train.Eat.Chill.Sleep.Repeat.
Favorite Player: Tai Tzu ying and Coach Anne Alba
Most Memorable Game:
I consider all my games memorable because each game has taught me lessons that would help me improve. But I think I consider the Palarong Pambansa 2019 the most memorable one because it is the venue where the best players from all regions faced each other. It was the most challenging yet unforgettable.
Principle in Life:
"Nothing great ever came that easy. Hard work and Perseverance will bring one on top."
What can you say as a player of CPU Golden Lions: A Golden Lion does not run from challenges, we SMASH it. A Golden Lion never quits and would always fight! One develops values that not anyone else in this world can take it away from you. Roarrr!
Why did you choose CPU: I chose CPU because I believe this university will help me reach my goals in life and will mold me holistically.