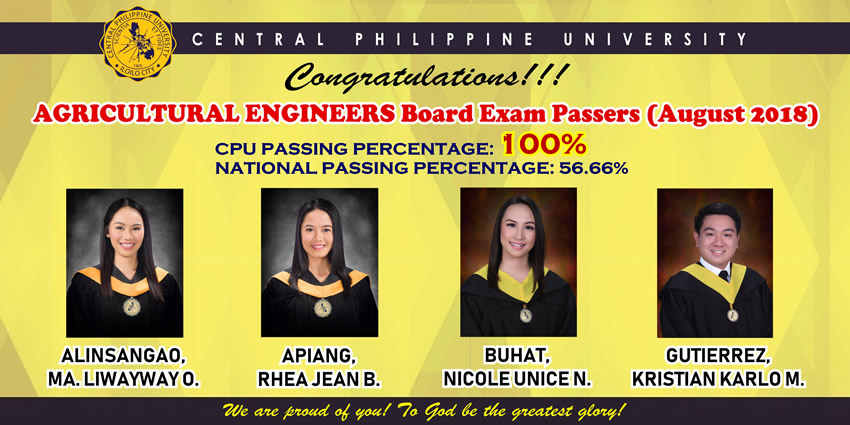 For two consecutive years now, Central Philippine University has garnered a 100% passing mark in the board exam for Agricultural Engineers by the Professional Regulation Commission (PRC). The most recent board exam was held last August 22-23, 2018 in the cities of Manila, Baguio, Cagayan de Oro, Cebu, Davao, Legazpi and Tuguegarao. The four who would be taking oath soon as professional agricultural engineers are Ma. Liwayway O. Alinsangao, Rhea Jean B. Apiang, Nicole Unice N. Buhat and Kristian Karlo M. Gutierrez.
The national passing percentage is 56.66%. The August 2018 Agricultural Engineering board exam covered topics from rural electrification, agricultural processing, agricultural structures and allied subjects (34%); soil and water resources development and conservation, irrigation, drainage and allied subjects (33%); agricultural mechanization, agricultural power, agricultural machinery and equipment and allied subjects (33%).
Central Philippine University is the only school in Iloilo that offers Bachelor of Science in Agricultural Engineering now renamed as Bachelor of Science in Agricultural and Biosystems Engineering.