By Cyrus A. Natividad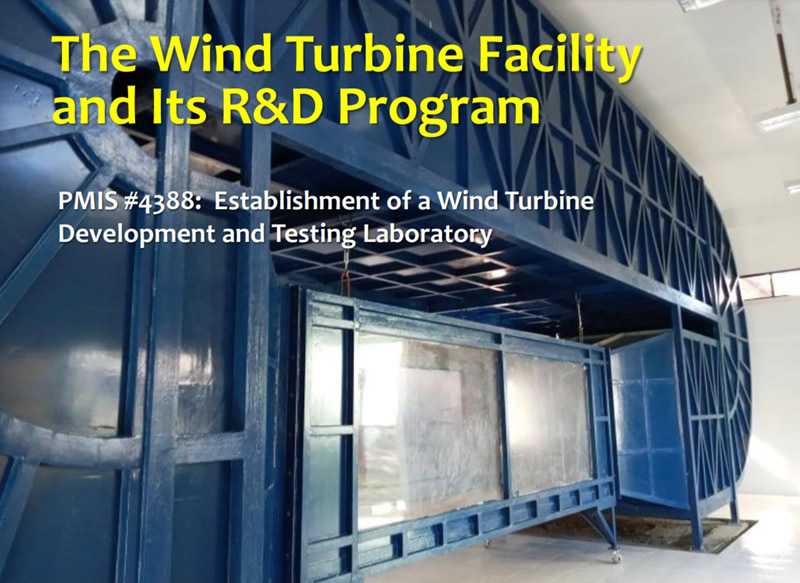 The CPU-DOST-PCIEERD Wind Energy R & D Facility, which was completed and inaugurated recently, is a valuable project for Central Philippine University, other institutions and communities. The project is a facility whose time has come.
The Wind Tunnel has a closed vertical loop main duct with rectangular cross-section of 2.4 x 2.0 meters (Horizontal x Vertical). It has a total combined center length of 27 meters including the test chambers, and housed in a newly built laboratory building near the CPU Engineering edifice. It is primarily designed as a basic wind turbine design, development and testing facility.
The facility could also be used for other wind energy studies such as effect of strong winds on building structures, vehicles, etc. It could be further equipped for more advanced and sophisticated wind studies.
According to its Project Leader, Engr. Jeriel G. Militar, "The project had an original implementation period of 2 years (September 25, 2018 to September 24, 2020) but it was extended for 13 months – until December 5, 2021 due mainly to the pandemic attributed delays.
The collaborative research and development work was done by a multi-diciplinary team composed of faculty members and staff of the College of Engineering of Central Philippine University and one faculty collaborator from Iloilo Science and Technology University (ISATU). Fabrication, construction, installation and testing were done on site with hired skilled workers under close supervision of the respective project team members.
Behind the admirable outcome of the project is the team led by Engr. Militar; Asst. Project Leader Engr. Caesar Rico S. Acanto; In charge of Building and Structural Design & Construction – Engr. Mary Earl Daryl Grio; Electrical Design & Components Installation – Dr. Alberto A. Java and Engr. Vitini Edhard O. Idemne; Electronic Design & Components Installation –Engr. Gelvie C. Lagos and Engr.Yeseil S. Sacramento; Mechanical Design & Components Installation- Engr. Alejandro R. Manderico and Engr. Salvador M. Senorio; Reports and Documentation – Dr. Dahlia H. Pescos and Engr. Christsam Joy S. Jaspe; Project Secretariat (Contractual Project Staff) – Teresita S. Militar and Davyne Gayle S. Baylen and Project Team Adviser/Monitoring –CPU Engineering Dean Engr. Dany C. Molina.