By Cyrus A. Natividad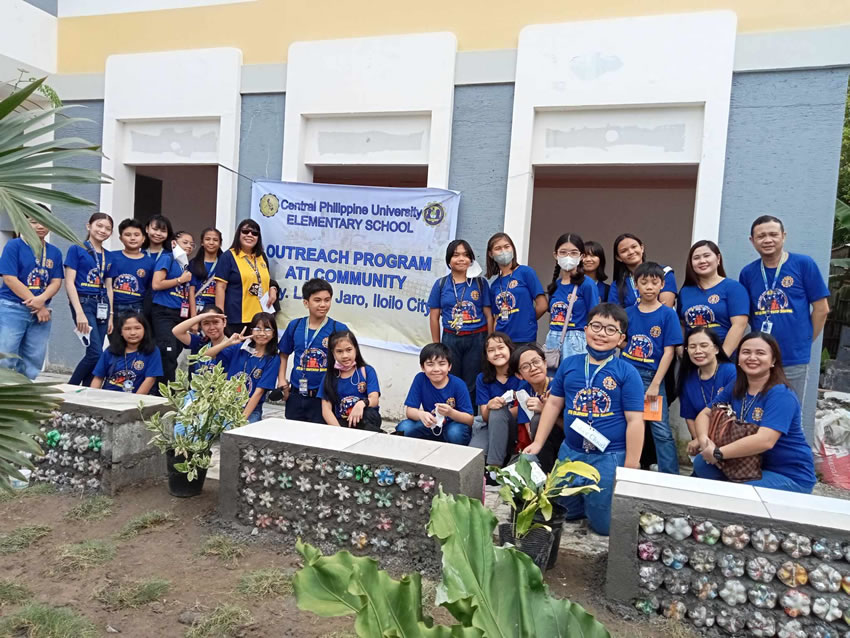 CPUES faculty with Prof.Janet Jaco (CPU Principal), poses behind the benches made of Ecobricks.
Prof. Janet P. Jaco, CPU Elementary School Principal has proven, "anything that can be thrown away can also be kept and be used to help a cause or a project for others." She started an advocacy to help the indigenous Ati Community in Brgy. Lanit, Jaro, Iloilo City by producing benches made of plastic pit bottles for their temporary school in the community.
At the CPU Elementary School, Professor Jaco for quite a time has encouraged everyone to set aside the empty pit bottle of water or soft drinks. A special collecting trash can where empty bottles are thrown in by students, caretakers, teachers and parents is provided.
The few that she has started is now helping a school for indigenous students of Lanit. The pit bottles are set in a desired size of box where these are encased and poured over with a little cement. They are molded as bricks to be formed into benches.
The CPUES project called the Ecobricks continues to help the environment, the school and the indigenous Ati community in Brgy. Lanit, Jaro. "It shall continue to make the students creative and conscious about the usefulness of converting waste pit bottles into strong and stable benches; we shall promote this with some socio- economic, socio-civic government and private agencies. We might as well expand the project to help other areas of poverty in Iloilo City," Jaco said.