By Keziah G. Huelar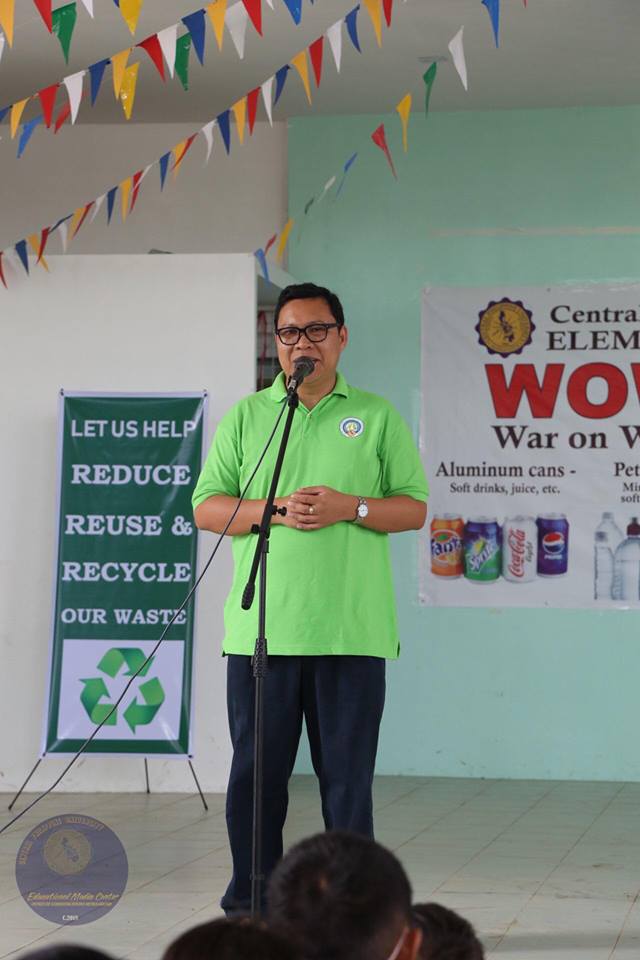 Rev. Francis Neil G. Jalando-on, Director of the CPU Office of Communications and member of the CPU Sustainable Committee encouraged the elementary pupils to be good stewards of the environment.
"Train up a child in the way he should go, and when he is old he will not depart on it" (Proverbs 22:6).
With the aim of teaching the CPU elementary students the importance of environmental stewardship, the CPU Elementary School held a campaign entitled "War on Waste—Trash to Cash." The said project was launched on September 11, 2018.
The campaign was an initiative of the CPU Sustainable Campus Committee composed of Mr. Prim Vergara III, Technical Assistant to the President and Occupational Safety and Health Officer; Rev. Francis Neil G. Jalando-on, Director, CPU Office of Communications; Engr. Jeriel Militar, Department Chair, Mechanical Engineering Department, College of Engineering; Engr. Aries Romallosa, Department Coordinator, College of Agriculture, Research and Environmental Science; Dr. Stella Fernandez, Dean, College of Arts and Sciences; Mrs. Hermely Jalando-on, CPU Purchasing Officer; and Engr. Amy Castigador, Director, Office of Institutional Advancement.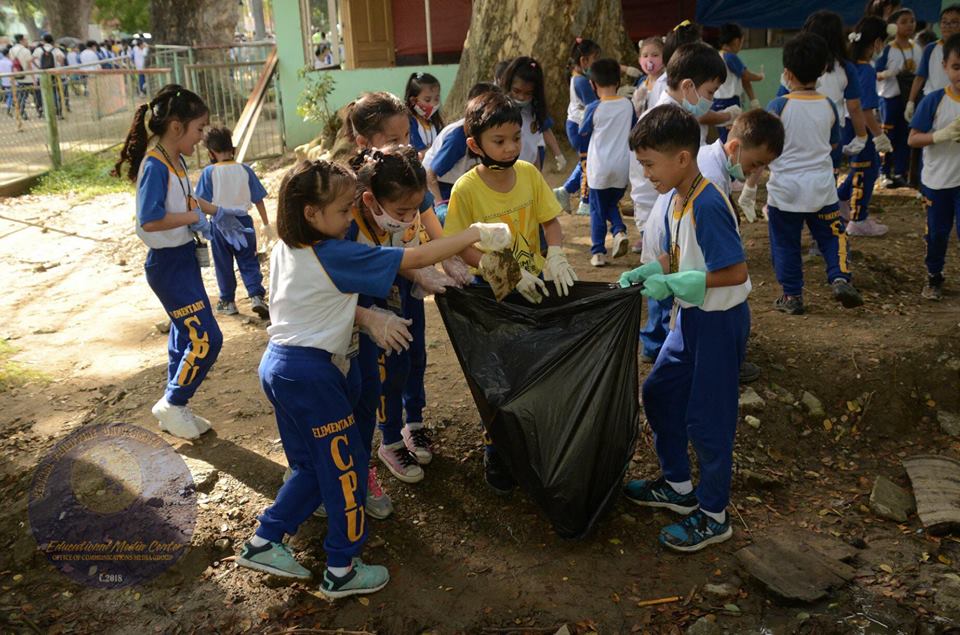 CPU Elementary School students working together to help clean the CPU Campus.
The launching began with a devotional led by Rev. Jalando-on. His message highlighted the importance of taking care of the environment by: A—Accepting that God is the owner of the world and that is why it is important to be good stewards of His creation. B—Believing that God can do great things through everyone. Everybody has a role in preserving the beauty of the environment by sharing one's time, talent, and treasure. Lastly, C—challenging others to join. The task of saving the environment will be easier and more enjoyable if family and friends join in.
The devotional was then followed by the opening remarks of CPU Elementary School Principal, Prof. Janet P. Jaco. In her message, Prof. Jaco encouraged the elementary pupils to love and protect the environment by participating and promoting the "War on Waste—Trash to Cash" advocacy.
"Trash to Cash" encourages CPU elementary students to gather recyclable materials in exchange for cash. The said materials will be sent to a materials recovery facility.
After the program, the elementary students, armed with gloves and trash bags, conducted a clean-up all around the CPU campus.