By Nestle G. Taala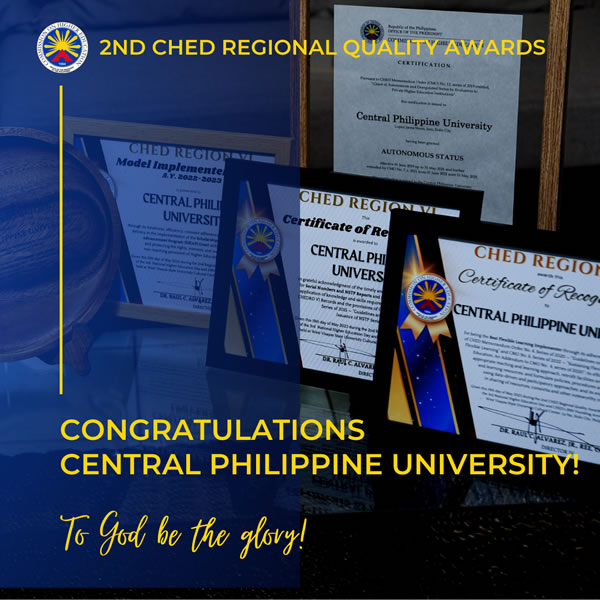 Central Philippine University keeps on excelling for God's greatest glory.
Excellence in all forms––Central Philippine University has garnered several awards at the 2nd Commission on Higher Education (CHED) Regional Quality Awards on May 19, 2023 held at the West Visayas State University Cultural Center.
Vice President for Academic Affairs Dr. Irving Domingo L. Rio represented CPU in the said activity which "aims to acknowledge the efforts and initiatives of the higher education institutions (HEIs) in the areas of instruction, research, and community extension, among others."
For its excellence in terms of academic reputation, employer reputation, faculty and student ratio, citations per faculty, international faculty ratio and international student ratio, CPU received the recognition as South-East Asia Top 118, Asia Top 701-750 in 2023 of the Quacquarelli Symonds (QS) World University Rankings.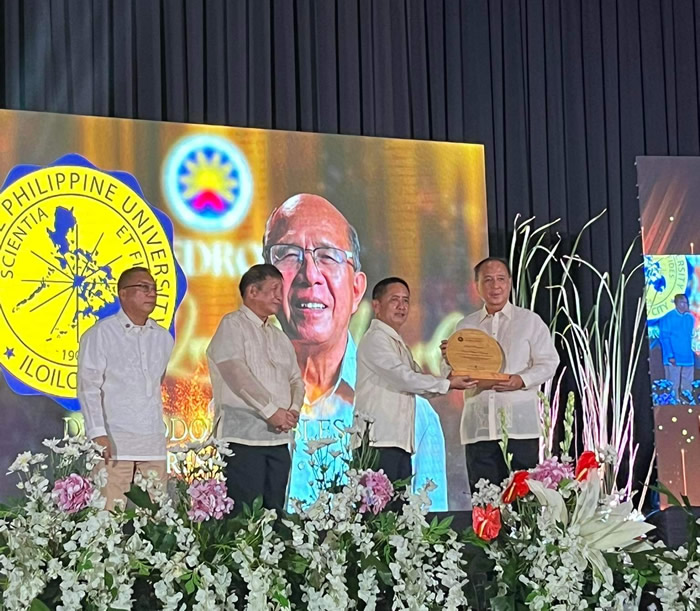 VPAA Dr. Irving Domingo L. Rio represented CPU in receiving CHED Regional awards.
Moreover, CPU was recognized as EduRank's Top 61 HEI in the Philippines based on research inputs, non-academic prominence, and alumni influence. The list of awards also includes:
● Top 9 Performing School in November 2022 Nursing Licensure Examination with a rating of 98.46%;
● 10th Top Performing School in March 2023 Medical Technologists Licensure Examination with a rating of 91.35%;
● Model Implementer- Scholarships for Instructor's Knowledge Advancement Program (SIKAP);
● Best in NSTP Implementation; and
● Best Implementer of CHED Memorandum Order No. 6, Series of 2022: "Sustaining Flexible Learning in Higher Education."
During the event, CPU was also issued a certification granting Autonomous HEl in Region VI effective June 1, 2019 up to May 31, 2021 and extended by CMO No. 7, s. 2021 from July 1, 2021 to May 31, 2023.
University President Dr. Teodoro C. Robles regretted having not personally attended the event to represent CPU to receive the awards due to certain circumstances. However, he shared that he is very happy with the recognition. "I believe that it is a recognition of the quality of instruction that we have here at CPU and also all the other aspects of what a university should be doing such as research."
Furthermore, he believes that these awards mean that "we are being recognized not only here in Iloilo but also internationally." To him, it is also "a recognition of the efforts of our faculty and staff. I hope that they can continue to work well to make sure that CPU will continue to be in the limelight in the next few years."
Last 2021, CPU has also received the most number of awards given by CHED for private HEIs during the latter's Gawad Parangal. Ergo, time and again, CPU has proven its commitment to its vision, Exemplary Christian Education for Life (EXCEL). The university, in receiving the said recognitions, is not only excellent as such but most importantly it also reflects its commitment "in molding its students into becoming Centralians imbued with Central Spirit, and in continuing God's mission through service and excellence.
Sa Diyos ang himaya!