by Rusieljs Lunasco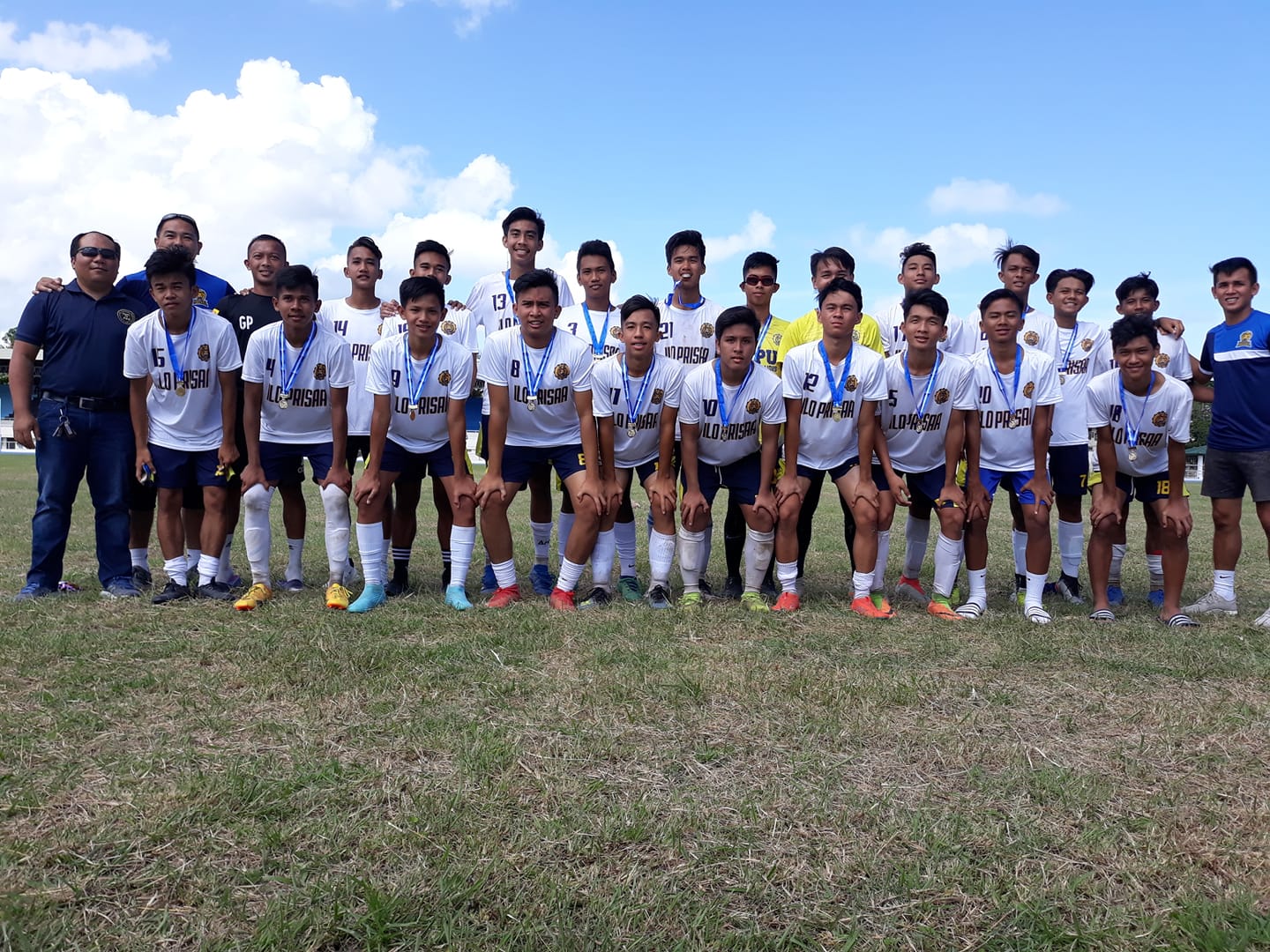 CPU Golden Lions' Football Team (Secondary Level) with CPU Sports Director Mr. Edwin Laru-an (left) and Coach Mr. Bob Rommel Javellana (back second from left). 
Central Philippine University dominated the recently concluded Western Visayas Private Schools Athletic Association (WVPRISAA) Meet on January 31 – February 5, 2020 at Roxas City, Capiz.
Team ILOPRISAA garnered 286 golds, 191 silvers, and 64 bronze medals, and was hailed as the overall champions. Team ILOPRISAA is mostly of athletes from the CPU Golden Lions.
For the tertiary Level, the Golden Lions' volleyball women, tennis men, sepak takraw men, swimming women, table tennis men, taekwondo women, taekwondo men, karatedo women, karatedo men, chess women, and athletics women all won gold medals in the said meet.  Ms. CPU Republic 2019 Jhasmine Jarrell Ocampo also won second runner-up during the Mutya ng WVPRISAA.
For the secondary level, the chess girls, swimming girls, football boys, table tennis boys, table tennis girls, taekwondo boys, taekwondo girls, tennis boys, tennis girls, volleyball girls, and dancesports also bagged gold for Iloilo and are set to join the tertiary athletes to represent Region VI in the National PRISAA.
Here are the official results of the performance of the CPU Golden Lions Athletes:
Western Visayas Private Schools Athletic Association (WVPRISAA) Meet 2020
January 31 – February 5, 2020 at Roxas City Capiz
OFFICIAL LINE UP
SENIOR HIGH SCHOOL & TERTIARY ATHLETES
ATHLETICSTERTIARY MEN
No.      Name:                          Course/Year:   Individual:                  Overall:
AGUIRRE, Rogen R.                                    BPED 2           1 Gold, 1 Silver, 1 Bronze      1st Runner Up
DEMONTAÑO, Dan Angelo C.                    BSIT 1            1 Gold, 1 Silver           1st Runner Up
ATHLETICS TERTIARY WOMEN
No.      Name:                          Course/Year:   Individual:                  Overall:
DE LA PEÑA, Christine P.                BSMLS 1        1 Bronze                      Champion
LAMPARERO, Jacqui Rosee V.                   BSPsyc 2         1 Gold, 1 Silver           Champion
BASKETBALL TERTIARY MEN
No.      Name:                          Course/Year:               Official Results:
SASUMAN, Miguel Cyrene M.                     BSBA 3                      1st Runner Up
BADMINTON TERTIARY MEN
No.      Name:                          Course/Year:   Individual:                  Overall:
FERRANCULLO, UzzheeGyle S.    BSBA 4          Silver-Doubles            1st Runner Up
REDOSENDO, Jane Francis G.         BSBA 1          Bronze-Singles            1st Runner Up
TACLAS, Paul Vincent M.                BSHM  1         Gold-Mixed Doubles 1st Runner Up
CHESS TERTIARY MEN
No.      Name:                               Course/Year:          Individual:      Overall:
DORONILA, Jotham D.                                BSChe 2          Bronze-B4       1st Runner Up
GARCIA, Chris Matthew B.             BSN 1             Silver-B1         1st Runner Up
CHESS TERTIARY WOMEN
No.      Name:                                Course/Year:         Individual:      Overall:
BIÑAS, Eunice Lois D.                                  BPSY 1           Silver-B3         Champion
Senior High School:
GUIRHEM, Fiona Geeweneth B.      Grade 12         Gold-B1          Champion
PORRAS, Famille Bianca P.              Grade 12         Gold-B2          Champion
KARATEDO TERTIARY MEN
No.      Name:                          Course/Year:   Individual:                  Overall:
FERMOCIL, RJ Realms F.                Grade 11         Gold-Team Kumite     Champion
KARATEDO TERTIARY WOMEN
No.      Name:                          Course/Year:   Individual:                  Overall:
CORRAL, Claire V.                           BSActy 1        Silver-Ind. Kata          Champion
Silver-Ind. Kumite
Gold-Team Kumite
Senior High School:
FUENTES, Kimberly A.                    Grade 11         Gold-Ind. Kumite       Champion
LOBO, Jeenie Marey P.                      Grade 11         Gold-Ind. Kumite       Champion
MAGULIMAN, Therese Marie V.     Grade 11         Gold-Ind. Kumite       Champion
Gold-Team Kumite
TAEKWONDO TERTIARY MEN
No.      Name:                          Course/Year:   Individual:                  Overall:
DIASNES, Alfie A.                           BSEd 4           Gold- Ind. B Poomsae            Champion
Gold- Team Poosae
HORLADOR III, Adriano D.                       BSIT 1            Gold-Kyoruge             Champion
Senior High School:
AGUIRRE, Zachary T.                                  Grade 12         Gold- Mix Poomsae    Champion
Gold- Team Poosae
GANTALAO, June Draico C.                        Grade 12         Gold- Ind. A Poomsae            Champion
Gold- Team Poosae
TAEKWONDO TERTIARY WOMEN
No.      Name:                          Course/Year:   Individual:                  Overall:
AGUIRRE, Cyril Marie F.                 BPEd 1           Gold-Kyoruge Champion
TAMBONG, Mary Klarein M.                       BMLS 1          Gold- Ind. B Poomsae            Champion
Gold- Team Poosae     Champion
Senior High School:
DINERO, Czarylle Faye Edwardine M. Grade 12    Gold-Kyoruge Champion
SOTOMIL, EstrelarrynePolla Ericca F. Grade 12      Gold-Kyoruge Champion
TABLE TENNIS TERTIARY MEN
No.      Name:                          Course/Year:   Individual:                  Overall:
TAMAYOR, Deosam B.                                BSTM 1                                              Champion
Senior High School:
CAOYONAN, Rem Francis E.                      Grade 12         Gold-Doubles             Champion
GAYOSO, J Allan Noel C.                Grade 12         Gold-Singles   Champion
VICENCIO, Jei Allen R.                               Grade 12                                             Champion
TABLE TENNIS TERTIARY WOMEN
No.      Name:                          Course/Year:   Individual:                  Overall:
BUBONGAN, Mary Grace D.                       BSPSyc 2        Gold-Doubles 1st Runner Up
CAOYONAN, Frances Necole E.     BSPhar 2                                             1st Runner Up
DEQUIÑA, JohannahMariz B.                      BSPSyc 1                                            1st Runner Up
Senior High School:
GOMEZ, Clarice Thalia D.                 Grade 12         Gold-Doubles 1st Runner Up
OLIVA, Ann Nicole L.                                  Grade 12         Gold-Singles               1st Runner Up
SWIMMINGTERTIARY WOMEN
No.      Name:                          Course/Year:   Individual:                  Overall:
ARENAL, Carla June M.                   BSTM 2          2 Golds, 3 Bronze       Champion
PALOMA, Geraldine Rose A.                       BSCS 2           3 Golds, 4 Silver         Champion
FOOTBALL TERTIARY MEN
No.      Name:                          Course/Year:               Official Results:
DELARIARTE, Jed S.                                   BSED X 3                   1st Runner Up
MONTILLA, Fritz Louie M.              BSHM 4                     1st Runner Up
VELARIO IV, Antonio C.                BSBA 1                      1st Runner Up
SEPAK TAKRAW TERTIARY MEN
No.      Name:                              Course/Year:                       Official Results:
CABUAL, Baron B.                           BPEd 2                       Champion
CATAGUE, Christian Dave C.                      BPEd 1                       Champion
CUDO, Jose Glenn M.                                   BSBA 2                      Champion
GALIA, Jay-ar B.                               BSED X 4                   Champion
JALANDONI, John Hiros B.             BPEd 2                       Champion
LAMASAN, Joshua S.                                   BSIT 3                        Champion
PAREJA, EJ J.                                                BSBA 2                      Champion
TOGLE, Steven M.                            BPEd 2                       Champion
Senior High School:
AQUINO, Jabeheart B.                                  Grade 12                     Champion
LIBRADO, Reynald Kim E.              Grade 11                     Champion
OÑATE, Paul Germae L.                   Grade 11                     Champion
SUAY, Matthius Phillippe H.             Grade 12                     Champion
TENNIS TERTIARY MEN
No.      Name:                          Course/Year:               Official Results:
FLORES, Matthew Alquinn S.                      BMLS 2                      Champion
LEGASPI, Lorenzo Angelo Q.                      BSN 1                         Champion
Senior High School:
GAZO, JJ Chrysler S.                                     Grade 11                     Champion
JIMENEA, Jon Dreve G.                   Grade 12                     Champion
VOLLEYBALL TERTIARY MEN
No.      Name:                          Course/Year:               Official Results:
DORONILA, Paolo Gabriel T.                      BSTM 1                      1st Runner Up
DANCESPORT TERTIARY
No.      Name:                          Course/Year:               Official Results:
CABANGON, Joshua Francis B.       Grade 11                     Participant
PORRAS, Phoebe Mhay                    Grade 11                     Participant
VOLLEYBALL TERTIARY WOMEN
No.      Name:                          Course/Year:               Official Results:
AMUAN, Ritchelle C.                                    BSBA 3                      Champion
ATAZA, Angolaye C.                                    BSTM 1                      Champion
DIZON, Martha Mae G.                                 BPEd 1                       Champion
EGUICO, Daniela Louis C.               BSBA 2                      Champion
GUEVARRA, Eunice H.                   BSSW 1                     Champion
LEDESMA, Glezel Anne B.              BSBA 4                      Champion
MAGBANUA, Hannah Jane C.         BSBio 2                      Champion
PIOSCA, Euna Gene D.                     BSSW 1                      Champion
Senior High School:
ABELLO, Kaira A.                            Grade 12                     Champion
PEREZ, Monica Thea J.                     Grade  12                    Champion
VILLARUEL, Virgie Grace V.                     Grade  12                    Champion
JUNIOR & SENIOR HIGH SCHOOL ATHLETES
ATHLETICSSECONDARY BOYS
No.      Name:                                      Grade: Individual:                  Overall:
DEYPALUBOS, Josiah Nathan T.    Grade 10                                             1st Runner Up
PUEBLO, Dexter Patrick M.             Grade 10         4 Golds, 1 Silver         1st Runner Up
Senior High School:
CABALLERO, Marc Lhester B.       Grade 11                                             1st Runner Up
FERRER, Ed Alfred G.                                 Grade 11         2 Golds, 2 Silver         1st Runner Up
GUARIZO, Darwin Aaron P.                        Grade 11         2 Golds, 2 Bronze       1st Runner Up
REBUELTA, Loise Daniel S.                        Grade 11         1 Bronze                      1st Runner Up
ATHLETICS SECONDARY GIRLS
No.      Name:                                                  Grade:             Individual:                  Overall:
LOMA, Lowinnie Flor P.                               Grade 10         1 Silver, 2 Bronze       1st Runner Up
MEDROCILLO, Samara Daveigh C.            Grade 9           1 Silver                        1st Runner Up
GAYONGORSA, Kathrene May P. Grade 10         1 Silver, 1 Bronze       1st Runner Up
JAMOLA, Esther Lin T.                                 Grade 10         1 Silver                        1st Runner Up
CHESS SECONDARY BOYS
No.      Name:                                      Grade: Individual:      Overall:
BEBIT, Anton Benedict B.                Grade 7           Silver-B4         1st Runner Up
CASA Jr., Gil S.                                 Grade 10         Silver-B2         1st Runner Up
Senior High School:
TELESFORO, Cyril Felrod S.                       Grade 12         Gold-B1          1st Runner Up
VILLARUZ, Prax Johann M.                        Grade 11         Gold-B3          1st Runner Up
CHESS SECONDARY GIRLS
No.      Name:                                      Grade: Individual:      Overall:
CASA Jr., Glydelle S.                                    Grade 10         Gold-B5          Champion
TELESFORO, Checy Aliena S.         Grade 9           Gold-B1          Champion
SWIMMING SECONDARY GIRLS
No.      Name:                                      Grade: Individual:                  Overall:
AMANTE, Nikka Lorine S.               Grade 8           1 Gold, 1 Silver           Champion
JARA, Diana Spencer B.                    Grade 8           1 Gold, 1 Bronze        Champion
Senior High School:
VALENZUELA, Danielle Patricia T.            Grade 11         3 Golds, 2 Silver         Champion
FOOTBALL SECONDARY BOYS
No.      Name:                                      Grade:             Official Results:
BELLOSILLO, Jose Maria G.                       Grade 10                     Champion
CEJAR, Hazael Giles S.                     Grade 10                     Champion
DOYOLA, John Christian Allen C.   Grade 10                     Champion
FERRER, Ross Alfred G.                  Grade 9                       Champion
GABILEO, Matthew James V.                      Grade 7                       Champion
GEDAYA, Mark Daniell                                Grade 9                       Champion
JAVELLANA, Johann Mitchel B.     Grade 9                       Champion
LOPEZ, Wrenz Ivan L.                                  Grade 10                     Champion
PUEBLO, Francis Michael M.                       Grade 10                     Champion
MAMON, Selwyn Nickos B.             Grade 9                       Champion
RAFOLS, Reije Mikhael M.               Grade 10                     Champion
SILAO, Paul Joshua III F.                 Grade 10                     Champion
TUAZON, James Carl G.                   Grade 10                     Champion
VALENZUELA, Khent Brian B.      Grade 10                     Champion
VEGA, Christian Joseph P.                Grade 8                       Champion
Senior High School:
ALMINAZA, Rolf John B.                Grade 11                     Champion
BIÑAS, Zymone Kyle G.                   Grade 11                     Champion
DEJANDO, Jerein Paul B.                 Grade 11                     Champion
PILLORA, Jil Sander D.                    Grade 11                     Champion
SUMAGAYSAY, Aaron Juliard C.   Grade 11                     Champion
SUPEÑA, Mel Askia S.                                 Grade 11                     Champion
TABLE TENIS SECONDARY BOYS
No.      Name:                                      Grade: Individual:                  Overall:
BARIA, John Romel S.                                  Grade 10         Gold-Singles   Champion
BATILLER, Mar Rodel B.                Grade 9                                               Champion
DOMINGUEZ, Alain Vincent R.      Grade 7           Gold-Doubles             Champion
GALLO, Zaki Kurt D.                                   Grade 9                                               Champion
Senior High School:
CHAVEZ, Joshua C.                          Grade 11         Bronze-Singles            Champion
MURIEL, Kristan C.                          Grade 11         Gold-Doubles Champion
TABLE TENIS SECONDARY GIRLS
No.      Name:                                      Grade: Individual:                  Overall:
CHIOCO, Mary Margaret C.             Grade 9                                               Champion
GANANCIAL, Celine Ashley C.      Grade 7                                               Champion
GOMEZ, Clarissa Byeen D.               Grade 10         Silver-Doubles            Champion
OLIVA, Levee Marie G.                                Grade 10         Bronze-Singles            Champion
REMANESES, Shana Marie D.         Grade 9           Silver-Doubles            Champion
VICENCIO, Jan Ashley R.                Grade 10         Silver-Singles Champion
TAEKWONDO SECONDARY BOYS
No.      Name:                                      Grade: Individual                   Overall:
Senior High School:
HORLADOR, Aldriene Earl D.                     Grade 11         Gold-Kyoruge Champion
TAEKWONDO SECONDARY GIRLS
No.      Name:                                      Grade: Individual                   Overall:
DESALIT, Mae Anthonette               Grade 10         Gold- Kyoruge            Champion
MOSQUERA, Geraldine French S.   Grade 9           Gold- Kyoruge            Champion
SABERON, Kharla Marie A.             Grade 9           Gold- Kyoruge            Champion
Senior High School:
DIASNES, Cindy Joy J.                                 Grade 11         Gold- Ind. A Poomsae            Champion
Gold- Team Poomsae
OSORIO, Kirstin Jann Dylle S.         Grade 12         Silver-Kyoruge            Champion
ROBLES, GN G.                                           Grade 11         Gold- Kyoruge            Champion
TENNIS SECONDARY BOYS
No.      Name:                                      Grade:             Official Results:
SANTIAGO, John Benedict P.                      Grade 9                       Champion
SEBALLOS, Raphael G.                   Grade 9                       Champion
SUMALAPAO, Carl Lawrence L.     Grade 7                       Champion
NOWLAKHA, Nikhel S.                               Grade 9                       Champion
TENNIS SECONDARY GIRLS
No.      Name:                                      Grade:             Official Results:
CUBOS, Rissa Ann J.                                    Grade 10                     Champion
GAZO, Terilou Sophia S.                   Grade 8                       Champion
MARTIREZ, Althea Rose M.                        Grade 9                       Champion
SUACE, Avril Andrea S.                   Grade 10                     Champion
KARATEDO SECONDARY BOYS
No.      Name:                                      Grade: Individual                   Overall:
GUILLEN, Joshue Vicente H.                       Grade 9           Gold-Ind. Kumite       1st Runner Up
Gold-Team Kumite
GUILLEN JR., Richard H.                Grade 8           Silver-Ind. Kata          1st Runner Up
Gold-Team Kumite
SINEPETE, Aron Xaner G.               Grade 7           Gold-Ind. Kumite       1st Runner Up
Gold-Team Kumite
KARATEDO SECONDARY GIRLS
No.      Name:                                      Grade: Individual                   Overall:
SINEPETE, Athea Xara G.                Grade 8           Silver-Ind. Kumite      1st Runner Up
Gold-Team Kumite
VOLLEYBALL SECONDARY BOYS
No.      Name:                                      Grade:             Official Results:
BORRA, Lawrence G.                                   Grade 10                     1st Runner Up
CODICO, Vince Harvey J.                Grade 10                     1st Runner Up
SAN JOSE, Kurt Martin S.                Grade 9                       1st Runner Up
PARREÑO, Paul Ernest P.                Grade 9                       1st Runner Up
Senior High School:
BANTOLO, Jose Miguel C.               Grade 11                     1st Runner Up
CAMAYMAYAN, XjhannViandre O.          Grade 11                     1st Runner Up
CANUTO, Venz C.                            Grade 11                     1st Runner Up
DEDOROY, John Emmanuel G.       Grade 11                     1st Runner Up
JANOLINO, Dan Pretz O.                 Grade 11                     1st Runner Up
NOBLE, John Kenneth H.                 Grade 12                     1st Runner Up
BEACH VOLLEYBALL SECONDARY BOYS
No.      Name:                                      Grade:             Official Results:
ATIENZA, Miles B.                           Grade 11                     1st Runner Up
AZOTE, Paul Angelo L.                     Grade 9                       1st Runner Up
SAN JOSE, Jhon Louie S.                  Grade 10                     1st Runner Up
VOLLEYBALL SECONDARY GIRLS
No.      Name:                                      Grade:             Official Results:
ALCARDE, RailynJeffe I.                 Grade 9                       Champion
APOSAGA, AtheaJamine G.             Grade 9                       Champion
ARROYO, Fiona Marie D.                Grade 9                       Champion
CELIZ, HeniaVee S.                          Grade 9                       Champion
DE LA CRUZ, Jane Ashley M.         Grade 9                       Champion
KEW, Arianne Lei S.                          Grade 9                       Champion
PAJARITO, Yvonny Grace G.                      Grade 8                       Champion
SALAZAR, JoslinePatriz S.               Grade 8                       Champion
SAMPIANO, Trixie Pauline A.                      Grade 9                       Champion
SASUMAN, Gabrielle Therese Fauz M.  Grade 7                 Champion
Senior High School:
ALCANTARA, Isobel Liane V.                    Grade 11                     Champion
CORDERO, Clarisse S.                      Grade 11                     Champion
VERGARA, Ana Rose Grace S.        Grade 11                     Champion
DANCESPORT SECONDARY
No.      Name:                                      Grade:             Official Results:
Latin American:
HECHANOVA, Mico Andrei J.        Grade 9                       Champion
MUYCO, Aleia Robbyn J.                 Grade 9                       Champion