By Cyrus A. Natividad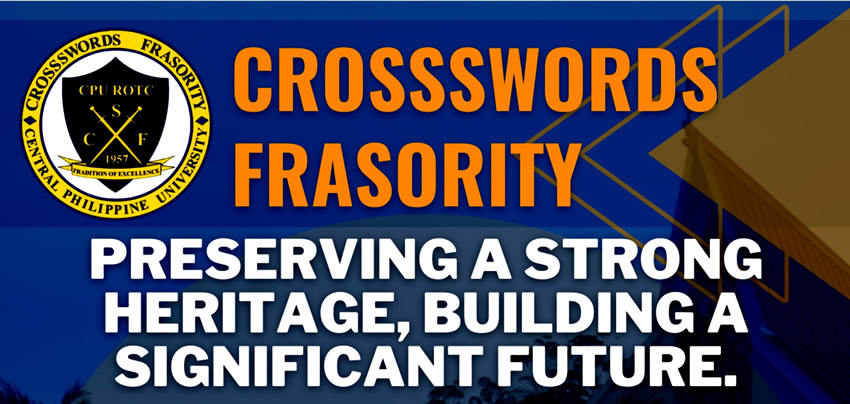 The Crosswords Frasority is an organization of ROTC Cadet Officers of Central Philippine University (Basic and Advance Graduates) founded in 1957. Crosswords is a prestigious organization, with members in the military service. Some of them have become Generals or high ranking officials of the Armed Forces of the Philippines. Crosswords Frasority is a Special Chapter of the CPU Alumni Association, Inc.
On December 28, 2022 (Wednesday), Crosswords will hold a Grand Reunion and 65th Founding Anniversary with the theme "Preserving a Strong Heritage, Building a Significant Future." The venue will be at the Soto Grande Hotel, Green Meadows Avenue Tacas, Jaro, Iloilo City.
Members will assemble at the CPU Grandstand at eight in the morning. There will a dedication of the ROTC Library and Medals Awards Corner. The registration and distribution of name tags to the members follow. The motorcade takes off from CPU to the hotel site. The bonding begins upon arrival. Lunch will be served.
CPT Mariano U Griño, EXCOM Chairman, Corps Commander '66; Arturo Alcalen, USMC, Corps Commander'65 and Atty. Zacharias D. Bedona, Class '75 will speak during the program. Other military officials were invited.
Col Pedro C. Bedoña PA (Ret) who is currently Commandant of the CPU ROTC Unit is thankful to the University Administration under the leadership of Dr. Teodoro C. Robles, CPU President – for supporting the physical improvement of the Unit's Headquarters.
"This grand reunion and Founding Anniversary celebration in December is just the beginning of bigger activities for the ROTC and the Crosswords", Bedoña said. A development training program for the cadet has also been initiated by Bedoña.