By Cyrus A. Natividad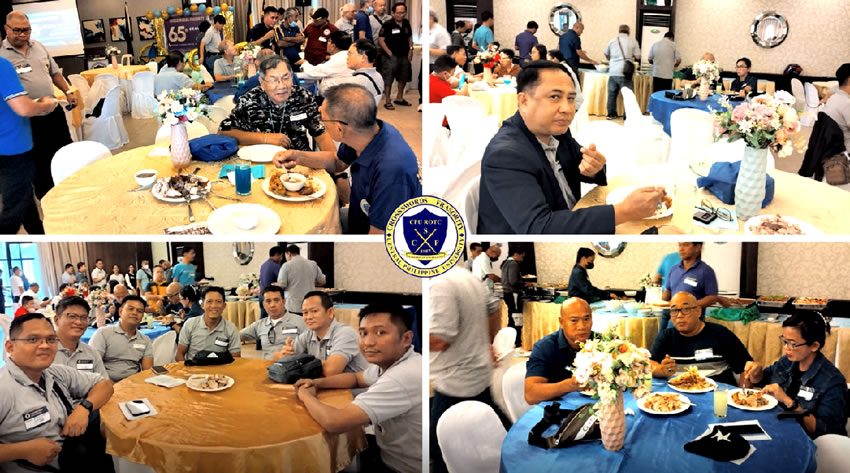 A gathering of former ROTC cadets, active military officials and retirees at the Soto Grande Hotel in Jaro, Iloilo City.
The CPU Crossswords Frasority held its Grand Reunion and 65th Founding Anniversary on December 28, 2022 at the Soto Grande Hotel in Jaro, Iloilo City. The celebration was realized after more than two years due to the Covid-19 pandemic. It was attended by a "band of brothers"; graduates of the CPU Reserve Officers Training Corps (ROTC), active military officials of the Armed Forces of the Philippine and retirees.
This year's reunion theme is "Preserving a Strong Heritage, Building a Significant Future." The event had evoked history and military tradition, and opened future plans for the CPU ROTC Headquarters. A proposal to construct a new ROTC Building inside CPU compound was signified by members of the Crossswords Frasority.
There were moments of sentimental and enjoyable fellowship at the CPU ROTC Headquarters, with unlimited servings of coffee, and bursts of laughter, as familiar names and funny cadet stories of long time ago were recalled.
The motorcade took off at 9:30 in the morning from CPU – passing through the Benigno Aquino, Jr. Avenue (Diversion Road) to the Soto Grande Hotel. The program started shortly after lunch. Rev. Roger Quimpo of the University Church, CPU led the invocation. It was followed by the singing of the National Anthem and the CPU Hymn, Central, My Central.
CPU Commandant Col. Pedro C. Bedoña (RET) delivered his welcome remarks. Active and Retired members of the Armed Forces, and members of Frasority by Class were recognized. A roll call of departed brothers followed, and a one-minute silence and prayer (in memoriam) was led by Rev. Quimpo. Capt. Mariano U. Griño (Corps Commander '66) and Atty. Zacarias D. Bedona (Class '75) delivered their messages. Atty. Jeremy Bionat Corps Commander '77 and current CPU Alumni Association President led the Crosssword Pledge.
Dr. Jonathan J. Quimpo, Corps Commander '74, Atty. Riggi Solinap, Corps Commander '78, and 2Lt Jovi Angela S. Arevalo (INF) PA, 2015 spoke on "Preserving Our Strong Heritage". Important developments and plans of the Frasority was announced by Eugene Glen Paraico, Class '78.
The Crossswords Frasority Song "Stouthearted Men" was sang. Pictorials followed as cocktails were served towards evening. Everyone enjoyed with the live performance of the Binhi Band!
Daypuyart, Sampiano, Barcelona and Castaño were Masters of Ceremonies.