By Dr. Aries Roda D. Romallosa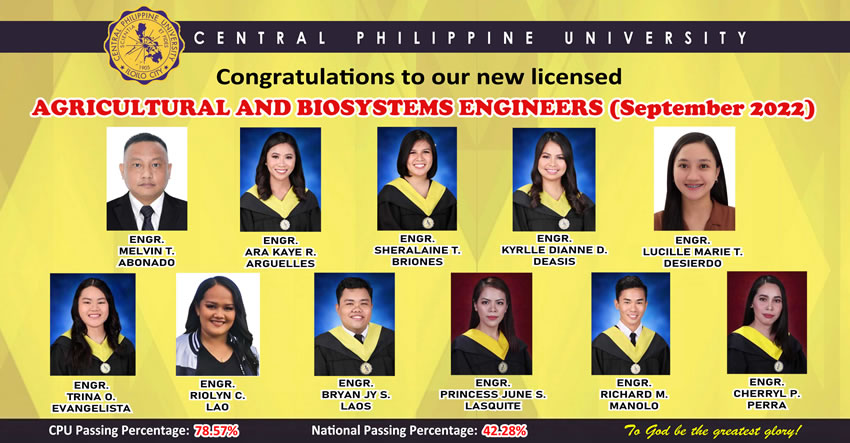 Central Philippine University (CPU) has once again produced passers above the national passing mark for the Agricultural and Biosystems Engineering Board Exam administered by the Professional Regulation Commission. In the September 15-16, 2022 Board Exam, CPU got an overall passing rate of 78.57% as against the national passing percentage of 42.28%. The results were released online after two (2) working days.
The Centralian Agricultural and Biosystems Engineers are the following:
1. Engr. Melvin T. Abonado
2. Engr. Ara Kaye R. Arguelles
3. Engr. Sheralaine T. Briones
4. Engr. Kyrlle Dianne D. Deasis
5. Engr. Lucille Marie T. Desierdo
6. Engr. Trina O. Evangelista
7. Engr. Riolyn C. Lao
8. Engr. Bryan Jy S. Laos
9. Engr. Princess June S. Lasquite
10. Engr. Richard M. Manolo
11. Engr. Cherryl P. Perra
The Agricultural and Biosystems Engineering Board Exam, given once a year only, covered topics from rural electrification, agricultural processing, agricultural structures and allied subjects (34%); soil and water resources development and conservation, irrigation, drainage and allied subjects (33%); agricultural mechanization, agricultural power, agricultural machinery and equipment and allied subjects (33%). Central Philippine University is the only school in Iloilo that offers Bachelor of Science in Agricultural and Biosystems Engineering (ABE) and has proven once again that it has the best ABE program in the region and one of the top performers in the country.
With the University's committed vision to Exemplary Christian Education for (EXCEL), the program which is offered under the College of Agriculture, Resources and Environmental Sciences, will continue to strengthen its curricular offering and align its activities and outcomes especially towards research, development and incubation.