By Cyrus A. Natividad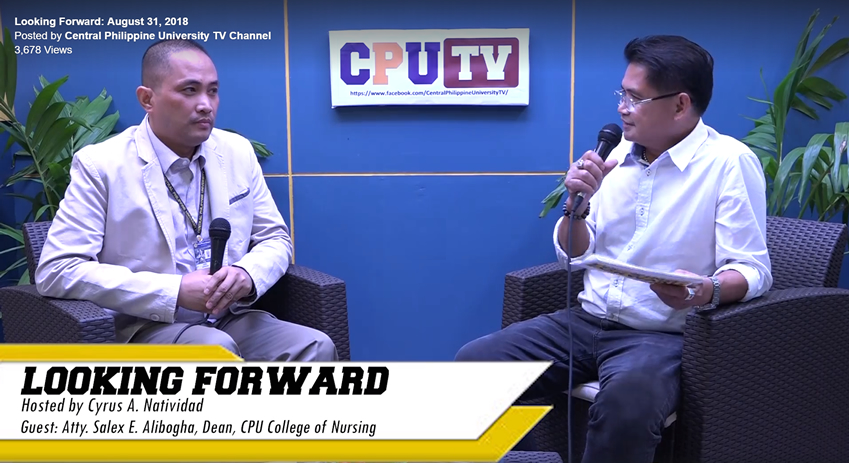 Atty Salex E. Alibogha shares his plans and goals for the CPU College of Nursing to Mr. Cyrus A. Natividad during an episode of Looking Forward.
The Dean of the College of Nursing, Atty Salex E. Alibogha, was the guest in the CPUTV program "Looking Forward" last Friday, August 31, 2018. After answering several questions about the College of Nursing, Alibogha apprised viewers and alumni about developments of the Nursing Virtual Laboratory. According to the Dean, the laboratory will not only serve CPU nursing students, but allied sciences departments and other schools as well.
"[It] will be a big help for biological research and instructions," explains the Dean. The project, when it becomes operational, is another achievement for the College of Nursing, which has been recognized as one of the best nursing schools in Western Visayas by Professional Regulation Commission and as one of the top ten nursing schools in the national licensure exams for nursing in the recent years. For example, PRC awarded CPU a Certificate of Recognition as the 6th Top Performing School in the November 2017 Nursing Licensure Examination.
The Virtual Laboratory is a collective project of the CPU Nursing Alumni Association worldwide and the CPU College of Nursing. It will soon be operating in the College of Nursing at the Loreto Tupaz Building in CPU.
In pursuit of realizing this dream, batches of nursing graduates and different alumni chapters worldwide have been supporting the fund drive.