By Nestle G. Taala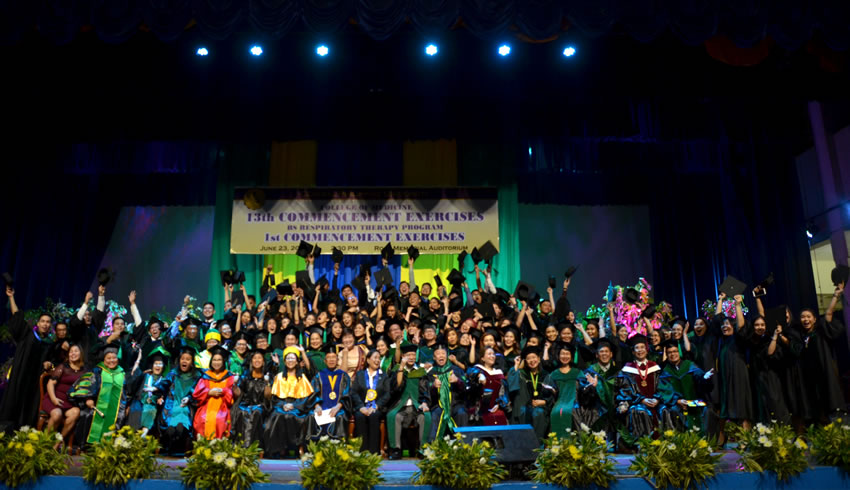 The graduates of the CPU College of Medicine together with CPU President Dr. Teodoro C. Robles, Dean Dr. Henry D. Gonzales, Administration Officials, Guest Speaker and their faculty and staff.
Central Philippine University College of Medicine held its 13th Commencement Exercises for school year 2018-2019 on June 23, 2019 at Rose Memorial Auditorium. The said college hit a milestone as they also celebrated the 1st Commencement Exercises of the BS Respiratory Therapy Program.
The occasion began with the Entrance of Colors and the processional of the graduating students together with the Dean, Dr. Henry D. Gonzales; the administration officials; the guest speaker; and the faculty and staff of the College of Medicine.
CPU President, Dr. Teodoro C. Robles, gave the welcome remarks. In his message, he hoped that the graduating class would never neglect the fact that "without God, we are nothing" since "He is the source of all wisdom and strength." Dr. Gonzales then introduced this year's commencement speaker, Dr. Mae Concepcion J. Dolendo.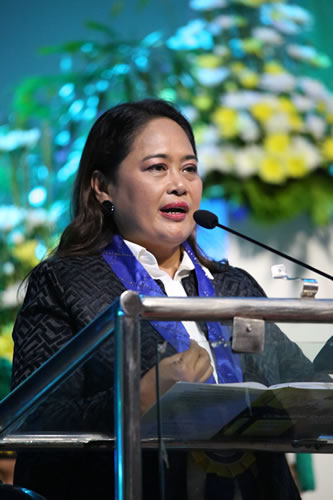 The Commencement Speaker, Dr. Mae Concepcion J. Dolendo, challenged the graduating class to live out the values that they have learned.
Dr. Dolendo finished her elementary, high school and Medical Technology degree from CPU. She holds various positions in different institutions, such as Head of the Children's Cancer Institute; Director of PayWard Services, Southern Philippines Medical Center; Medical Director of St. Jude Global, Davao, Philippines and Program Director of the World Child Cancer Mindanao Pediatric Cancer Care Network Project.
To inspire the graduates, Dr. Dolendo shared her life experiences as she faced her fears through the course her journey. According to her, "We must acknowledge our weaknesses and try to be better not only for ourselves but for the people we care for."
She reminded the graduates, "Please choose not only to be successful but also to be significant. Please choose to walk your talk. Live your values—'wag niyong sabihin; ipakita niyo. [Don't just say it. Show it.]  I am confident that with the Central Philippine University education, you are equipped with the necessary knowledge and values to make the right choices." She then ended her message with the Bible verse, Romans 8:28.
After the message, the program went on with the conferral of degrees and investiture of hoods with Dr. Robles and Registrar, Miss Charissa June Deocampo, assisting. CPUAAI President, Engr. Isagani Jalbuena, led the graduates in making the Pledge of the Alumni. Meanwhile, Rev. Roger Quimpo, ended the activity with a prayer and the benediction.