By Rusieljs G. Lunasco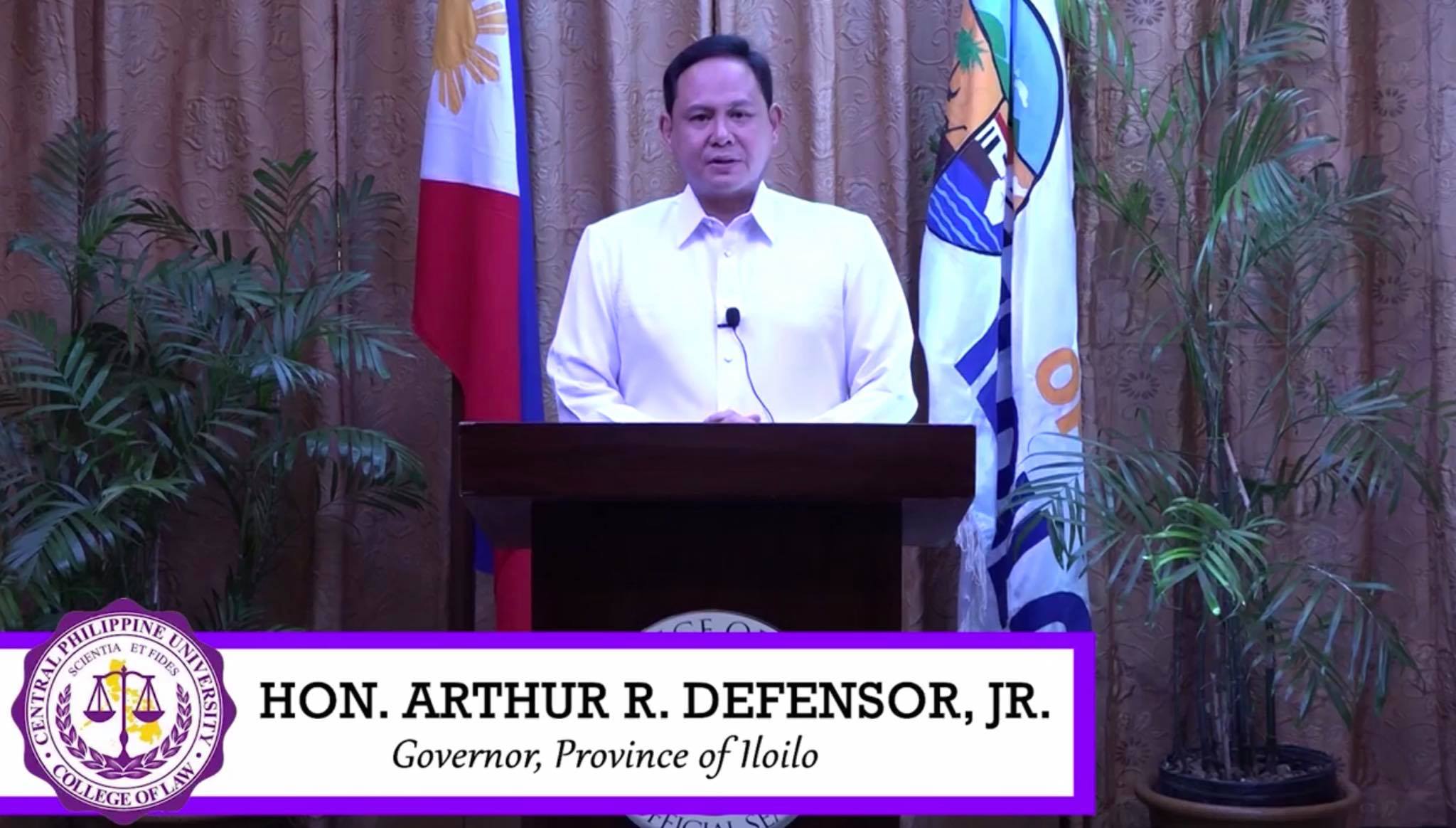 Commencement Speaker Province of Iloilo Governor Arthur Defensor Jr., emphasized the importance of integrity in the legal profession in his address to the graduates.
The Central Philippine University College of Law held its first virtual Baccalaureate Service and Commencement Exercises on September 5, 2020.
The ceremony marked the official conferral of Juris Doctor degrees to 33 students.
"We recognize the value of such a time-honored tradition and we will not allow the pandemic to deprive you of the recognition you deserve," said CPU President Dr. Teodoro C. Robles in his opening message. "Today we honor you, your mentors and parents, and everyone who has journeyed with you."
Dr. Robles also emphasized the values of Christ-likeness and justice to the Class of 2020.
"As Centralian lawyers and Christ-followers, your sense of justice is bestowed upon you by our Creator. He is loving, kind, and merciful and he is also righteous, holy, and just, and all of those you must be as well. Remember that justice is one of the core values of your alma mater."
This year's Commencement Speaker, Province of Iloilo Governor Arthur R. Defensor Jr., a lawyer himself, talked about the importance of having a strong moral compass in the legal profession.
"When you become lawyers, people will look up to you for guidance. You will have the power to wield the law, either to protect it and defend what is right or use the law to oppress the vulnerable. May you use it not to condone what is bad. Do not be ensnared by the evils around you, but do good even when you are all alone, standing for what is right."
"The legal profession is not only a means of livelihood, it is a vocation that is honorable. You must not taint it for reasons such as fame, wealth, and grandeur. As Supreme Court Associate Justice Estela Perlas-Bernabe said in her address to the passers of the 2018 Bar Examinations, Never compromise your integrity. At the end of it all, in whatever opportunity you choose, your integrity is non-negotiable."
Jikko Solano Belejerdo, who gave the response in behalf of the Class of 2020, reflected on one's identity and how a person's worth should not be measured by his/her achievements and titles. He talked about the uniqueness of every person's life journey.
"This society has to break the culture of measuring and categorizing someone's worth based on his career path, status, or whatever issue he is suffering from. Everybody's journey is significant. We may lead to different directions, take different steps, hold on to different beliefs, nevertheless, it is about our will, courage, and faith. Our differences should give us room to cultivate acceptance and respect, not judgment and condemnation. We are not our issues nor are we our struggles."
"I want to remind those whose identity has mainly been about their achievements or titles. We are not defined by our title. We define our title. My fellow graduates, never settle to being just a lawyer, when we can be God-fearing lawyers, compassionate lawyers, honest lawyers, generous lawyers – not just lawyers. We define our title. We are not our achievements. We are who our God says we are. "
The College of Law virtual Baccalaureate and Commencement Services can be viewed on the official Facebook page of the CPU TV Channel.
To watch the full ceremony click the link below:
https://www.facebook.com/140064646624739/videos/314772033285278/