By Keziah G. Huelar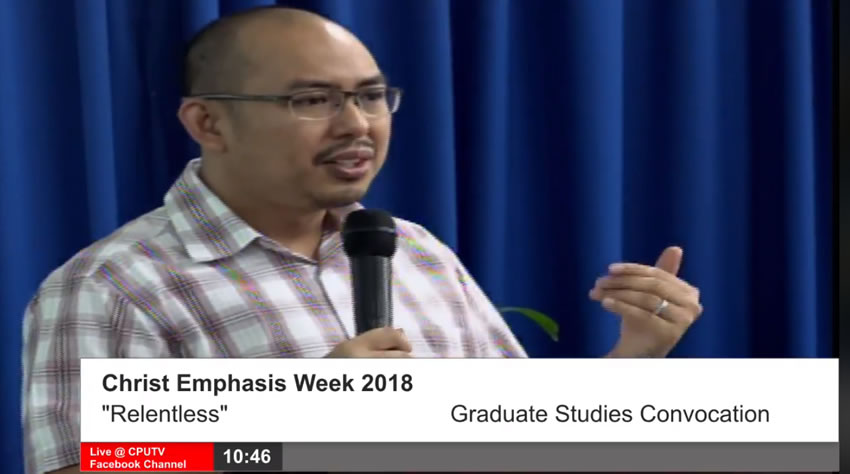 Judge Mark Anthony R. Polonan shared his testimony to the School of Graduate Studies, and the College of Law.
Planting seeds of faith in our future Centralian lawyers—The University Church, together with the Central Philippine University College of Law, held a convocation service at the Educational Media Center on August 15, 2018.
For the welcome remarks, Atty. Zacarias D. Bedona, Dean, CPU College of Law, thanked the students for their participation and the University Church for initiatives that promote CPU's vision of producing exemplary Christian learners.
It was then followed by the explanation of the text and theme by Rev. Cris Amorsolo V. Sian, Senior Pastor, University Church. According to Rev. Sian, this year's theme, "Relentless," is all about the relentless love of God who pursues us: "'Relentless' is defined as continuing without being weak. How good it is to know that God keeps on reaching out to us. It is the desire of the University that through this Christ Emphasis Week celebration, we will make the pursuit of God the topmost priority."
 Ptr. Mary Grace F. Labis, Associate Pastor of the University Church, then read Luke 15:1-32, which contains the parable of the Lost Sheep, the parable of the Lost Coin and the story of the Prodigal Son. After which, Tammy Enriquez, JD-3, introduced the convocation speaker, Hon. Mark Anthony R. Polonan, Judge 8 of the Municipal Trial Court in Cities.
In his message, Hon. Polonan talked about how the relentless love of Jesus was shown in the three stories, particularly in the characters of the shepherd, the woman, and the father: "These are three subjects sharing one emphasis, one overall outcome. Always remember that God is in the darkest, deepest parts of your lives. He wept when you wept."
 He also reminded the law students about the unlimited grace of God, "The relentless love of God is the patient love of God. Remember, you are never too sinful for God to forgive. You are never too dirty for God to cleanse."
 Ending his message, Judge Polonan talked about the importance of having a relationship with God and to feel his relentless love and grace.
The closing prayer and benediction was then led by Rev. Sian.