By Cyrus A. Natividad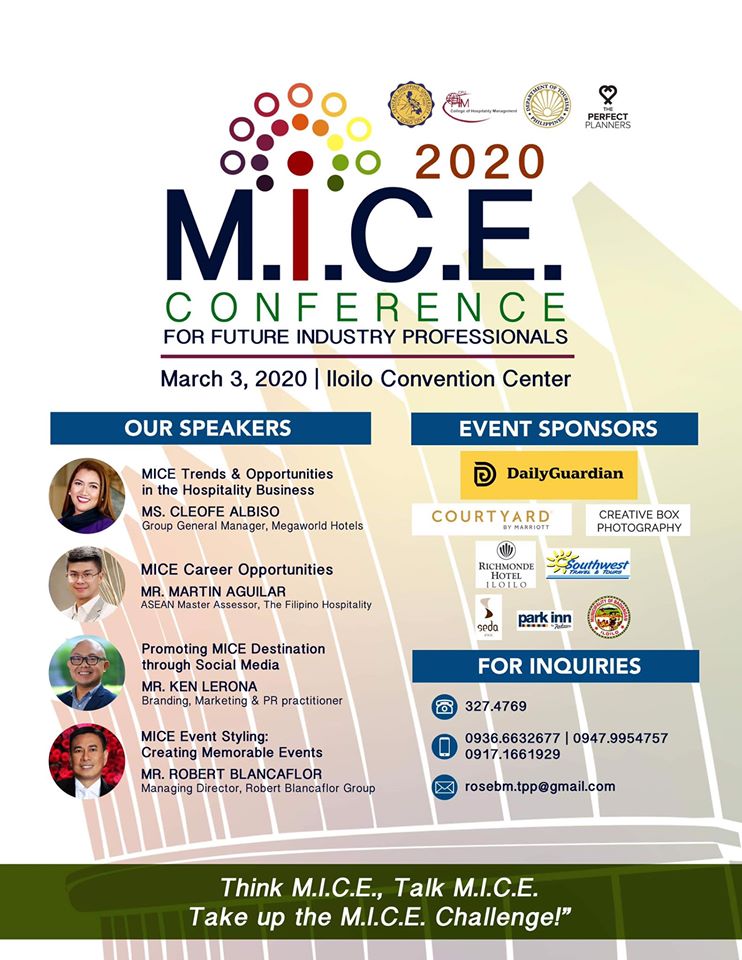 The CPU College of Hospitality Management held a M.I.C.E. (Meetings, Incentives, Conferences/Conventions, Exhibitions/Events) conference for Future Industry Professionals on March 3, 2020 at the Iloilo Convention Center (ICON) in Iloilo Business Park. The conference was in partnership with the Department of Tourism Region 6.
The conference aimed to strengthen the capabilities of students in the field of hospitality. The organizers emphasized that "as Ilonggos, it is our goal to promote Iloilo to become a tourism-oriented city. This will help our young professionals become more trained, ready and equipped for more years to come, to host, hold, and accommodate more tourists in Iloilo City."
The conference was attended by more than 500 tourism and hospitality management students from different schools in Western Visayas. Iloilo City Mayor Jerry P. Treñas, Gov. Art Defensor, Jr. and Iloilo M.I.C.E. Director Mr. Salvador Sarabia, Jr. were the guests.
There were invited speakers from Manila who talked about "Promoting M.I.C.E. through Social Media", "M.I.C.E. Event Styling", and M.I.C.E. Challenges and Opportunities". The Megaworld Group executives also contributed to the lectures.
The speakers provided opportunities for the attendees to learn the best methods, skills, and techniques from the best professionals in the different areas of M.I.C.E. event management. The conference enhanced classroom learnings to industry-fit future M.I.C.E. professionals.