By Cyrus A. Natividad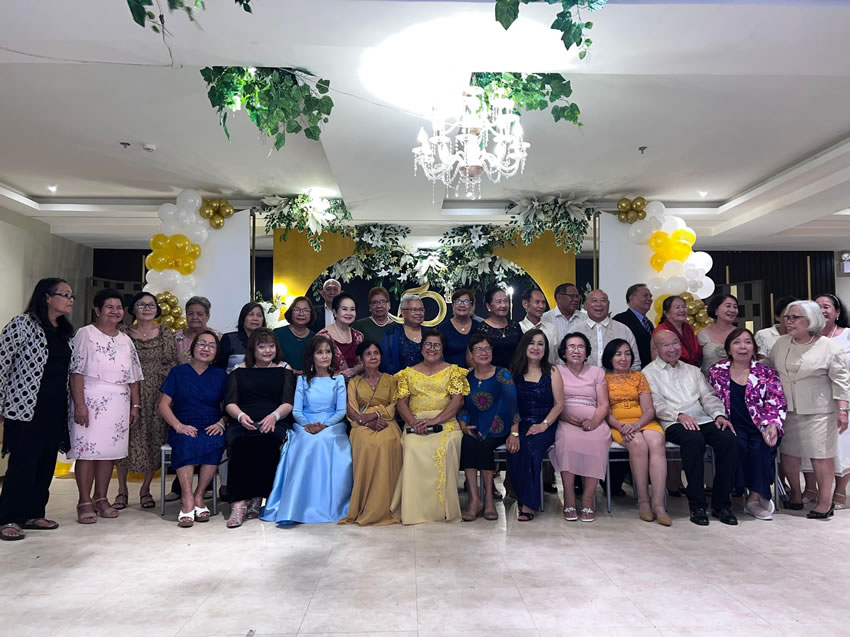 Members of the CPU BSC Batch '73 during their Golden Jubilee Reunion at Zuri Hotel, Iloilo.
"Together Once Again – After 50 Years" is the theme of CPU College of Commerce Batch 1973. More than 45 members have come together and celebrated their Golden Jubilee Reunion, as much as it's just the First Alumni Homecoming of Batch '73. Well-liked President Flemia Armada-Eusebio and her very supportive officers did their best to make the significant event on February 4, 2023 – more memorable.
The activities started inside the CPU College of Business and Accountancy Office at the New Valentine Building. They had socializations at 10:00 in the morning; snacks, lunch and more socialization until 3:00PM.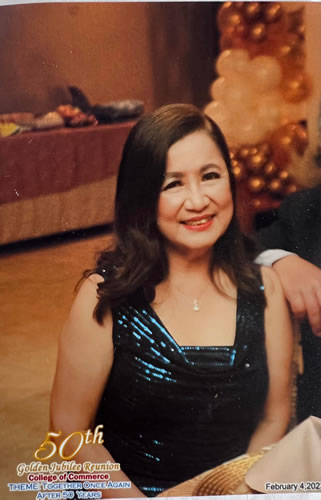 BSC Batch '73 Alumni Association President Flemia A. Eusebio.
In an interview with the Weekly Centralian Link, Eusebio said that one of her plans which is supported by Batch 73 is to sponsor one Professorial Chair in the CBA. This was echoed positively by Ninfa Padrones, Antonieta C. Eguico and Agripino Gallos , Jr. who were with her during the interview.
The celebration highlighted at the Zuri Hotel, Sen. Benigno Aquino Avenue in Manduriao, Iloilo City. The registration was at 6:00 in the evening. Dinner was served at 6:30PM.
The program started with a prayer by Agripino Gallos Jr. BSC Batch President Eusebio welcomed her dear classmates and batch mates, and said "We have come a long way since 1973; our faces and figures may have change after 50 years, but we will always remember the wonderful times we shared in college. Memories are one of life's most cherished possessions."
Former Dean of the College of Commerce, Dr. Teresita E. Crucero and Ren Briones delivered their inspirational messages. The program ended with a message from Melvin Espiga, a former work student. Raffles and gift-giving followed; games, singing and dancing occupied the rest of the evening.
The List of CPU BSC Batch '73 Officers are as follows:
President Flemia A. Eusebio
Vice President, Foreign Judy Grace R. Gabuna
Vice President, Philippines Trinidad Sorongon
Secretary Emilia G. Herrera
Asst. Secretary Perlina C. Regalado
Treasurer Antoneita Eguico
Asst. Treasurer Ninfa Flora Padrones
Auditor Moises Gentozo
Publications Manager Agrifino Gallos, Jr.
Adviser Ren Beriones
Ms. Trinidad Sorongon and Moises Gentozo were Masters of Ceremony.