By Cyrus A. Natividad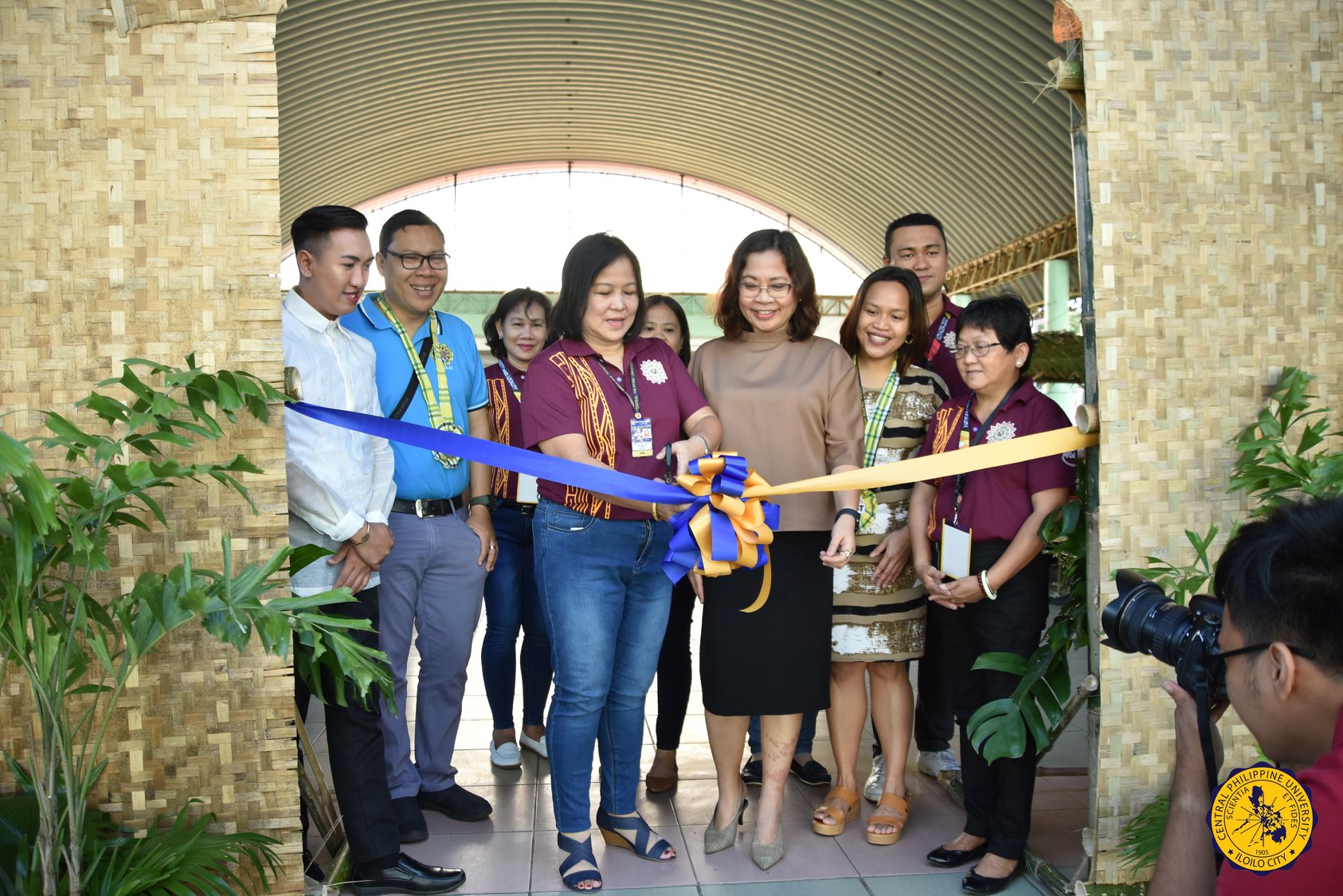 CPU Communications Director Rev. Francis Neil Jalando-on (second from left), CHM Dean Prof. Ma. Medalla Baliao (center), Ms. Carmelle Frances Romero (second from right) with CHM students and faculty during the Ribbon-Cutting for Voyager 2020.
Central Philippine University College of Hospitality Management held its Voyager 2020: 13th Resurgence (Diversity Meets Locality) with the theme: "Glimpse to the Past Expedition Through Vibrance and Fun of Las Islas Filipinas" on Friday, February 28, 2020, at the Alumni Promenade and Concert Park.
The registration of participants and guests started at 6 AM with an invocation at seven. The program proper began at 7:30 AM. Dean Prof. Ma. Medalla P. Baliao delivered her Welcome Remarks. She mentioned the competitiveness of the students and the College of Hospitality Management. She also declared the Voyager 2020 events open.  Oliver Amisola introduced the Guest Speaker – Mr. Roy Gatpatan, Proprietor-Paradise World Travel and Vice President-Association of DOT Accredited Senior Guide. Gatpatan encouraged the students to promote their hometown and the province of Iloilo.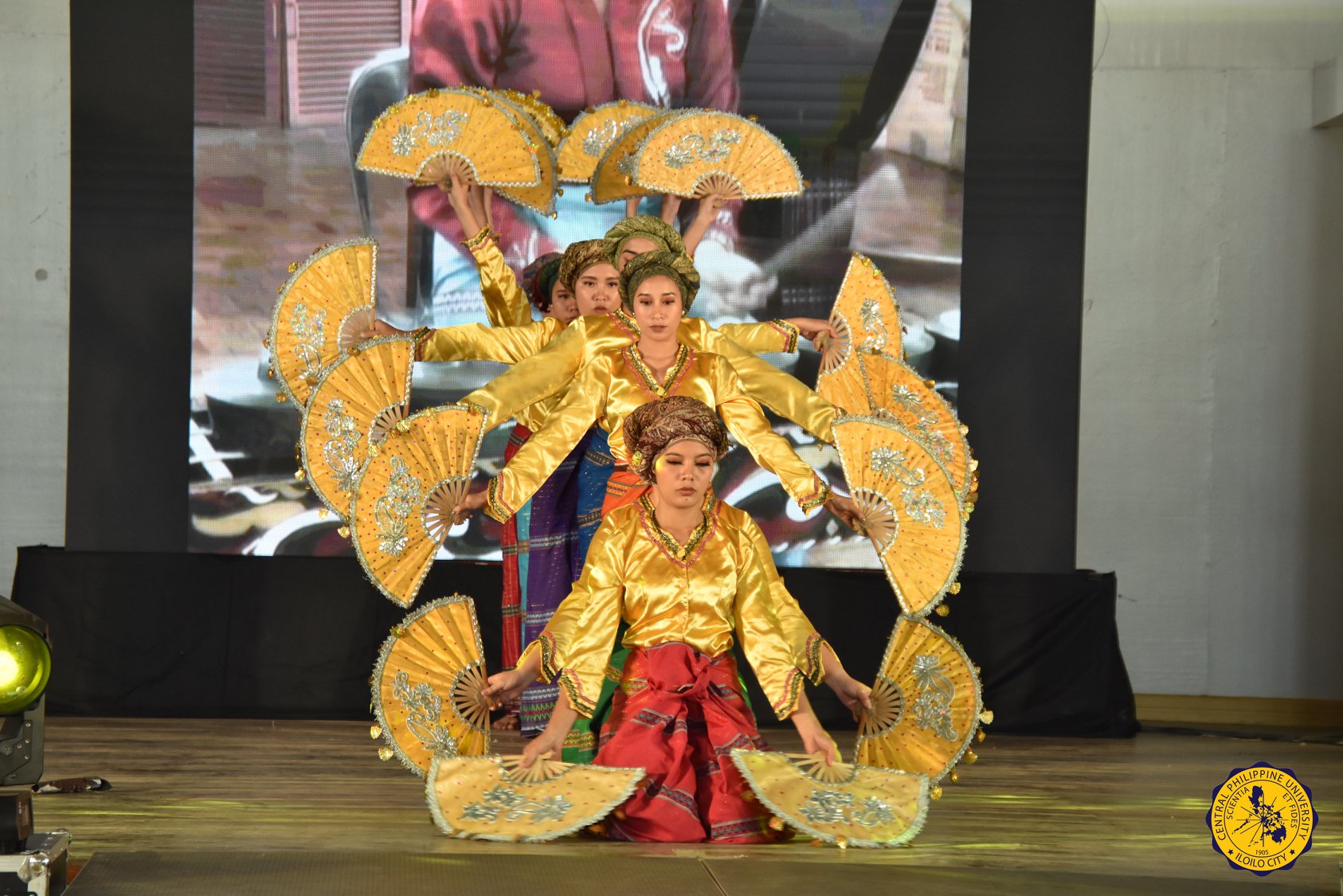 CHM students showcased the best of Philippine culture during their production number.
The Voyager 2020 continues to 'sail on' year after year, but this time, the CPU College of Hospitality Management made sure that the essence of tourism, particularly the facts and sites were blown up to a level of presentation where it involves the Department of Tourism Region 6 and Philippine Tourism Destinations like Zamboanga, Bohol, Negros, Baguio and Batangas, and Iloilo City. Production numbers of CHM students reflected culture and tourism events such as Sinulog of Cebu, Penagbenga of Baguio, Manggahan of Guimaras, Ati-atihan of Kalibo, Masskara of Bacolod and Dinagyang of Iloilo, and others.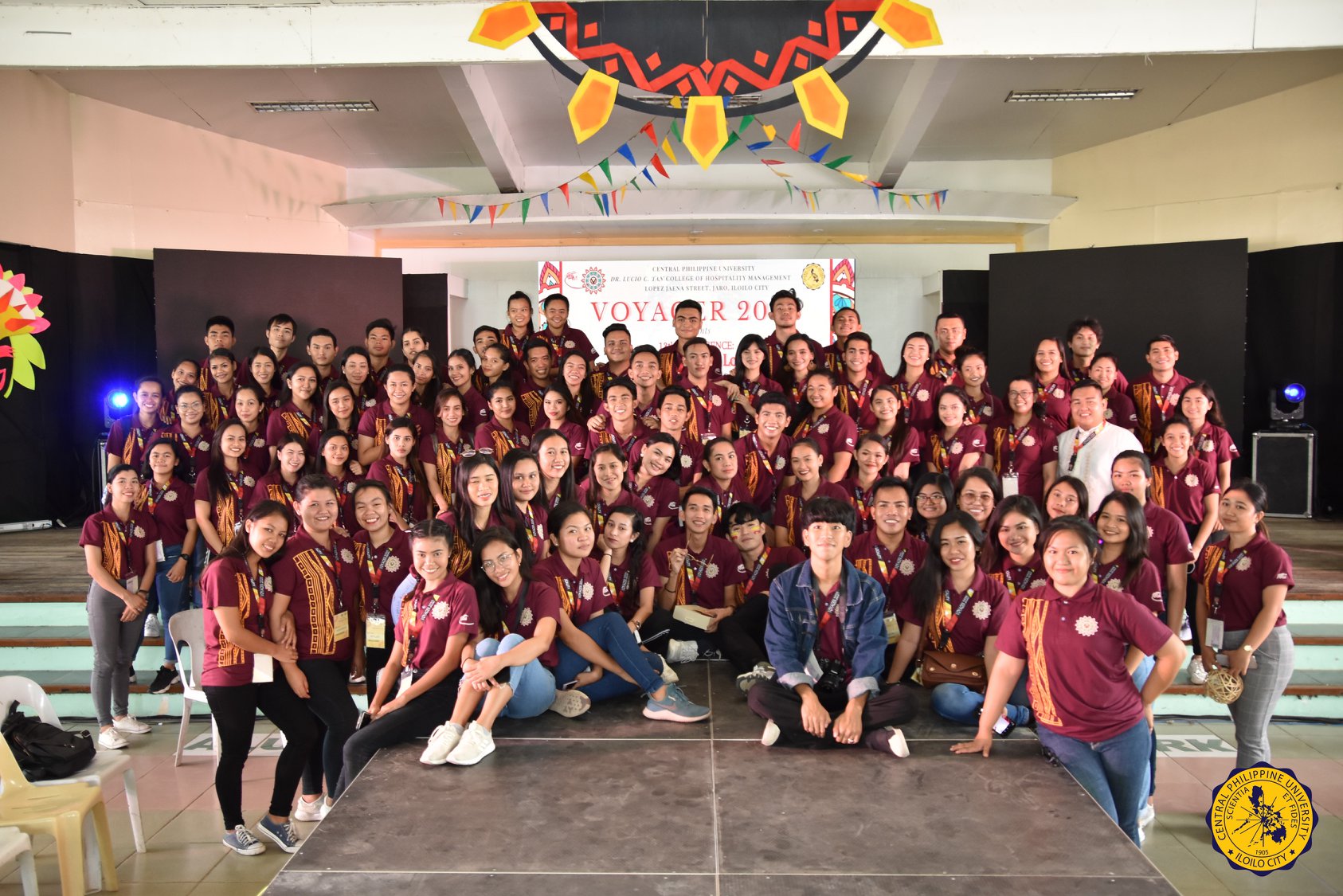 Students from the College of Hospitality Management pose for a Commemorative Photo.
Rules and Criteria for Tour guiding competition, Wanderer's quiz bowl, and Culinary Arts and Table Service Setting competitions were read. The participants were teams who spent time and resources to produce their talents and numbers. The 'tour guiding' competition was something for someone who had the acumen to memorize details of what a tour guide should say for the tourists.
Here are the results of the following competitions:
Tour guiding Competition:
1st Place          Rennan Kenn Toboso
2nd Place        Dane Marie Buyco
3rd Place         Marjon Paul Barnezo
Culinary Challenge:
1st Place                      Team Pampanga
2nd Place                    Team Ilocos
3rd Place                     Team Bicol
4thPlace                      Team Batangas
Table Service Challenge:
1st Place                      Team Ilocos
2nd Place                    Team Pampanga
3rd Place                     Team Bicol
4th Place                     Team Batangas
Table Setting Challenge
1st Place                      Team Ilocos
2nd Place                    Team Batangas
3rd Place                     Team Pampangga
4th Place                     Team Bicol
Booth Set-up Challenge
1st Place                      Team Ilocos
2nd Place                    Team Pampangaa
3rd Place                     Team Batangas
4th Place                     Team Bicol
Overall:
Champion:       Team Ilocos
1st Runner Up Team Pampanga
2nd Runner Up           Batangas
3rd Runner Up            Team Bicol