By Cyrus A. Natividad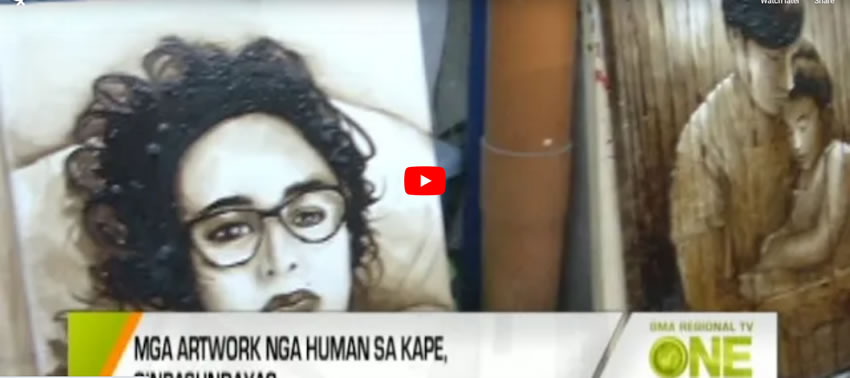 CenVas Coffee Painting featured on GMA's One Western Visayas.
There is a so-called Coffee Art on weekends at the Robinsons Place Jaro, 2nd Level. The new Art Medium is another innovation of the Centralian Visual Artist Society (CenVas). It's not about drinking coffee while you paint; liquid coffee is the paint itself. The precursor to this innovation is the 'liquid textile medium discovered by CenVas Coordinator Ef Alfaras, a Centralian employee, painter and artist who unintentionally dropped an amount of chemical to a piece of cloth resulting to a liquefied paint medium. He has already made several canvases painted with the liquid, and held some exhibits for it.
The coffee art is another CenVas workshop for beginners and even senior masters of art. "Start Your Art with Coffee… on weekends." Alfaras and Cultural Affairs Director Crista Huyong are encouraging the young students of art but it has attracted senior citizens as well. One Senior Citizen exclaimed "Oh, I love it! I can now paint with coffee…and drink it too!"
There is a 3-hour Art Session every Saturday and Sunday from 2:00 to 5:00 PM (inclusive of coffee, brushes, 1 artboard (12×16 inches), pencil and a chance to join an exhibit for P500 only. For P900, the following materials are included: coffee, brushes, 1 artboard and 1 canvas sized 12×16 inches, pencil and a chance to join exhibits.
The CenVas Art Workshops and Exhibits are sponsored by Central Philippine University Cultural Affairs Office and Robinsons Place Jaro.