By Cyrus A. Natividad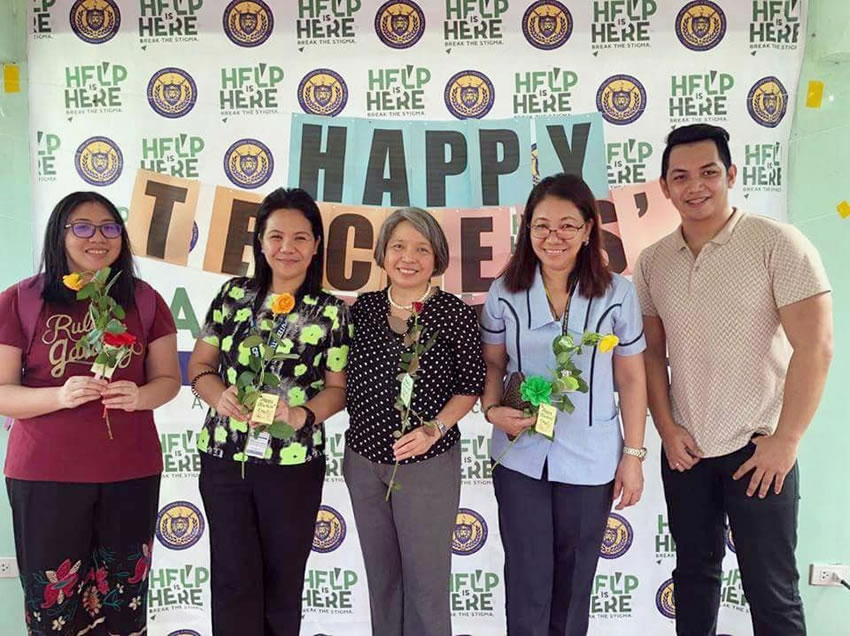 CPU Republic President, JM Suelo handing out roses to our beloved teachers.
Why God created teachers,
In his wisdom and his grace,
Was to help us learn to make our world
A better, wiser place…
Kevin William Huff, "Why God Made Teachers"
This year, the CPU Kindergarten Department celebrated International Teachers' Day in the morning and afternoon of October 5, 2018. The usual Friday Big Group activity of the Kindergarten was utilized for this event. The CPU Kindergarten PTA worked hard to give a "surprise" program to the teachers of the department.
PTA President Mark Cervantes and Pastor Jec Dan Borlado gave spiritual encouragements in their morning session. Selected pupils from different levels gave tributes to the Kindergarten teachers. In the afternoon, the mothers took charge of the program. The parents prepared and shared snacks. The teachers were recognized and given tokens by the Nursery, Kinder 1 and Kinder 2 pupils. The group also showed a slide presentation entitled "Teachers in Action."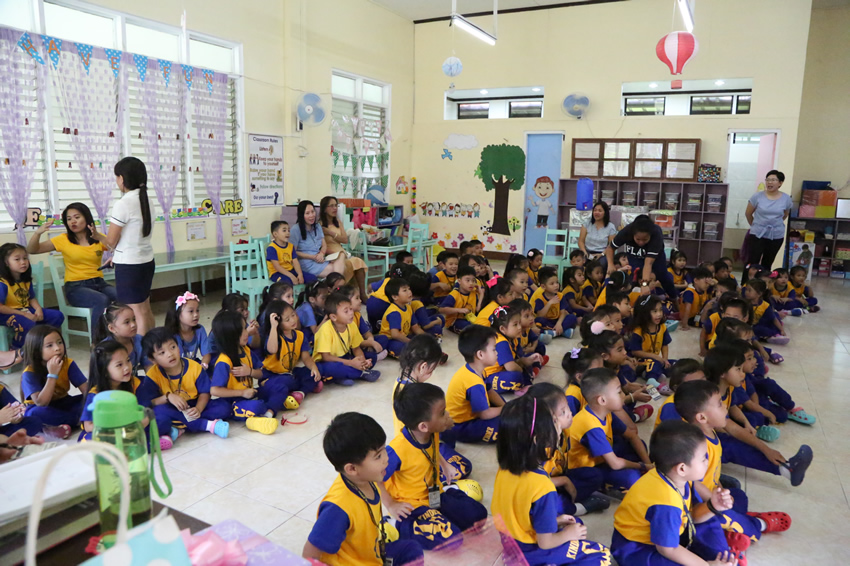 The CPU Kindergarten celebrates "Teachers' Day" with a short program.
The CPU Elementary School celebrated International Teachers' Day on Monday, October 8. Parents, teachers, and students had lunch together in their respective classrooms. The pupils handed flowers to the teachers while the PTA organized a pampering activity with free foot spa, massage, and manicure and pedicure for the teachers.
Elementary Principal Janet P. Jaco, who had served as teacher in the Kindergarten and High School before her assignment as Principal of the Elementary School, encouraged the teachers and parents to continue working together for the benefit of the students: "We must have a sense of fulfilment in developing the head and heart of the students."
The CPU Junior High School also celebrated International Teachers' Day on October 8, Monday in the afternoon with a devotional sponsored by the Araling Panlipunan Organization at the Rose Memorial Auditorium. A program sponsored by the CPUR Junior High School Provincial Board treated the teachers and parents to a variety show.
The students gave gifts and tokens to the High School faculty and staff. The faculty, in return, rendered a song for the students. Junior High School Principal Janet Jalbuena thanked the students and the teachers, in particular, for the memorable gathering and program.