By Cyrus A. Natividad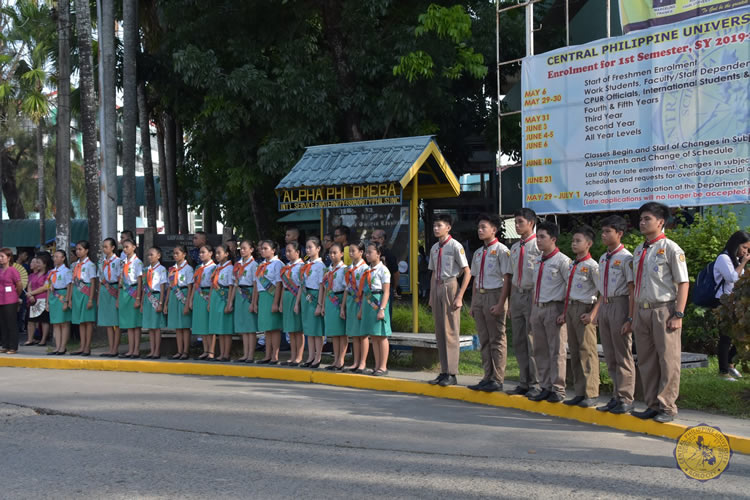 An ode to the Philippine flag – Centralian Boy and Girl Scouts during the flag-raising ceremony held at the CPU flagpole.
Central Philippine University Cultural Affairs Office in collaboration with the University Elementary School hosted the celebration of the 121st Philippine Independence Day on June 13, 2019, Thursday. A campus parade and flag raising ceremony was held by the University Elementary School and CPU Republic at 7:30 AM. A program followed at the CPU flagpole area. This year's theme is "Pagbabagong Ipinaglaban, Alay sa Masaganang Kinabukasan."
Pastor Roger T. Quimpo, Pastor for Outreach, University Church, led the invocation. The singing of the National Anthem was led by CPU Elementary Grade 6-Excel pupil, Sofia Beatrice U. Tupas. The Panunumpa sa Watawat ng Pilipinas and Panatang Makabayan were led by CPU Elementary Grade 6-Excel pupils, Steven Andrei C. Chua and Benjamin Israel O. Fuentespina, respectively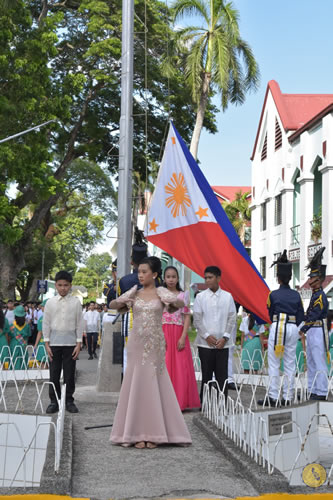 Sofia Beatrice U. Tupas, CPU Elementary School led the singing of the Philippine National Anthem.
The program continued at the Alumni Promenade and Concert Park. CPU President, Dr. Teodoro C. Robles welcomed everyone and expressed gratitude to the organizers. He mentioned the importance of celebrating independence and of thanking God for the freedom that Filipinos are enjoying now. Dr. Robles recalled as well the sacrifices of the Filipino heroes so that "we enjoy life, citizenship, and responsibilities in nation building." He encouraged everyone to continue to educate themselves and be aware of the problems confronting the nation. The CPUES Rondalla then rendered a special number of some favorite Philippine folksongs.
Mrs. Evamer G. Ruegg, faculty, CPU Elementary School, introduced the guest speaker, Atty. Joseph S. Celis, National Police Commission (NAPOLCOM) Regional Director (Region 6).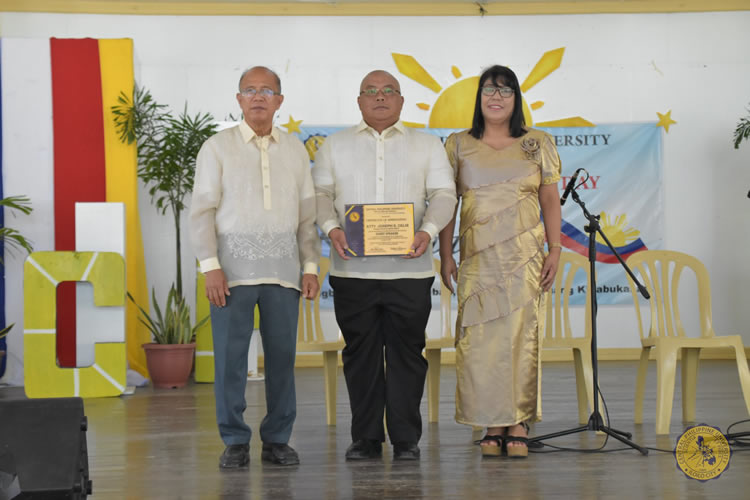 CPU President, Dr. Teodoro C. Robles together with Guest Speaker Atty. Joseph S. Celis and Prof. Janet P. Jaco, Principal, CPU Elementary. 
Celis talked about the "Essence of Nationalism." He emphasized that "our educators are the heroes in nation-building," acknowledging that without them, he would not have achieved his current position and exercised integrity in government service.
Towards the end of the program, Viza Gale Q. Espada, Grade 6-Excel, gave a rendition of Pilipinas Kong Mahal. Mr. Rodrigo J. Sotto, Jr., CPUES Faculty, then led the singing of the Alma Mater song. Pastor Quimpo ended the program with a prayer.