By Keziah G. Huelar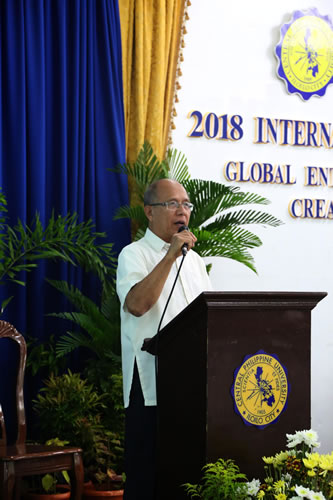 CPU President, Dr. Teodoro C. Robles, highlighted the importance of research in promoting progress.

With the theme "Global Entrepreneurship: Innovation, Creativity, and Technology," the Central Philippine University College of Business and Accountancy, together with the University Research and the Review, Continuing Education, and Consultancy Center, held an International Research Conference at the Educational Media Center on August 28-29, 2018.
Rev. Cris Amorsolo V. Sian, Senior Pastor, University Church, led the opening prayer. It was then followed by the welcome remarks given by CPU President, Dr. Teodoro C. Robles. In his message, Dr. Robles welcomed the guests and participants, "We're happy that we [conducted again] this international conference. The first one was in November 2015 and we had an international conference with multi-disciplinary topics and we have started putting it in publications for our international journal." He also highlighted the importance of sharing ideas and output through the publication of research journals.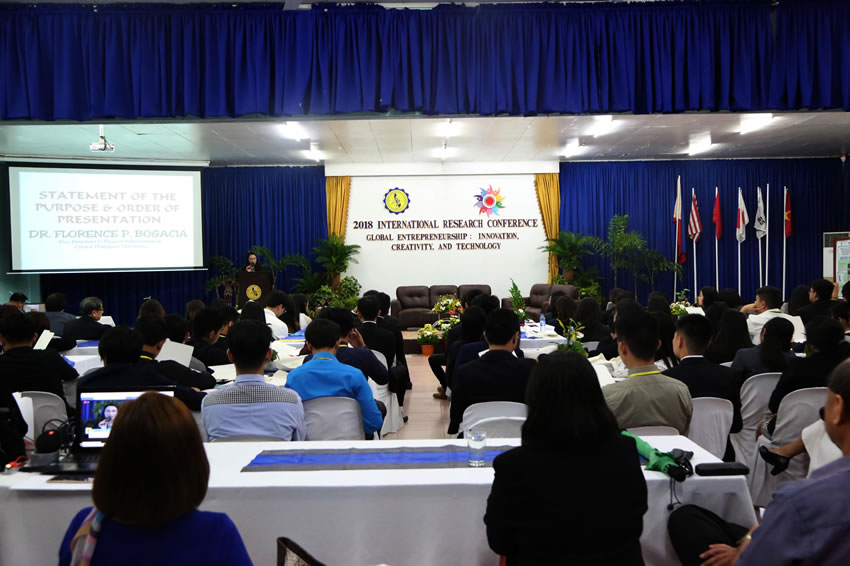 Delegates from all over the country participated in the 2018 CPU International Research Conference.
 Dr. Florence P. Bogacia, Vice President, CPU Finance and Administration, gave the statement of purpose and order of presentation. Dr. Bogacia highlighted the importance of sharing research output as an integral part of higher education: "This conference will highlight two types of study: the business plan and the feasibility study. This conference on global entrepreneurship allows formal university exchanges. It is an invaluable response to academics who are documenting new business ventures. It provides a platform where students can advance their business ideas and illicit feedback from fellow students and gain valuable advice from faculty members and other people."
 Dr. Rowena M. Libo-on, Director, Transnational Programs and Acting Dean of the School of Graduate Studies, introduced the keynote speaker, Dr. Cho Jaehoon, Professor of the Industry University Collaborations, Linc+, Tongmyong University, Busan, South Korea.
In his message, Dr. Jaehoon talked about the economic development of South Korea and the entrepreneurship education offered by Tongmyong University. He also emphasized the importance of global competitiveness in opening various employment opportunities in various industries.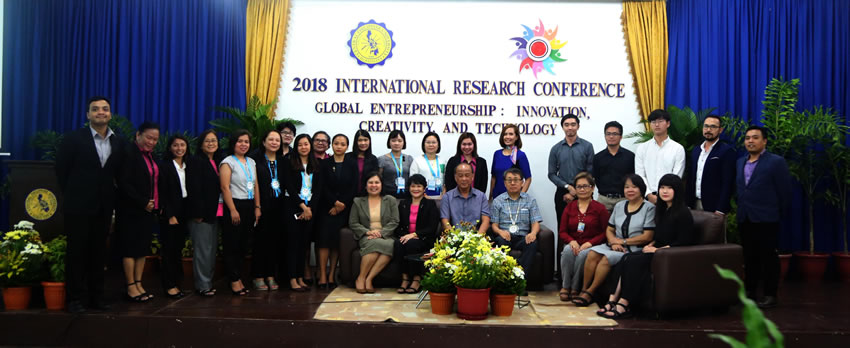 The officials and directors of the different CPU departments together with the speakers and organizers.
Presenters of the conference during the first day included the following presentations:Jessica Aliana S. Habunal from CPU talked about "Feasibility Study of Food Kiosk at University Belt of Iloilo Science and Technology University"; Rae Marie G. Leong-on from CPU discussed "Dream Tea"; Hasuka Suematsu from Fukuoka University, Japan discussed his small business model entitled "All Natural One-Stop Shop Basic Home Furnishings: The Japanese Model"; Krista Joy D. Lenaming, Leo Sim C. Soldevilla, and Jenry B. Yu from CPU talked about "A Reverse Tuck-end Folding Carton Package Development for Eraser Green Soap Manufactured by Mikay Organics, Hinoba-an, Negros Occidental, Philippines"; Anneline L. Palmaira from CPU discussed her study "Diet Ko"; Moon Kyeong Ryeol from Tongmyong University, Busan, South Korea talked about "International Marketing through YouTube reaction Video"; Angela D. Besiño and Karenina P. Depamaylo from CPU discussed "GDT Trucking Service Feasibility Study."
During the second day of the conference, Prof. Ma. Cora E. Biton from the Iloilo Science and Technology University presented her study entitled "State of Entrepreneurship among Business Schools in Iloilo City: Basis for Developing a Sustainable Entrepreneurship Program"; Dr. Anwarul Wadud from Philippine Christian University talked about "Bangladeshi in the Philippines: Their Career Growth and Development"; Dr. Myrna T. Luceño, Dr. Armando M. Hisuan Jr. and Prof. Mary Ann C. Garrido from CPU discussed their study entitled "Indigenous Cooking Methods and Practices in Central Panay"; Dr. Thi Gam Nguyen, Dr. Thi Thanh Huyen Ta from Thai Nguyen University, Thai Nguyen, Vietnam and Le Huyen Trang from Thang Long University, Hanoi, Vietnam presented their study "Applying the Structural Equation Model to Analyze the Impact of Retail Service Quality on Customer's Satisfaction and Customer Loyalty in Hanoi Supermarkets"; Dr. Mark Lister F. Opiña from CPU shared the output of his study entitled "Human Resource Management and Extent of Organizational Innovation Practices among Public & Private Hospitals in the Island of Panay: Their Implications on Organizational Efficiency"; Dr. George R. West from Regent University, Virginia, USA talked about his study, "Examining the Relationship Between Entrepreneurial Orientation and Organizational Performance: The Moderating Role of Organizational Learning"; Dr. Narciso Immanuel C. Managuelod from Philippine Christian University presented his study entitled "Strategic Model in Enhancing Communities Social and Economic Development through Cooperatives in the Province of Isabela"; Atty. Salex E. Alibogha, Dean, CPU College of Nursing presented his study "Project Entrepreneurship: Demystifying Entrepreneurial Mind in the Nursing Profession" and Dr. Ian B. Arcega from Capiz State University who talked about "Tryk Technology: A Student Enterprise Partnership at CAPSU, Capiz Province, Philippines."