By Nestle G. Taala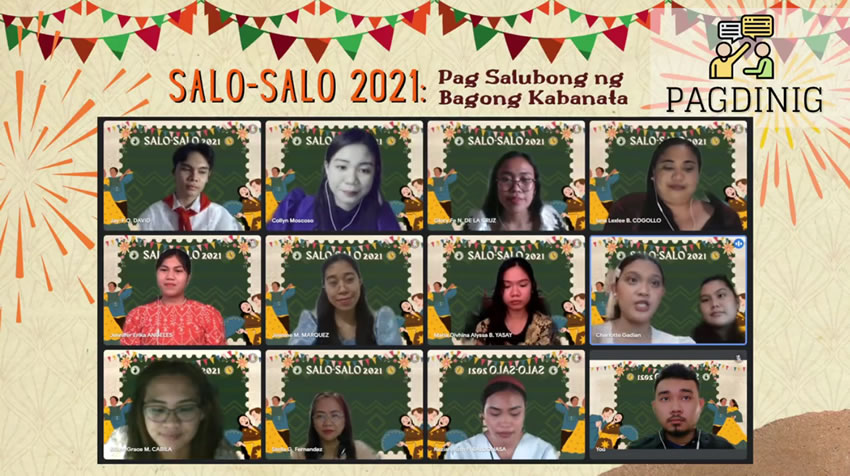 The Salo-Salo 2021 was well-attended by students of the College of Arts and Sciences.
Central Philippine University College of Arts and Sciences conducted a Virtual Acquaintance Party on October 6, 2021 with the theme, "Pagsalubong ng Bagong Kabanata."
Ms. Maria Divhina Alyssa B. Yasay, CAS Provincial Council (CASPC) Minister for Cultural Affairs gave her opening remarks to officially start the program. Meanwhile, Ms. Divine Grace Sorioso, CASPC Adviser, also graced the event by rendering her welcome remarks to the students of Arts and Sciences or the CASimanwas.
One of the highlights of the said celebration is the "Inspirational Talk on how to overcome online class struggles and avoid burnouts" given by the CAS Guidance Counselor Ms. Julie Jane Pagcaliwangan. She shared some self-care tips such as eating nutritious food, having adequate rest, getting some physical activities, setting boundaries, among others.
The CASimanwas joined not only the games prepared by the organizers but the open forum as well in which CAS Student Council together with the CAS Dean Dr. Stella G. Fernandez served as the panelists.
Ms. Iana Lexlee Cogollo, CASPC Vice Governor, expressed her gratitude to all the participants by leaving the words, "alone we can do so little; together we can do so much" as she gave the closing remarks.