By Cyrus A. Natividad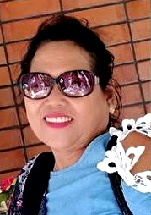 DR. JOYCE S. WENDAM- Former DA 6 Technical Director.
In the 70's – early into the Martial Law period, farmers thanked the Masagana 99 which was indeed an alternative support of the government to the farmers. The government then encouraged rice production; so called Masagana 99 – with the aim to produce 99 cavans of rice per hectare planted with palay. The successful agricultural program was implemented in 1973. The program lasted for many years. But rice and food production being on top of the country's economic drawback for decades now, brings a question, "How can sustainable livelihood be promoted amidst climate change?"
Dr. Joyce S. Wendam (part-time) Associate Professor at Central Philippine University, College of Agriculture, Resource & Environmental Sciences (CARES); and long-time Consultant of DA- CPU Agri Research Fair and Exhibits, suggested: "By reforming the agriculture industry through several initiatives, the Philippine economy may improve along with the lives of the farm families in the country. One of the initiatives of the government in order to improve the quality of life of farm families is the implementation of the program known as the Adaptation and Mitigation Initiative in Agriculture or AMIA."
The program, she said, "aims to establish climate-resilient villages to promote sustainable livelihood amidst climate change in order to improve the quality of life of the farm families and to reduce poverty in the rural communities. Some of the livelihood projects introduced in the AMIA villages are the production of organic vegetables, native chicken, native pig, "baboy na walang amoy", vermicompost, organic fertilizers, concoctions and extracts, muscovado sugar and processing, and others. From the income generated from these livelihoods, the farmer-beneficiaries are able to send their children to school. Thus, it is apparent that agriculture plays a crucial role in both the Philippine economy and the lives of the farmers. Modernizing the agricultural sector may require the forging of public-private partnerships for agricultural resilience and sustainability that may help improve the agricultural productivity and the country's economy as well as the lives of the farm families.
Wendam has worked in agriculture with the government as Director III, Department of Agriculture Regional Field Office VI, Iloilo City (2010 – 2017); as OIC – Regional Technical Director for Research & Regulations for 2006 – 2015, and as OIC – Regional Executive Director, DA Negros Island Region for 2016 – 2017 among other positions in the Department of Agriculture.
She was conferred the award Outstanding Ten women of Iloilo City in 2016, Outstanding Public Employee in 2014 by Media, The William D. Dar Research Leadership Award in 2015 among others; a Career Executive Service Officer (CESO); Rank IV Career Service Executive Eligibility (CSEE), and a Certified Public Accountant (CPA).
Wendam is a PhD in Management graduate of the International Academy of Management and Economics.