By Keziah G. Huelar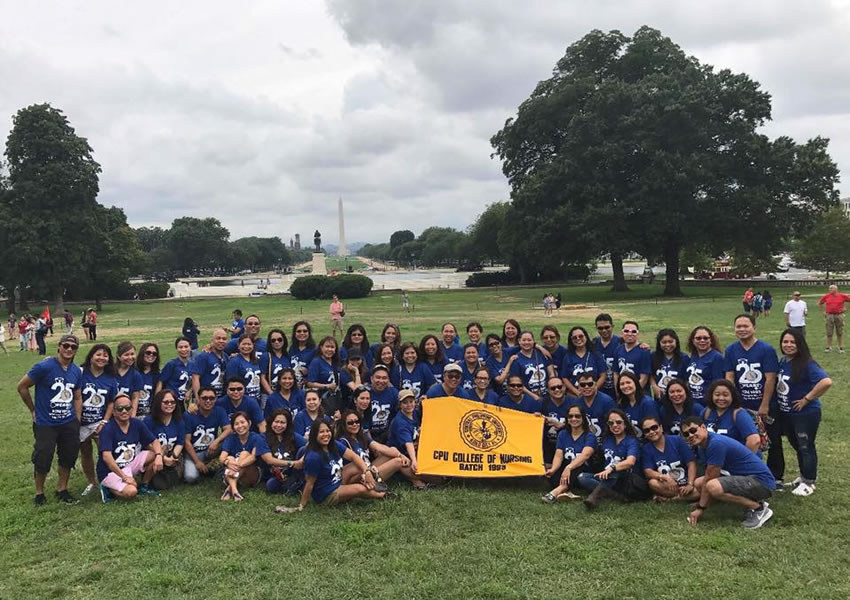 Members of the CPU BSN Batch 1993 at Washington D.C.
The Central Spirit at the Capitol—The Central Philippine University Bachelor of Science in Nursing Class 1993 held their Silver Jubilee Celebration at Washington D.C. on July 29 to 31, 2018.
During the said get-together, 63 Centralian alumni rekindled their friendships and recalled their nursing days at CPU. Apart from touring the different historical sites such as the White House, the group held a family picnic at the Embassy Church and a gala night at the National Union Building.
Section D was the most represented section with 17 alumni. Jonathan Gapilango was hailed as Silver Reunion King while Mary Love Magbanua was crowned as Silver Reunion Queen.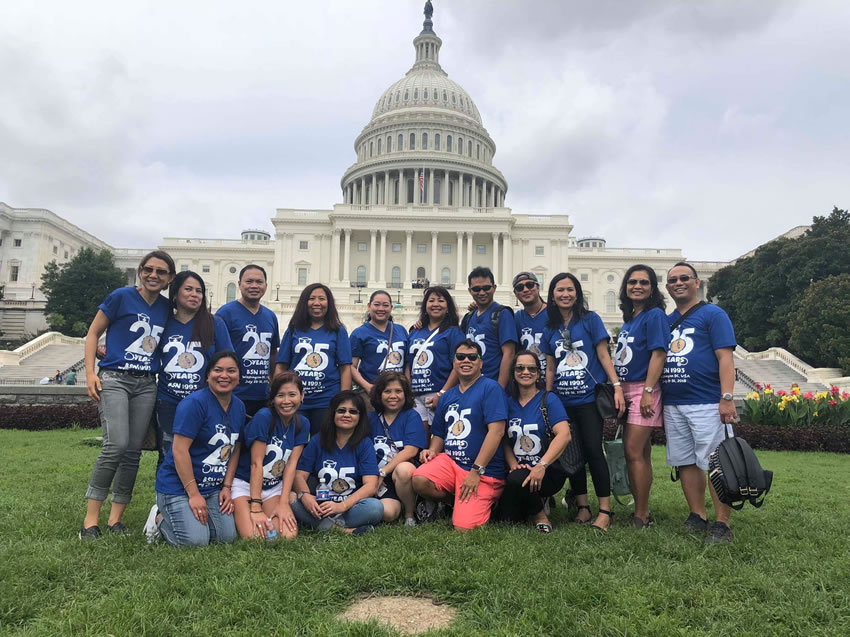 CPU BSN Batch 1993 Section D together again after 25 years.
CPU President, Dr. Teodoro C. Robles, in his message to the batch written in their program, said, "Your 25th Reunion is a testament of how blessed you have been these past years and how privileged CPU is to have you as alumni. I hope that this occasion be filled with glittering eyes and glamorous smiles as you exchange stories of the good old days and as you celebrate God's greatest glory and enduring grace."
The Reunion Planning Committee was composed of Vivian Piang-Canneti, Overall Chair; Jonathan Gapilango Vice Chair; John Xerxes Estenor, Gala Chair; Mary Love Magbanua and Marilyn Junin-Jabasa, Gala Co-Chairs; Florigyn Gonzales-Cordero, Finance Chair; Voltaire Buenjemia, Communications Chair; Patricia Palonpon-Heramis, Picnic Chair; Carol Joy Limoso-Cabahug, Tour Chair; Elipido Sandig and Leo John Espinosa, Logistics Chair.
CPU takes pride in its strong community of alumni around the globe. As Centralians gather to celebrate the Central Spirit, they place at the center Christ which is the heart and foundation of CPU.