By Cyrus A. Natividad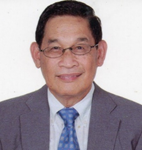 DR. MANUEL C. PALADA – CPU BOT Member.
Central Philippine University Board of Trustees Member Dr. Manuel C. Palada will be one of the 2022 "The Outstanding UPLB Alumni Awardees (TOUAA)" as confirmed by the UP Los Baños Alumni Association, Inc. (UPLBAA) Board of Directors. The award will be given on October 8, 2022 at the UPLB Copeland Gymnasium.
Mauro W. Barradas, UPLBAA President and Chair, Awards Committee said, "It is an honor for UPLB to have an alumnus, such as Palada who excelled in a particular field of endeavor and made a great impact to society. "Dr. Palada (A.k.a. 'Manny') is currently President and CEO/International Consultant, Farm Systems International Organization. He has been an Agricultural Consultant by several international agencies and governments –USAID, ADB, and World Bank among others. Palada who is an 'Adjunct Professor' also received the Distinguished Centralians Alumnus award from Central Philippine University.
He has travelled worldwide to promote and conduct lectures and seminars in many countries in America, Africa, Europe, Asia, Caribbean and South Pacific; as well as Australia. He authored a book on Moringa and was known as "Mr. Moringa." Palada has over 50 years of international experience in agriculture and has made significant contributions to international horticulture as a researcher, teacher, and outreach specialist. After working for several years in several countries, he was awarded the 2005 Outstanding International Horticulturist by the American Society for Horticultural Science.
He graduated with a Bachelor of Science degree in Agriculture, major in Plant Science from CPU in 1966 – through the Work Study Program of the University. He was Top 10 Outstanding Graduates in his graduating class. Manny received a scholarship grant from the International Rice Research Institute (IRRI) to study at the University of the Philippines in Los Baños (UPLB 1971) for his Master of Science degree in Agronomy.
Manny Celiz Palada was able to get a Rockefeller Foundation Fellowship (scholarship) to enable him to pursue his Ph.D. degree at the University of Florida, Gainesville, Florida, USA. He was admitted as a graduate student in the College of Agriculture, Department of Horticulture during fall quarter 1976. He successfully completed his Ph.D. degree in Horticultural Science with major in Vegetable Crops in 1980.