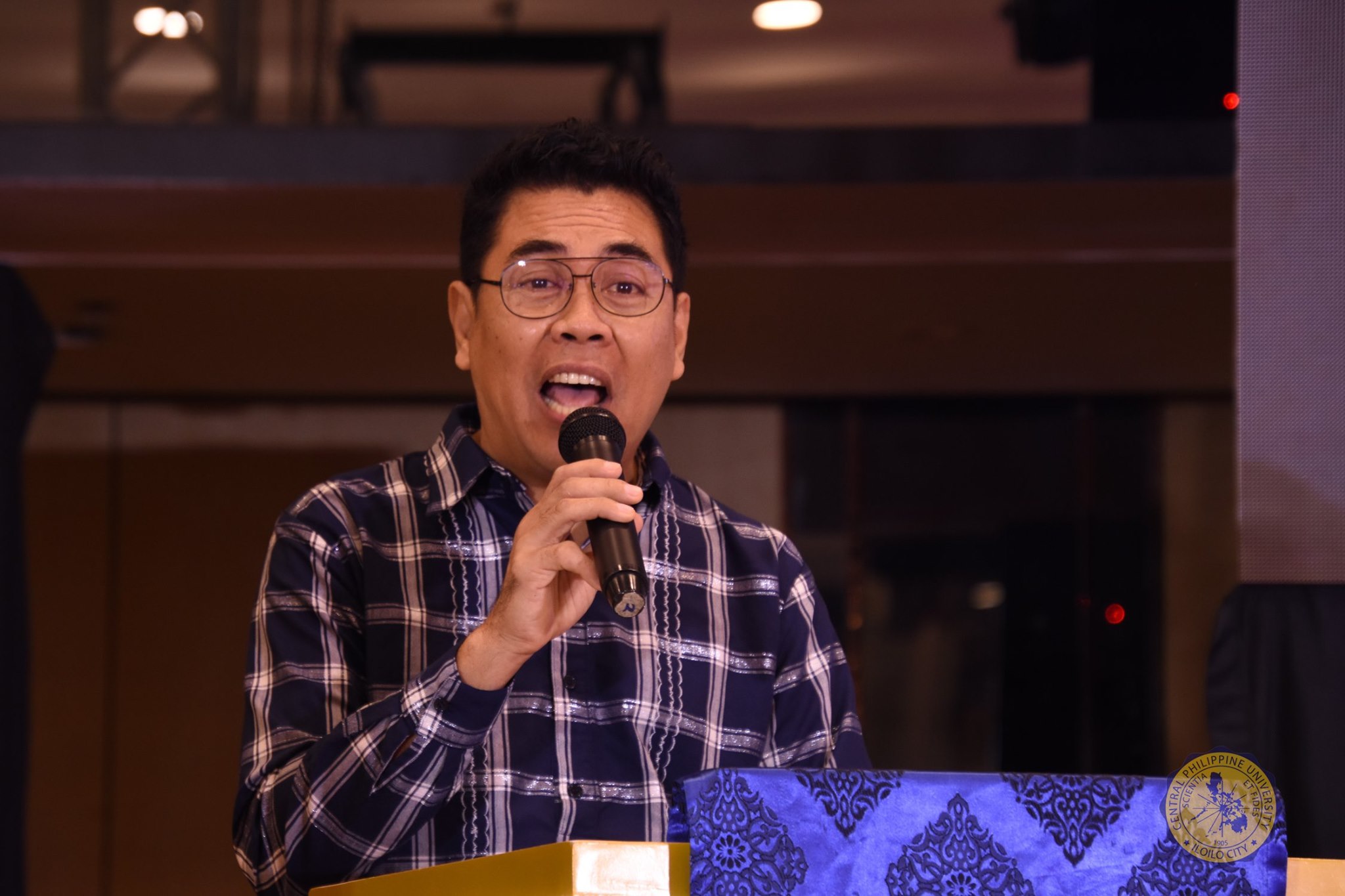 Engr. Bernie Cangrejo delivering his Pagdayaw to Alumni Homecoming Queen 2020 Ms. Edna Pelopero.
The CPU Alumni Homecoming Queen 2020 Edna Pelopero (BSN' 78) was honored with an encomium or "pagdayaw" by the College of Engineering – Packaging Engineering Coordinator, Engr. Bernie Cangrejo during the Grand Alumni Homecoming Gala Night on February 7, 2020, at the Grand Xing Imperial Hotel.
Guests enjoyed the speech and had a few laughs as it reminded them of the good old days when festival queens were lauded with a "pagdayaw" after their coronation.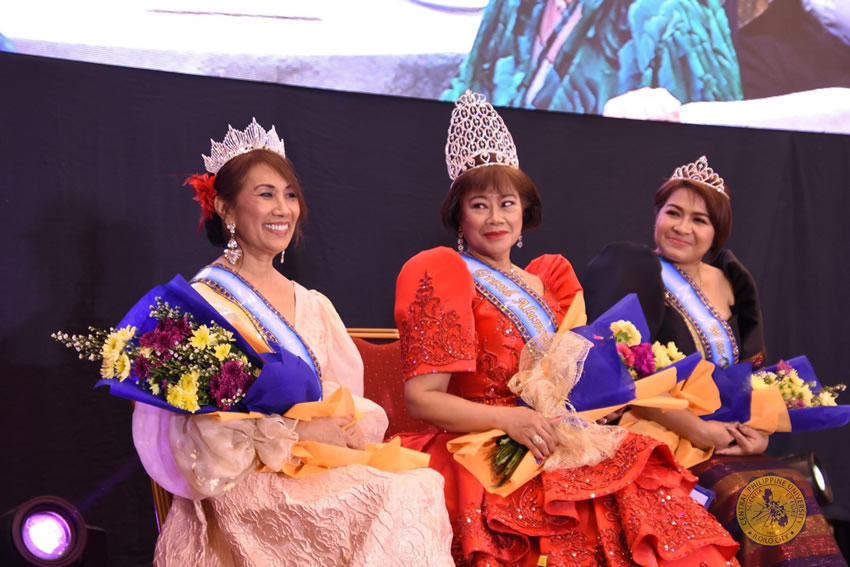 (from left) 1st. runner up Ms. EXCEL Rose Marie Aguirre (College of Engineering), Homecoming Queen 2020 Edna Pelopero (College of Nursing) and 2nd runner-up Ms. Scientia et Fides Mary Jane Chan (College of Commerce/ Business and Accountancy) during the Grand Alumni Homecoming.
Here is the full text of the encomium by Engr. Cangrejo:
Matin-aw ang langit kon wala sing gal-um
Ma asul ang dagat kon tulok-tulokon
Masadya ang homecoming, kon damu ga-tambong
Madinalag-on ang koronasyon, kon damu donasyon!
Maayad-ayad gid nga gab-i ka ninyo nga tanan!
Ang akon nga ulobrahon, sa sining kagab-ihon
Amo nga dayawon, CPU Grand Alumni Homecoming Queen 2020 naton!
Paagi sa encomium, binalaybay sa pulong nga Hiligyanon
Nga gin bag-o diutay ang pagkadihon, para maka sabay sa panahon.
Gani Queen Edna Pelopero nahauna, ikaw na ang paga dayawon isa-isa
Halin sa imo dapa-dapa, asta sa imo ulo ang ibalandra
Wala buhin kg wala sobra, ang matuod lang, indi chika
Indi fake news ang tirada, kundi ang true kg trending nga istorya!
Umpisahan ta sa imo dapa-dapa, nga daw alukaba sg talaba
Pagka hining, pagkaputi, gasiga, daw ginkuskos sa habon nga Perla
Mga tudlo sa tiil kumpleto cya, daw sa saging nga señorita,
Matanos kg mahumot na, wala kurikong kg ingrown pa!
Ang imo nga batiis, wala barikos, wala arikis
Ay abaw sa pagka kinis, daw gin agyan sg takinis
Ang tuhod mo in fairness, wala gabatyag arthritis
Ang sikreto ngaa flawless? Pamanyos man lang sg langis!
Imo mga legs nga matig-a, daw mga pakang sa labada
Daw mga paa sg baka, pwede mahimu crispy pata,
Ang balikawang mapag-on pa, daw sa CPU nga akasya
Ang imo hawak nga daw gitara, daw dalan pa Bucari ang kurbada!
Ang imo alatrasan, nga sa pagka matipulon
Daw sa buli sg kolon, nga na gaang sa pugon
Daw bumper sg Explorer, mabakod mapag-on
Nga kon imo bunggo-on, mabuong ang garapon!
Ang imo mga kamot kg butkon, nga manami hiluton
Mahumok himas-himason, kay Omega Pain gid imo lotion
Ang imo ilok kon amon hakluon, daw humot pinipig ang iya usbong
Indi lang sg bal-has, pag bas-on,
Kay werpa! Pan-os nga ginamos gid dayon!
Ang imo mga dughan, nga puno sg gugma mabatyagan
Kay dira lapit nahamtang, imo tagipusuon nga bulawan
Imo abaga pwede ka pas-an, isa ka saku nga bugas ma mag-an
Liug mo daw pusog sg kawayan, nga bisan lampusan,
TBH to be honest, deadma lang!
Flex ko lang imo nga bibig, nga wala naga wilwig
Sa pagkapula bal-an gid, istewetes lang ang gin pahid
Kag kon ikaw mag kutib-kutib, pati si Yorme ga balikid
Indi lang mag chismis kg binutig, kay basi masambil, tapos gid!
Ang imo nga ilong, nga na tungtong, sa nawong
Daw makopa lantawon, sa pagkatangos daw Mayon
Ang imo mga ngipon, sa pagkaputi sa pagka tahum
Kon ang mansanas ingkiton, daw sa piranha katalum!
Ang imo nga yuhum, mas mahagpok pa sa chicharon
Kon makita sg pamatan-on, naga kahulog ang pantalon – sa halayan,
Ano abi kay pagkimpit indi mapag-on.
Bisan sa imo nga landong, kon magtabok ka sa dalanon
Jaro Liko naga tadlong, Jaro CPU, Derecho Dungon!
Insert emoticon, nga smiley lang dayon!
Kon ikaw mag yam-id, daw si Gloria Romero,
Kon ikaw mag takilid, daw si Alma Moreno
Kon ikaw mag balikid, daw si Liza Soberano
Apang kon ikaw mag bulid-bulid, daw si Cardo, Probinsyano!
Ang imo amimilok, nga grabe ang pagka bahud
Pwede masab-itan sg hinalay, sg calendar mabakud
Ang imo, kilay nga is life, take a look, naga sampok
Kag kon ikaw ang magtulok,
Daw matunaw si Jang Geun Suk kg Ji Chang Wook!
Ang imo mga mata, just now, kon ako ang mag-tan-aw
Daw iya sg isda nga bukaw-bukaw kg lipong nga gusaw
Sa pagkasipat, matin-aw, kita mo gani pati tiangaw
Kg kon mata mag lumaw-lumaw, kami sigurado ang mapunaw!
Ang imo agtang sa ulo, daw International Airport sg Iloilo
Kay malapad? Indi guro! Kundi nga world class sigurado!
Imo buhok sa ulo, sa pagkahining, wala kaspa, wala kuto
Kay conditioner nga gamit mo, kopras nga gin-usang, epektibo!
Ang imo nga panit, ang kutis porselana
Mahumok, mapino kg wala buho-buho, daw tinapay sg Angelina
Ang gamit nga pamahid, lanahan sg ahos kg luy-a
Epektibo sa sakit tyan, pati sa aswang may pangontra!
But beauty is skin deep, what's inside you, ang labi kg labaw
Gani mga internal organs, dal-on man sa pagdayaw
Ang imo kidney kg atay, abaw, just betcha by golly wow
Wala stones, wala fats, ang x-ray kg CT scan matin-aw!
Ang attire, havey na havey, OOTD Outfit of the Day!
Sa pagrampa OMG, keri na keri, petmalu kg lodi,
Chill lang hambal sg BOT, FTW for the win, baskug si mumshie
Kg mema lang, meron lang masabi, sana oil, naka intiende!
Kg ang korona sa ulo natongtong, akon lang gid anay klaruhon
Wala sg virus nga makalalaton, indi man korona nga tunukon
Gani mga pispis kg kabulakan, naga udyak sa kalipay
Sa imo Reyna Edna, matahum nga lin-ay, nga sg Ginuo gin bugay
Sa imo lawas naga panalaytay, dugo sg Ilongga nga tunay
May kaisug nga mag-away, para sa kamatuoran kg katawhay!
Kay ang sa gwa nga katahum lamang,
Indi ang tunay nga talaksan kg timbangan
Mas labi sa sining kalibutan, ang imo kaalam kg maayong batasan
Ikaw nga gin koronahan, simbolo sg tanan nga mga kababaihan!
Anak, iloy, asawa, lola, utod, dalaga, tindera, estudyante, negosyante, presidente, manugbulante, helper, caregiver, manager, engineer, driver, welder, writer, factory worker, nurse, doctor, pulis, pharmacist, dentist, abogado, accountant, kg madamu pa nga iban!
Gani tandaan, Independent Woman, do not limit what you can!
Mangin madinalag-on kg mapag-on, sa unos nga gina atubang
Padayon sa paghandum, malab-ot kahilwayan kg kalipayan
Kamo ang tunay nga hiyas sg kalibutan,
Labaw pa sa manggad kg bulawan!
Gani bag-o ako mag pa alam, kamo tanan akon gid pasalamatan
Kamo akon gina pangin bulahan, kamo akon gina pasidunggan
Sa inyo katahum, kaisug, kabakud, EXCEL Women Centralians,
Kay ang inyo tinutuyo isa lang kg isa gid lamang,
Nga ang ini nga tanan, para CPU buligan, para sa CPU nga kadalag-an!
Mabuhay kamo tanan! Kg once again good evening everyone!
Bow!