By Anabel Consuelo Java-Petinglay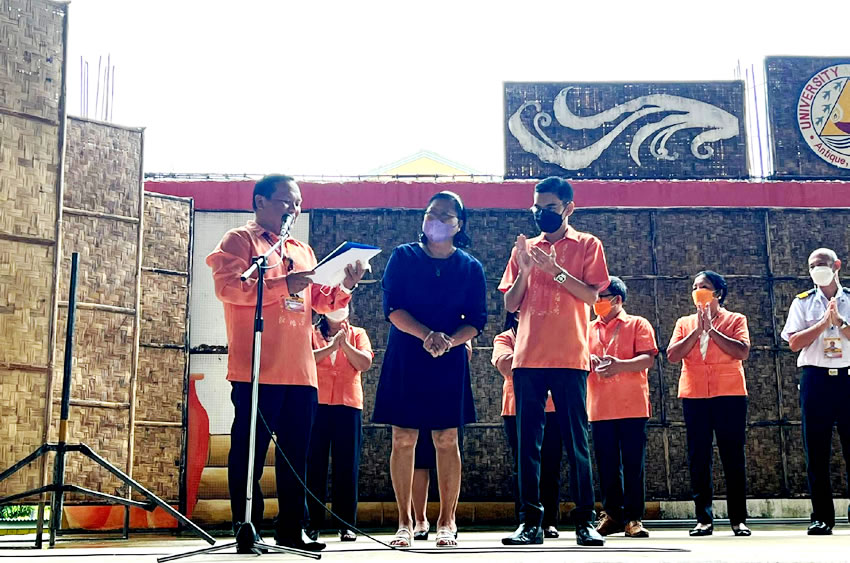 AWARDING. (left to right) University of Antique Pres. Pablo Crespo Jr. hands the Award to Prof. Je Luot Estores as witnessed by her only child Mikhael Jeff Estores on Sept. 26, 2022. The award was given as part of the Teacher's Month celebration and on the retirement of Prof. Estores.
SAN JOSE DE BUENAVISTA, Antique – A graduate of Central Philippine University (CPU) Bachelor of Science in Chemistry has been honored by the University of Antique (UA) for her 38 years of exemplary service as professor during her retirement day.
UA president Dr. Pablo Crespo, Jr. said that Professor Ma. Je Luot Estores had been recognized on Sept. 26, 2022 for being one of the university's faculty that had rendered long, dedicated years of service.
"Professor Estores was an exemplar," Pres. Crespo said.
Pres. Crespo said that Professor Estores was very efficient not only in teaching, but even in the submission of the grades of her students and in all the other university requirements.
He also said that Professor Estores saw the inception of the formerly Antique School of Arts and Trade (ASAT) to become Polytechnic State College of Antique (PSCA) and then now the lone state university in Antique.
The honoring of Professor Estores was then witnessed by all the faculty and staff of the College of Arts and Science during their celebration of the Teacher's Month.
Meanwhile, Professor Estores said that the honoring and giving Certificate of Recognition came as a big surprise to her.
"I was so touched with the university's gesture," she said.
The certificate handed to Professor Estores cited the university's gratefulness and love for her legacy that will serve as inspiration for the present and future generations to come.
Professor Estores' unwavering commitment to uphold the ideals of Antique's Pride and valuable contributions to the development of the institution thru her expertise, time, and effort during the period of her employment was also cited in the certificate.
The professor started teaching at an early age of only 23 years old or barely two years only after she graduated from CPU in 1979.
She happily recalls on how her CPU professors had influence her, thus, developing her passion in teaching.
She said that her professors in CPU were the first ones who had, in fact, motivated her to go into teaching Chemistry and so when the opportunity opened for her at UA, which was then ASAT, she immediately embarked on it.
"As a teacher, I had to really be creative on how to make my students, who come from far flung barrios to learn," she said.
She said that there were also students who had to be absent at times so they could help their parents sell their farm produce in the public market for their family living.
"Looking back on those years, I am now happy that I could see many of my students become successful in life," she said.
Some of her students has now become teachers themselves or even a dean at UA.
Professor Estores' only son, Mikhael Jeff, is also now eight years into teaching at UA because of the inspiration given him by his mother. He, too, is a CPU graduate of Bachelor of Arts major in History.