By RCECC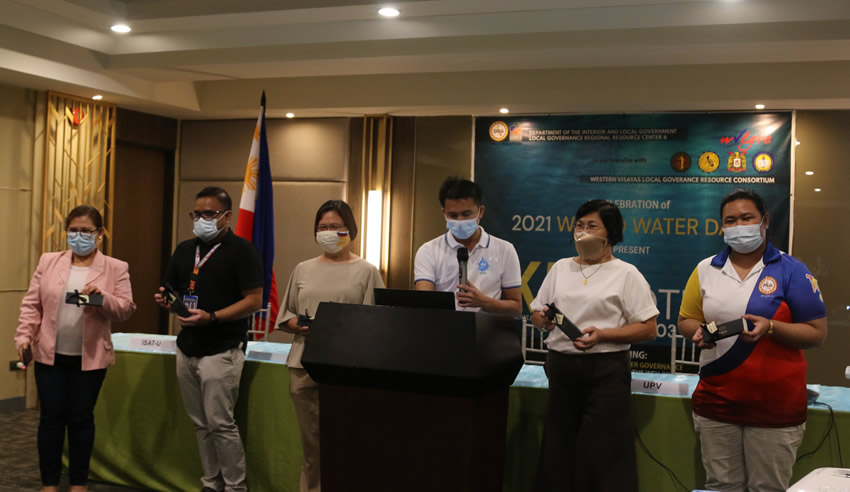 Adviser Dr. Lenny Rose P. Mucho (first from left), during the announcement of winners.
Three third-year BS Advertising students won the top three places during the Logo Making Contest sponsored by the Western Visayas Integrated Safe Water Supply, Sanitation and Hygiene (WeV-iWaSH) Hub.
First Place was garnered by Jan Karlo M. Bebanco. Second Place went to Sherwin Yancy T. Chiquito and Third Place to Joseph Ryan R. Solen. Their Adviser, Dr. Lenny Rose P. Mucho, was present during the announcement of winners held during the Virtual World Water Day Celebration on March 22, 2021.
The winning logo will be used as the official logo of the WeV-iWaSH which operates under the auspices of the Department of Interior and Local Government that established the Western Visayas Local Governance Resource Consortium (Consortium). Partner universities are CPU, UPV, ISAT U, CapSU, USA, and WW-Heal.
WeV-iWaSH assists the national government, particularly the DILG, in the delivery of capacity development programs to LGUs and in strengthening local water and sanitation governance by facilitating institutionalized multi-sectoral participation in the region. As such, the RHub has provided expertise, knowledge, and information on, and had guided, empowered, and capacitated LGUs, through trainings and alternative learning approaches for the latter to acquire, manage, and sustain knowledge on integrated water, sanitation, and hygiene (iWaSH) Governance. It continues to have a pool of trainers and resource persons, and had conducted monitoring and evaluation of water projects, and assists in the documentation of good practices of LGUs in the areas of water, sanitation, and hygiene.