By Cyrus A. Natividad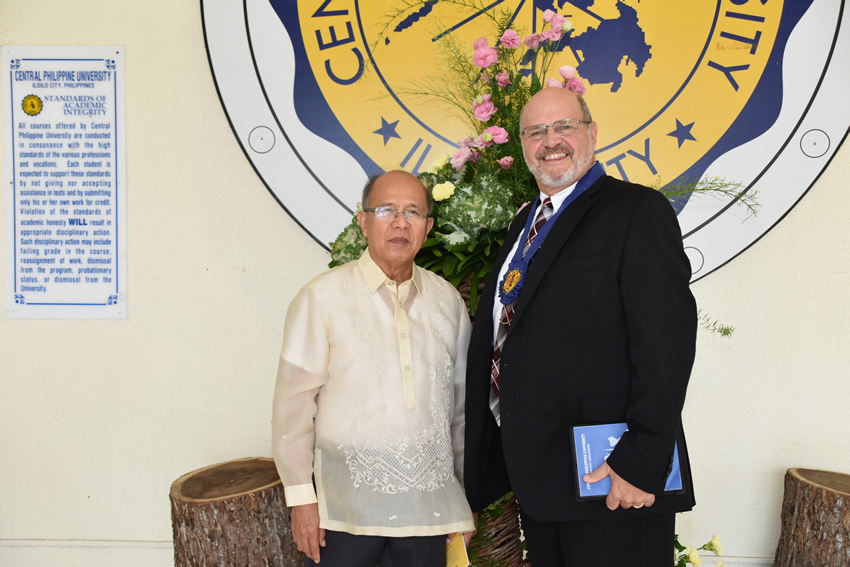 CPU President, Dr. Teodoro C. Robles together with  Rev. Dr. Wayne A. Young.
Proverbs 18:21 says, "Death and life are in the power of the tongue, and those who love it will eat its fruit."
Reflecting according to the verse, Rev. Dr. Wayne A. Young, president and founder of Living NEW Ministries International based in Florida, USA, said that we eat the fruit that the words we speak bear—both the good and the bad.
Rev. Young was in CPU on Friday, November 9, 2018, as speaker-lecturer for the one-day pastors' seminar held at the CPU EMC. He was introduced by Dr. Florentino P. Alerta II, Coordinator, Health Fitness and Lifestyle Management. The theme of the seminar was "Say What? Your Words are Powerful".
Rev. Young began the seminar with a challenge to the pastors—to preach from a new perspective—"like the Father in heaven telling his people how to live." It was the objective of the seminar, he said, "to take a look at God's Word with an unbiased and non-traditional perspective." Furthermore, Rev. Young pointed out that "regardless of how we see God's Word, due to our training or perspective it doesn't change the truth of His Word."
He encouraged the participants to open their ears to hear with a fresh attitude what God is saying to His church, reminding them that according to the Gospel, "we will be held accountable for every idle word we speak."
The Seminar was organized by Central Philippine University College of Theology and the Convention of Philippine Baptist Churches, Inc. It was attended by Rev. Dr. Bernabe C. Pagara, Dean,CPU College of  Theology, Rev. Joniel Howard Gico, VP for Student Affairs and Pastor Jec Dan Borlado in behalf of CPBC General Secretary, Rev. Dr. Gerson Narciso.