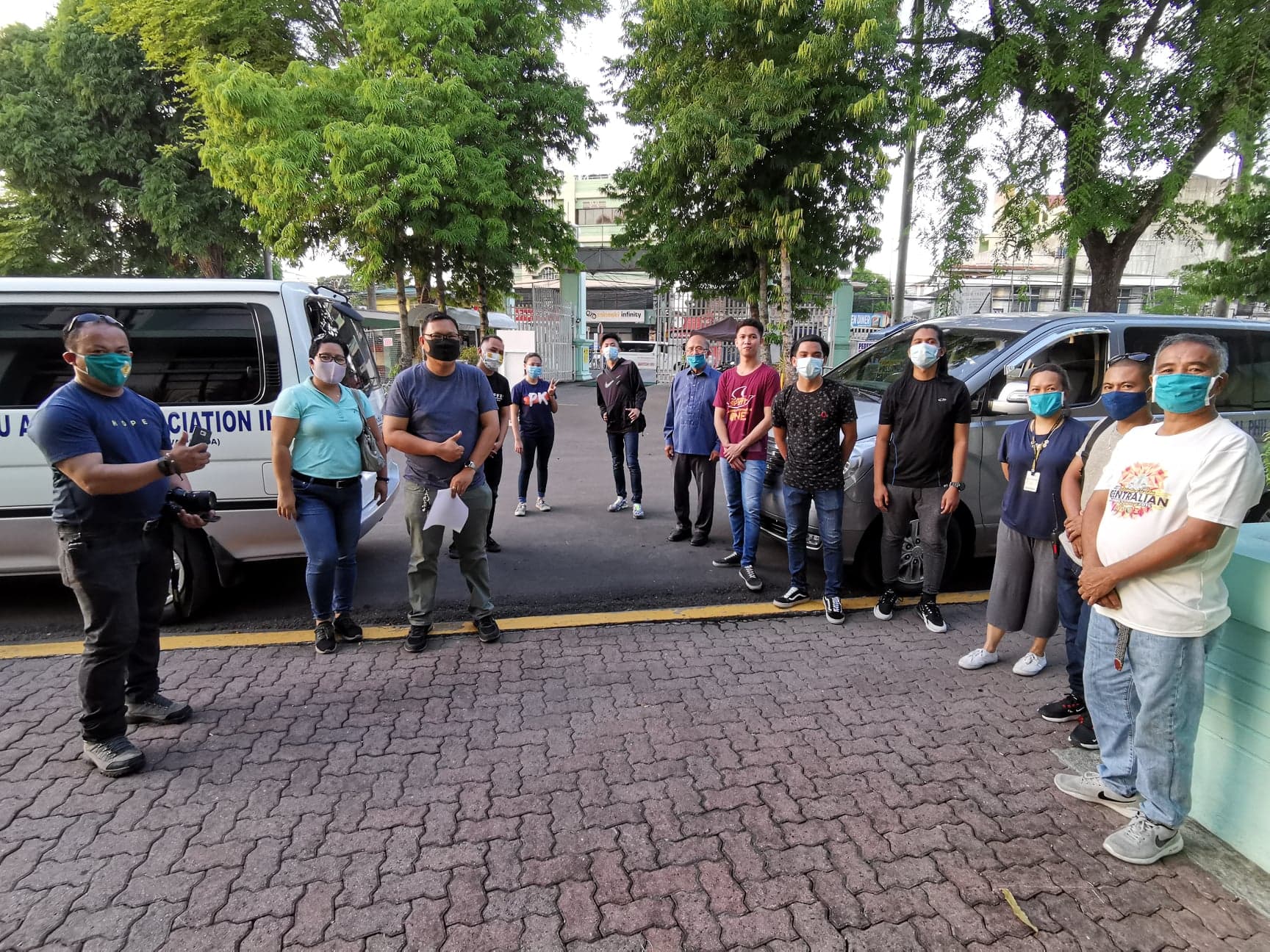 Stranded students together with CPU officials. On June 15, CPU arranged a van service so the students can safely arrive to Caticlan port.
2 students and an alumnus who were stuck in the city during the height of the pandemic shared their experiences during the lockdown.
It was hard for students like me to be away from home during the lockdown. Since I'm still in school, I don't have my own means of funding basic necessities so I had to rely on my parents' support. CPU and CPUR has been very helpful to us. They sent us grocery items and even facilitated a van service from Iloilo to Caticlan.
This pandemic has taught me to be productive and to pray for our country and the world.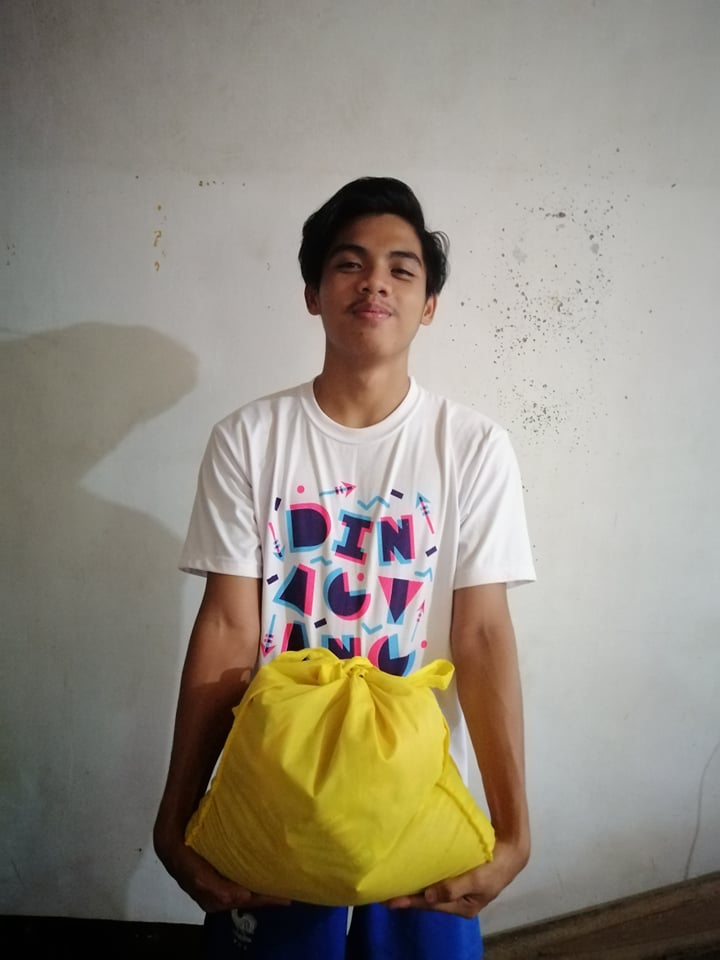 Melzar Agustin posing with his grocery pack given by CPU. When the ECQ was lifted, he went home to Romblon.
– Melzar Agustin, 3rd year student Social Work student
COVID-19 literally made the world stop. I thought that the Virus would not spread rapidly but I was wrong. When the President declared lockdown throughout the nation, I was worried because I would not be able to go back home easily since Iloilo is too far from Mindoro. I've spent 2 and a half months striving to survive, hoping that the virus will come to an end or be controlled. It's hard to survive because I was away from my family. I have to strictly save my allowance and buy things or food that are needed. Within those months, I can't go out easily to buy necessities and I have to be careful, knowing that we can't see the virus and the danger is everywhere. I can't even go to church but I prayed every day for the virus not to spread. I also prayed for those people who are affected by the virus, for our government, the front liners, and to stranded people like me. When we got the news that Locally Stranded Individuals or LSIs can go home already, we took the opportunity to travel as soon as possible. With the help of Central Philippine University and some pastors, we were able to have a safe travel going to Caticlan port and from there, we took a ferry going to Mindoro.
I came to realize that some of us seek God's help only in times like this. We know that second coming of the Lord is near. Now is the time to strengthen our faith, spread the Word of God and glorify His name.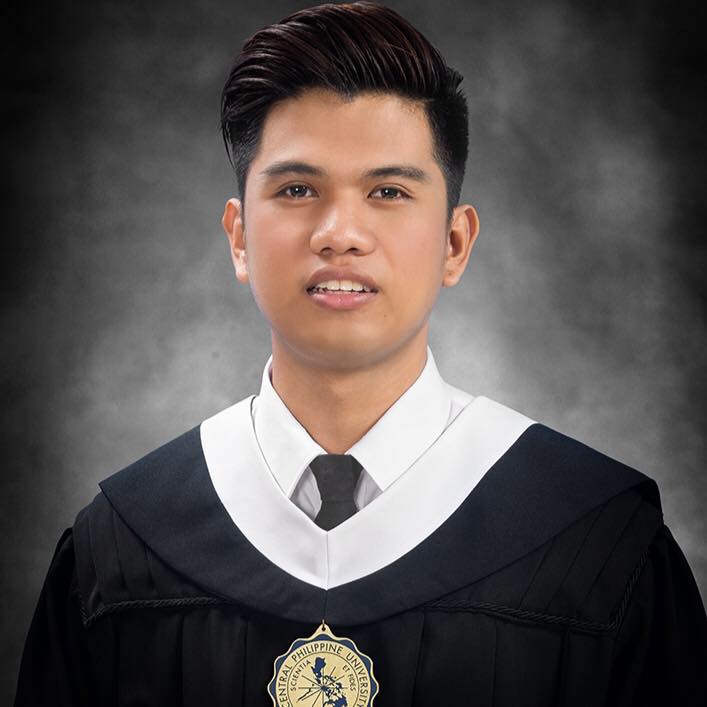 John Noel is an alumni of the CPU Pastors' Kids Organization and a graduate of Bachelor of Science in Social Work in 2017. He used to work for a company in the city but has since moved to Mindoro after the ECQ was lifted.
– John Noel Cabayao, BS Social Work '17
When the local government decided to place the entire Western Visayas on lockdown in mid-March, I wasn't able to travel back home. I wasn't even preparing nor packing my bags since I thought the quarantine would only last for a week. So I stayed and studied for the upcoming final examination that's supposed to happen the week after the quarantine, or so I thought.
Some days after, with coronavirus still on the rise, more flights have been canceled, public transit agencies across the province have ceased operations and news about the quarantine lasting until the end of May have spread.  It was only that time that I realized that I am going nowhere but in my boarding house. So, I decided to stay at my paternal aunt's house in Roxas City. I was accommodated and well-fed there. I'm thankful that God has blessed me with a great auntie and uncle who are ready to embrace me as their own. They made the whole away-from-home experience easy for me. I didn't have any problem there except the fact that I only brought with me five shirts, four sleep shorts, and a pair of pants because again, I thought I was only going to stay there for a week or two. The struggle of doing laundry almost every day for two months was the hardest part.
With everyone getting bored with the situation, I, on the other hand, prayed for a miracle to happen that I can finally go home and be with my mother. Some two months since the quarantine is declared, the government released guidelines on how stranded Filipinos can finally return home. I immediately processed the required documents for the first batch of Locally Stranded Individuals. With the help of my supportive aunt, I was able to complete it right away for our province to process the Travel Authority (TA) or Pass that is needed to travel provinces or regions across the country under General Community Quarantine. So, I waited for a call from my province to confirm my date of travel. I packed my bags and decided to travel back to Iloilo the day after I received the call.
Everything went well until news sprouted that Ceres liners have stopped operating. There's no way to travel from Roxas City to Iloilo City during that time. So, I decided to ask my province to reschedule me for the second batch of the Balik Probinsya Program. I waited for another two weeks until it was announced.
When the time came for the second batch to go travel, I was excited and nervous at the time. Social distancing and mass transit are two concepts that don't go well together. Yet even as the pandemic has forced cities to implement strict physical distancing measures, there are still instances during my travel were I, in myself, know that I wasn't a meter away from the person beside me. As we board the vessel, it was hard to keep the distance since everybody is in a hurry. They try to force themselves out of the way, even breaching the whole social distancing protocol. Looking back to that situation, the only thing that protected me was the mask I put on hours ago, and the grace of the Almighty. It was horrible. The growing fear of not knowing where these people came from was developing each second I was near them. So, I tried to disinfect my body every 5 minutes to ensure my safety and others as well.
As a student nurse, we were always told that we must protect ourselves, such that we were taught how to properly cap syringes away from ourselves to keep us from getting pricked. Just like that, I always prayed for strength and protection. I also asked for wisdom as I battle the fear I have for an enemy I can't see.
Now, that I'm home.  I can finally say that the Lord had answered my prayer. As of this writing, it marks my 14-day home quarantine. With a lot of time think and so much to ponder on, I realized what matters to me. I learned to be more prayerful and to be more thankful of the things I used to take for granted.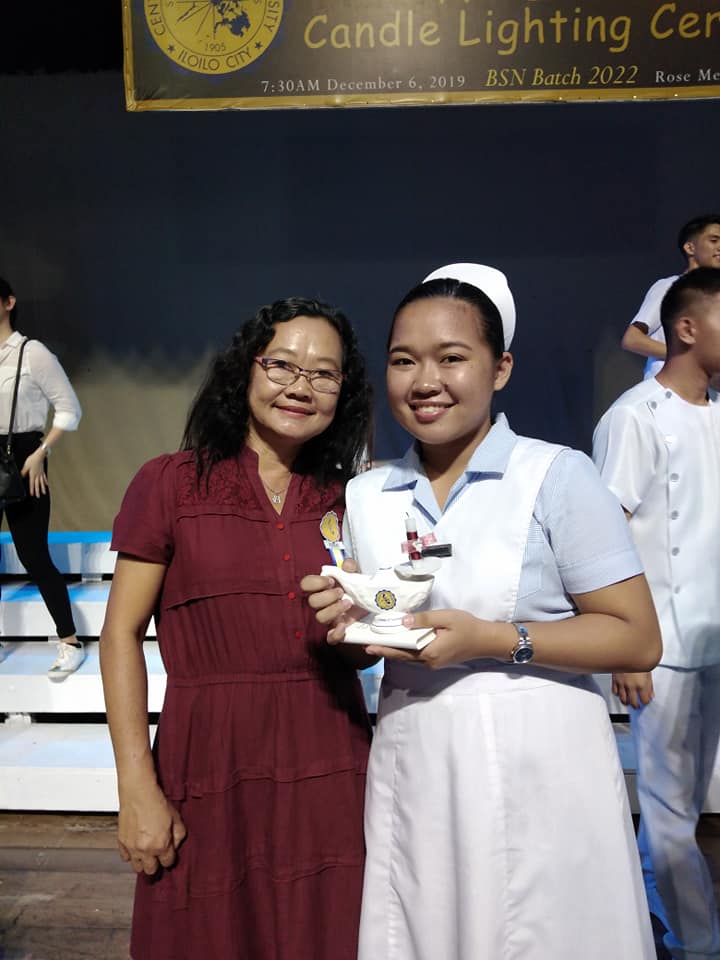 Kathleen, with her mother during her capping ceremony. She is now in South Cotabato.
– Kathleen Celestine Frugalidad, 2nd year Nursing student