By Keziah G. Huelar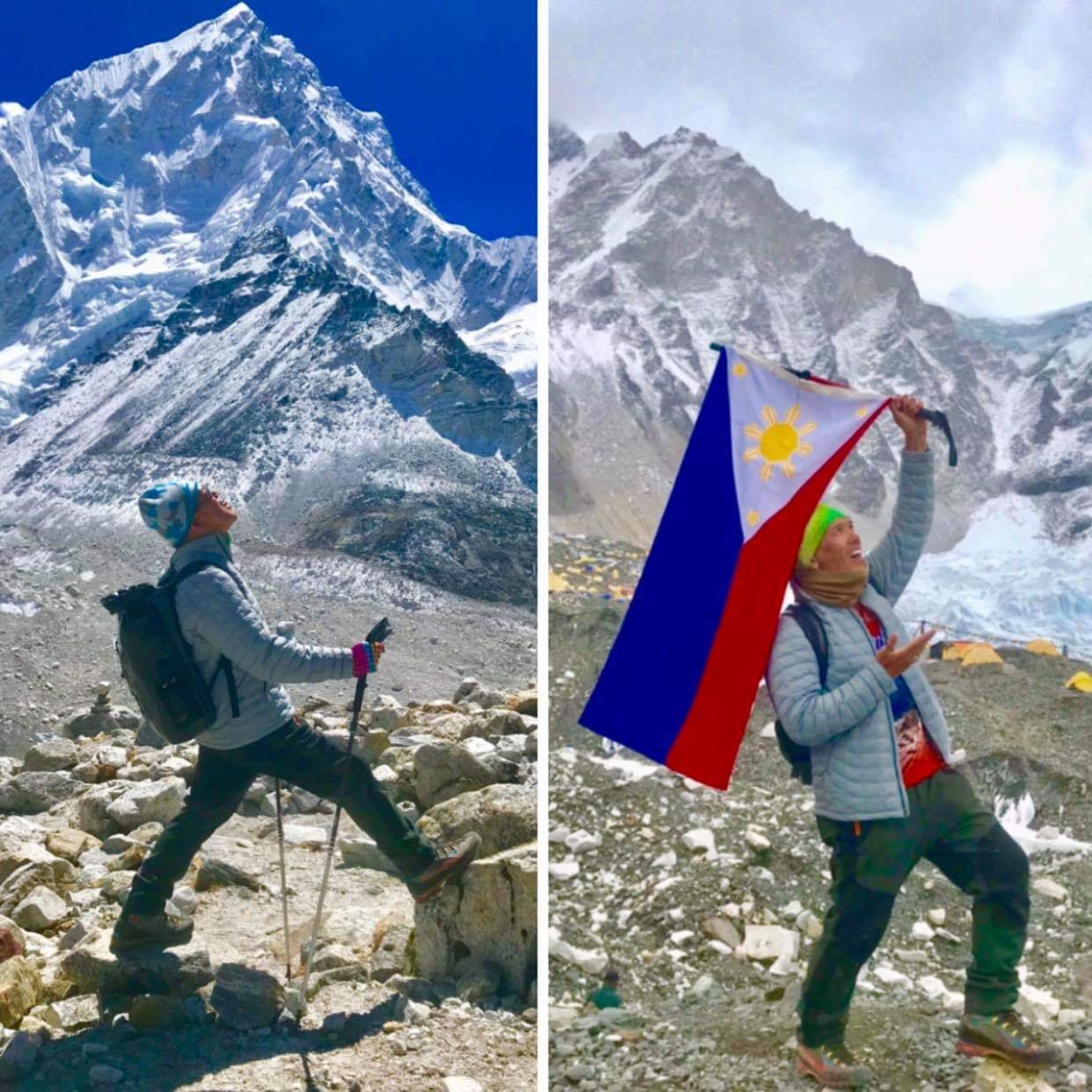 Euphoria – Mr. Samuel Yap at the basecamp of Mt. Everest. Photo Credit: Mr. Samuel Yap
The glorious peaks of Mt. Everest kissed the horizon as rays of sunlight painted the freezing sky with the nostalgia of warmth. The scenic tundra was breathtaking, epic, and ethereal to the soul. However, for Samuel Yap, the one who deserves all the marvel and praise is the God of such splendor.
Together with 18 others, Yap reached the basecamp of Mt. Everest on April 28, 2019 after a 10-day journey.
A graduate of the CPU College of Nursing Batch 1985, Yap developed a passion for hiking at an early age; however, it was much later that this love affair blossomed into a commitment to adventure: "I'm from Antique and I used to climb the mountains there 40 years ago back in high school. But I was never as committed to it as I am now. I started taking hiking seriously at the age of 53."
He shares that it all began in 2015 when a fellow Centralian invited him to a hike he would never forget: "Twenty-five years after graduating from CPU, a friend of mine, who is also a Centralian, invited me to Pico de Loro, [in Nasugbu, Batangas]. At first I thought we were going to the beach but to my surprise, we were going hiking. On our way down, rain fell, and there I tumbled down the mountain covered [in] mud and dirt."
The fall didn't discourage Yap—rather it was an epiphany to the then neophyte climber: "It was an awakening on my part. I realized that I love this kind of life—this thrill and this adventure is what I've been missing in my life."
A year after, Yap resigned from his job at a New Jersey hospital to pursue his new passion: "The following year [after the Pico de Loro hike], I filed my resignation letter. Before the 24 hours was over, the management called me asking why I was quitting my job. They asked if I had any intention [of returning]; I said yes. So they gave an offer to be a seasonal employee—for six months I work as a nurse and for the next six months I climb mountains."
After graduation, at the age of 23, Yap went to America to work as a nurse: "I was really [a workaholic] back then. I realize now that it's not about the money—it's about the memories that will last throughout your lifetime. Looking back [I thought to myself], why didn't I hike in my 20s or in my 30s? But now, I just look forward to more memories and adventures."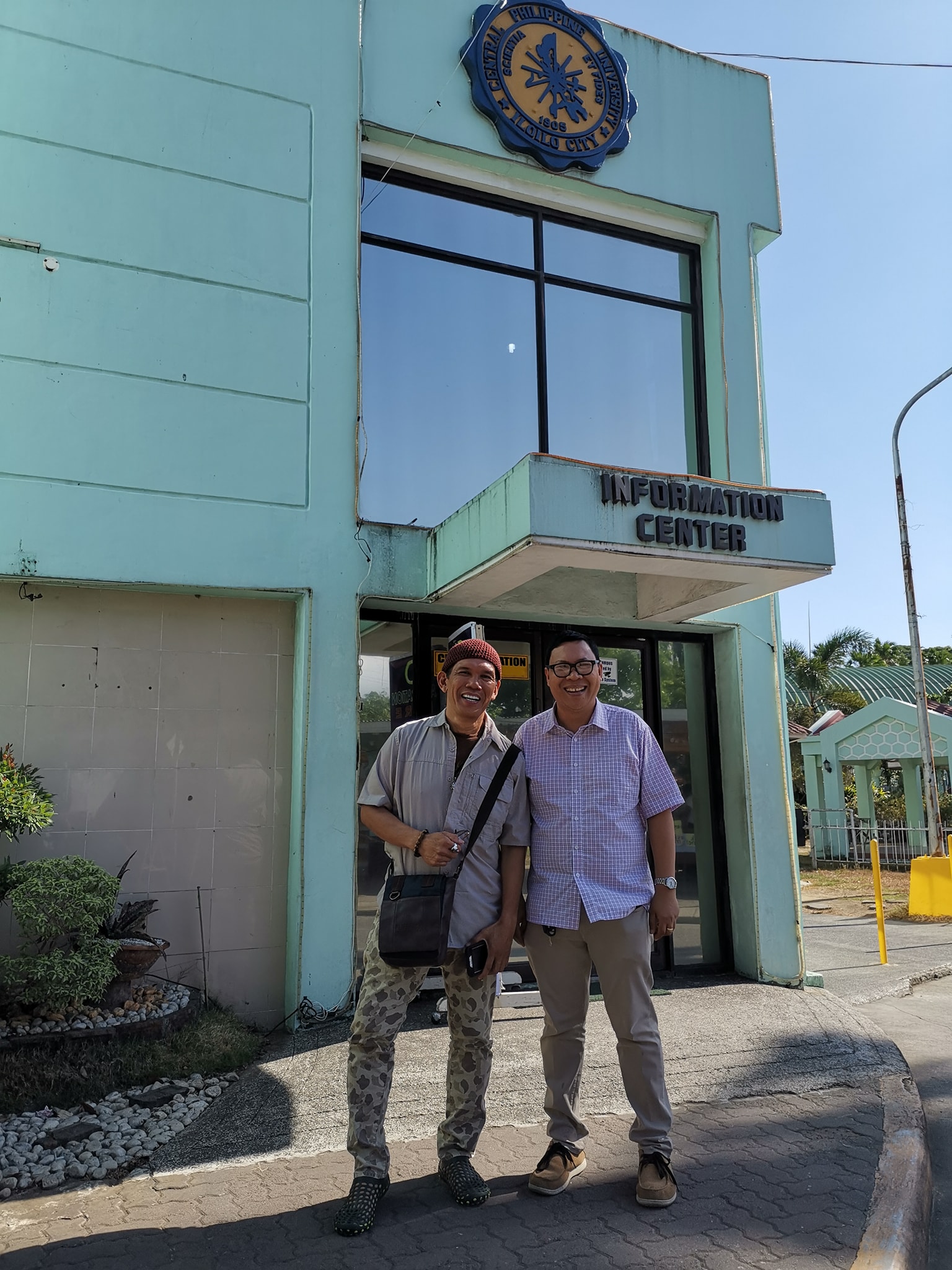 Mr. Samuel Yap together with CPU Office of Communications Director, Rev. Francis Neil G. Jalando-on.
During his stint as a nurse, Yap talked about how he always made sure to exemplify the Centralian brand of nursing excellence in his workplace: "Our training here in the university is really different from those in other countries. We have the confidence and experience to deal with difficult situations because of our [hospital immersion] as nursing students. As a Centralian nurse, I was always sure and confident with how I deal with my patients."
Sharing a flashback of his stay in the university, Yap recalls being the only male graduate of Nursing Batch 1985 under the deanship of the late Natividad C. Caipang: "Our batch started with 350 nursing enrollees. There were only three boys. Four years later, our batch had 56 nursing graduates—I was the only male to graduate."
At 56 years old, Yap has climbed 7 out of the 10 highest mountains in the country. The peak for him is always the next adventure—the additional testimony of God's amazing grace in his life: "There is a sense of [fulfilment] when I reach the summit. I get teary-eyed with the view, the realization that with my age I still get to do what I love."
For him, climbing Mt. Everest was not only a great blessing but an opportunity to encourage others to also climb and conquer whatever challenge or dream they have in their lives no matter what age they are: "Back then I was 285 pounds. I had 85% of my large intestines removed but it did not stop me from doing what I love the most. [It should also be the same for others]. I reconfigured my life and found happiness outdoors, climbing mountains despite my age. Age does not define or limit you."
When asked about his favorite part of climbing Mt. Everest, Yap shares that it is the sense of fulfillment and amazement at God's creation: "When we finally reached Mt. Everest, I [couldn't] help but be amazed at God's wisdom and creation. You just get this sense of amazement and appreciation of how beautiful His work is. Sometimes you question yourself how far you would go or where else you would go, but reaching the summit gives you the zen to pause and just appreciate life. You see the tip of the mountain and you ask yourself how far you still have to go but when you reach it, there is just this satisfaction at the effort and the hard work that makes the view more [breathtaking]."
On the other hand, Yap encourages his fellow Filipino hikers to also develop a love for our Philippine mountains and to exhibit social and environmental responsibility to help preserve our mountains for the next generation: "We have beautiful mountains here in our country. When it comes to natural resources and [scenic views], we are really blessed. But we need to develop responsibility [for] taking care of our mountains. We should practice proper waste management, and we should also respect our guides and treat them with accordingly."
With Mt. Everest off his list, Yap hopes to climb more mountains and conquer more peaks not only for the pride of the country and of the university—but for the glory of God whose faithfulness reaches higher than the summit.