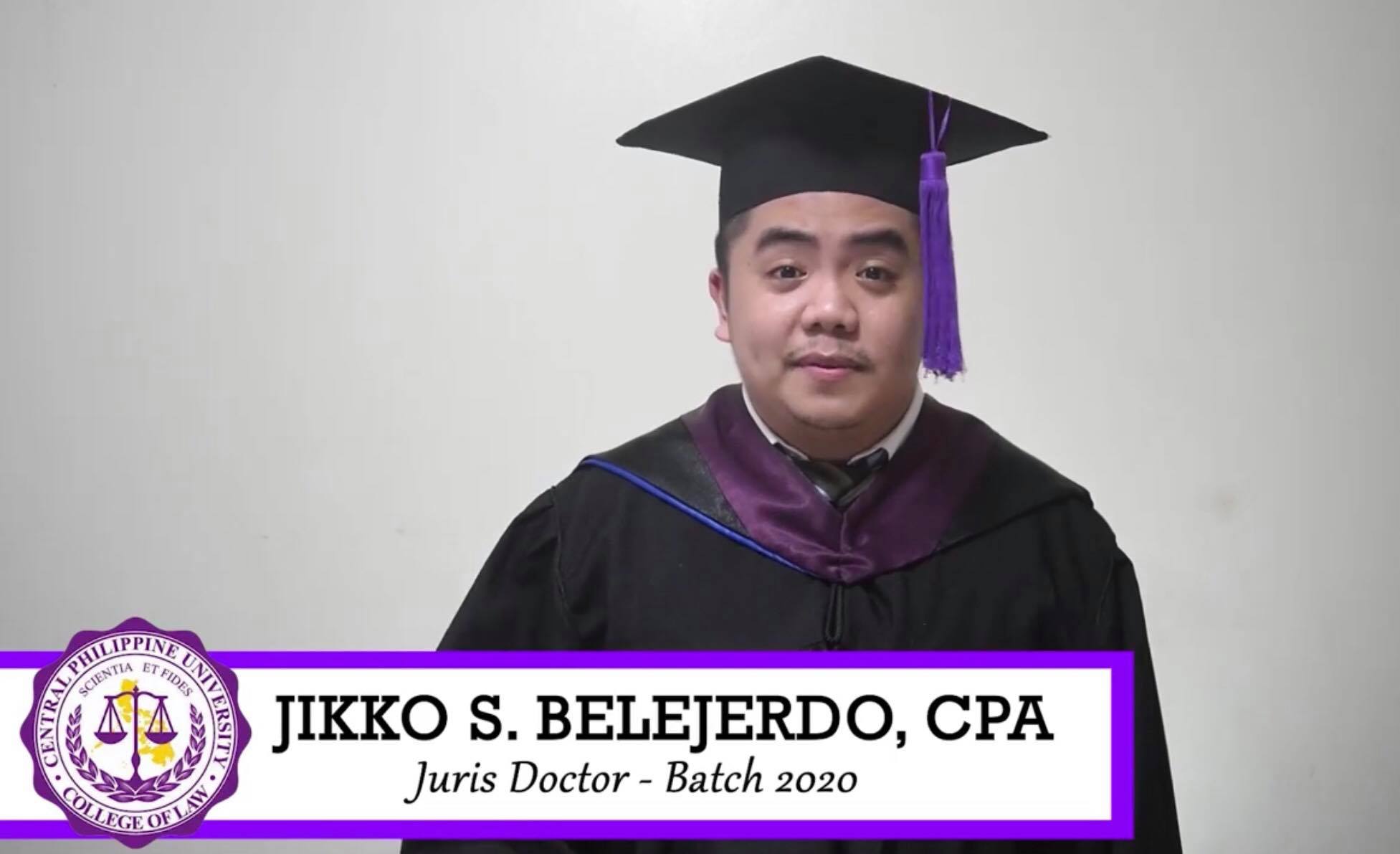 Jikko Solano Belejerdo, gave the response in behalf of the Class of 2020.
This speech was delivered in behalf of the graduating class of 2020 by Jikko Solano Belejerdo during the first Baccalaureate and Virtual Commencement Exercises of the College of Law on September 5, 2020.
We are not our issues, we are not our struggles, nor we are our achievements. We are who our God says we are.
CPU Administration, Board of Trustees, faculty and staff of the College of Law, fellow graduates, parents, friends, a pleasant afternoon, and my warmest congratulations to everyone.
A few weeks ago, I and some of my relatives went out to plant trees. I carried a bundle of bamboo slats on my back and a Tita shouted, "Hala, si attorney pinagbuhat nyo ng kawayan, hindi bagay sa kanya!" Although it seems that there was nothing wrong with that statement, what really struck me was when my aunt made my soon-to-be attorney status as a limit to carry a bundle of bamboo slats saying, "hindi bagay."
That moment led me to this realization. Sometimes our degrees, achievements, or social status blurs our vision of something or someone's real worth.
Our achievements are neither limitations of simplicity nor an excuse of insolence.
For me, there are two sets of things in life: first, the things we want to do; and second, the things God wants us to do.
The first set of things varies from one person to another. Due to our inherent differences in terms of skills, abilities, or beliefs we go after things we are comfortable with. Some pursue careers in public service, while others in medicine, entertainment, or some benevolent works.
On the other hand, God wants us to be compassionate, to be understanding, to be patient, to be humble, to love, to forgive, to work hard, to empathize. These things, unlike the first, are the things that we all can become.
While many great men have spoken about the beauty of being different, allow me to speak about man's common ground – our common calling towards humility, love, compassion, respect, and acceptance.
Two things why I have to point this out.
First, this society has to break the culture of measuring and categorizing someone's worth based on his career path, status, or whatever issue he is suffering from. Everybody's journey is significant. We may lead to different directions, take different steps, hold on to different beliefs, nevertheless, it is about our will, courage, and faith. Our differences should give us room to cultivate acceptance and respect, not judgment and condemnation. We are not our issues nor we are our struggles. We are who our God says we are.
Second, I want to remind those whose identity has mainly been about their achievements or titles. We are not defined by our title. We define our title. My fellow graduates, never settle to being just a lawyer, when we can be god-fearing lawyers, compassionate lawyers, honest lawyers, generous lawyers – not just lawyers. We define our title. We are not our achievements. We are who our God says we are.
Yes, we are free to go as far as we could, to celebrate our differences, achieve greater things, but let us not forget our humanity and that our identity is in Christ. At the end of the day, "For what shall it profit a man, if he shall gain the whole world, but lose his soul?"
To end, in behalf of Batch 2020 of CPU College of Law, as we are conferred with our degrees in Juris Doctor, we take this as a challenge to never forget our identities as soon-to-be Centralian lawyers. We will live CPU's core values of Faith, Character, Justice, Stewardship, and Excellence.
We offer this success to our Almighty Father for the grace, love and mercy. To Central Philippine University for Exemplary Christian Education for life. To our parents and those who stood like one, for the unconditional love, for being our pillars of strength and for never doubting our dreams. To our friends, for the care and support, and for hearing our frustrations and celebrating our victories. To every random individual who played a part in this journey. This success is our shared testimony.
We will always look back, we will remember.
To God be the highest glory!