By Cyrus A. Natividad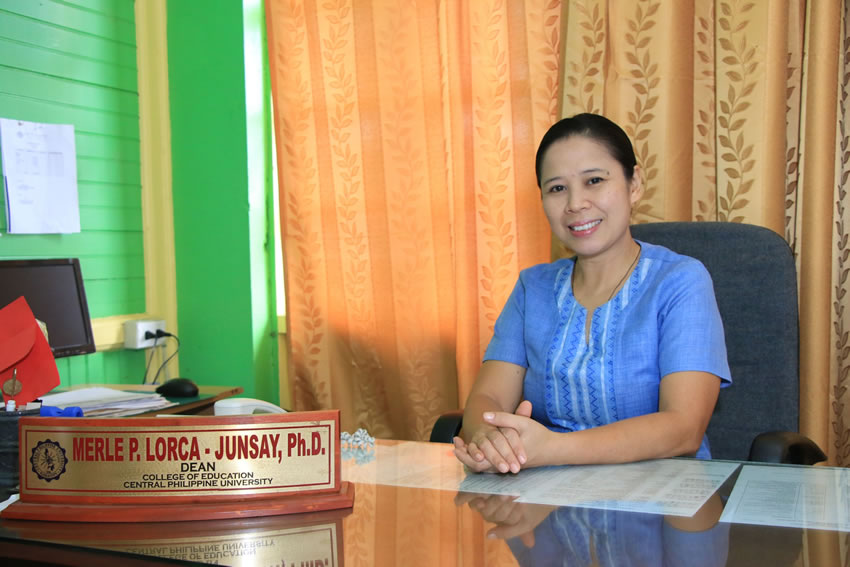 CPU College of Education Dean Dr. Merle Junsay.
In a recent interview with the Centralian Link, CPU College of Education Dean Dr. Merle Junsay gave her opinion on the government's move to return to the face to face mode of learning delivery.
"The government has been in constant watch of the pandemic and its effect to public safety, especially the education sector. I believe the government has sound and solid bases in coming up with the decision to open schools in all levels for face to face learning. I think we are on the right track as extensive research had been done by relevant agencies to come up with informed decisions," Junsay replied.
On July 12, 2022, the Department of Education (DepEd) has released the guidelines on the School Calendar and Activities for School Year 2022-2023 in accordance with its commitment to the resumption of 5 days of in-person classes. Starting November 2, 2022, all public and private schools shall have transitioned to 5 days of in-person classes. The implementing guidelines on the School Calendar and Activities for SY 2022-2023 applies to public and private elementary and secondary schools, including Community Learning Centers (CLCs) nationwide. Private schools, state/local universities, and colleges may implement the calendar, according to DepEd.
When asked, "What mode of learning delivery do you prefer at present, and why?" Junsay said, "For me, the time-tested face to face mode of learning delivery outweighs the face-to-screen or the online mode of learning. There are many aspects of "learning" that virtual learning cannot offer. As an educator, meeting students in flesh goes beyond the issue of mental health and socialization. The set of outcomes that each program has for the students were prepared to be achieved for face to face learning and that teaching and learning through online may be at this point time not a perfect mode."
Junsay also commented on the advantages and disadvantages of online learning. She said that, "There is no doubt that online learning has a number of advantages. The convenience it brings to both the teachers and students is undeniably enormous, not mentioning the thrill and satisfaction of the majority of our technologically savvy generation of millennial learners. But as an educator, our focus goes beyond convenience and thrill. Looking at it holistically, "education" is so complicated a thing to achieve. With the set of goals, mission, vision and outcomes that schools have in their trajectory, online learning might be at this point in time too raw to be used as a major mode of learning delivery. More so, that there is a dearth of teachers who master the craft of teaching through online. For none of us had undergone formal training to do online teaching and overcome its challenges." She added that, "A healthy mix of face to face and online learning or hyflex learning may be worthy to be explored."
Dr. Junsay graduated her Doctorate Degree in Science Education with specialization in Mathematics from West Visayas State University in 2015 and her Master's in Education Degree with specialization in Mathematics from the University of the Philippines in 2001. She graduated with a BS in Education Degree, Major in Mathematics from Central Philippine University in 1994.
She is a DOST-SEI Dissertation Scholarship Awardee, among many other scholastic awards she received. She has written and published research books modules and manuals. Junsay is a member of several professional organizations such as The Mathematics Teachers Association of the Philippines (MTAP-IC); Board of Directors, Professional Association of Teachers and Educators (PAFTE-IV) and The State Universities and Colleges Teacher Educators Association among her many other professional organizations.
Dr. Junsay has attended and lectured in seminars and conferences in several places nationwide and abroad. She has been involved in many Community and Outreach Services/Extensions.