By Cyrus A. Natividad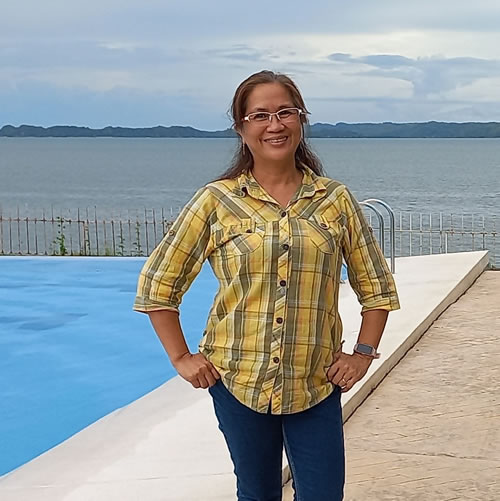 CPU College of Arts and Sciences (CAS) Dean Dr. Stella Guartero Fernandez.
CPU College of Arts and Sciences (CAS) Dean Dr. Stella Guartero Fernandez (CPU BS Bio '88) bares plans for alumni activities next year after no special events and fellowship happened with CAS this year like before. Apart from the General Alumni Homecoming at Rose Memorial Auditorium, she recalled, "The last gathering of Arts and Sciences alumni was what made our homecoming day special." Dr. Fernandez was able to gather her students for lunch at that time, and savoured the sweet moment of meeting and greeting one another. For next year, she said, "let us expect all the departments under the CAS to come and participate. Let us make it memorable, and make it here in the campus."
The year after in 2021, the Covid-19 Pandemic suspended all plans of activities for the Arts and Sciences and other colleges. She added that, "We missed the CAS convergence this year even as the Alumni Homecoming and General Assembly 2022 almost completely came back to normal."
Looking back is rather looking forward for Dean Fernandez who wants to return what wholesome activities were made previously. There are already 'bullet points on the board' – in the Search for Miss Arts and Sciences 2023, photography, painting competitions, and Literary Musical contest.
Fernandez, who took over the position as Dean of the College of Arts and Sciences from her predecessor Dr. Anita U. Ellenberger, is likewise creative with ideas that are interesting to the students and the college as a whole. She effectively became CAS Dean on July 1, 2018 up to the present. Before that, Fernandez was Assistant Dean from April to May 2018; she was Chairperson of the Life Science Department CPU-CAS from October 2010 to May 2018, and continues as Faculty in the Life Sciences Department, CPU CAS. She is a Life Member of the Biology Teachers Association (BIOTA) of the Phil. Inc. and the Malacology Society of the Philippines.
She has been President of BIOTA Western Visayas from 2017 to 2021, and the Philippine Society for Microbiology Visayas Chapter from 2020-2022, and Vice President from 2020-2021. She is Secretary of the United Federation of Filipino-American Educators of the Philippines from 2021 to 2023, and of Western Visayas from 2021-2022; A Member of the Philippine Association of Graduate Education, and Member of the Faculty Association from 1989-2010, she has been a Project Leader of the Bio-Diversity on Wheels (BOW), HARIBON Foundation. Fernandez is a member of the Board of Representatives for Education (Philippine Society for Microbiology (2018-2019), and many other academic and civic organizations.
The College of Arts and Sciences under Dean Fernandez is composed of six departments and chaired by qualified educators. These are the Department of Chemistry, Department of Languages, Mass Communications and Humanities, Department of Life Sciences, Department of Mathematics and Physics, and Social Work.
The College of Arts and Sciences began as a junior college in 1925.