By Cyrus A. Natividad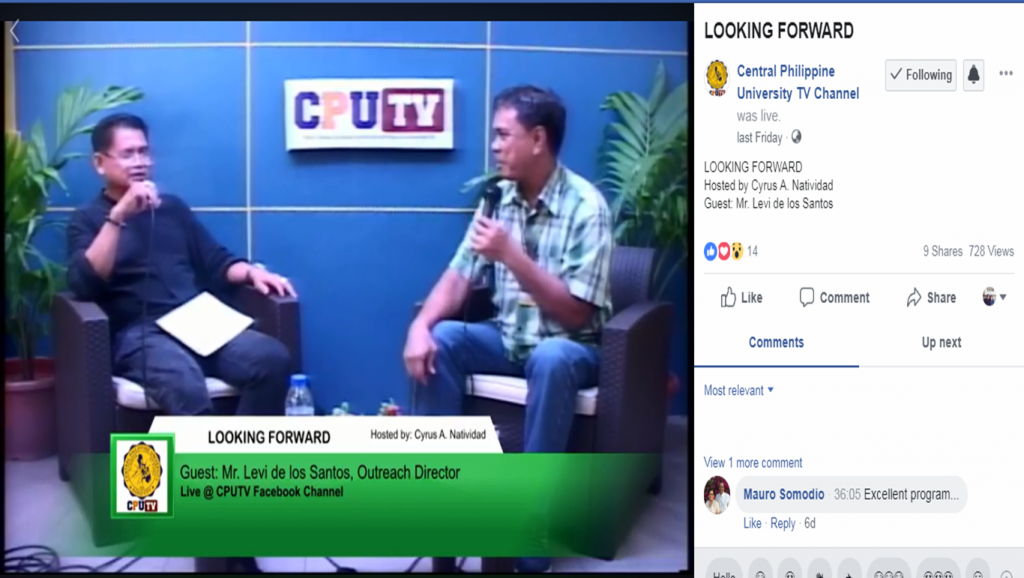 Sharing CPU's insights to the world – Mr. Levi O. De Los Santos talks about the plans and the programs of the Community Engagement and Service Learning Center. 
On August 24, 2018, Prof. Levi O. De Los Santos, Director, Community Engagement and Service Learning Center (CESLC) talked about the extension programs of Central Philippine University in a live interview in "Looking Forward," a CPUTV Channel program.
With the outreach program, students, faculty, and staff are guaranteed to benefit from the exposure they have in selected communities, particularly in Iloilo and nearby provinces.
The CESLC is the official arm of the University that carries out the third function (Extension or Outreach) of the University as a Higher Education Institution (HEI). The CESLC, according to De Los Santos, has the capability to undertake impact studies and trainings to enhance outreach services. The main objective is to make CPU valuable to the community as a provider of outreach programs that are anchored on Christian values and responsive to the needs of the community for economic development, people empowerment, and self-reliance.
De Los Santos emphasized that the CESLC's main task is "to coordinate the outreach activities of the different colleges or units of the University. The CESLC are responsible in preparing outreach projects, strategies, and policy formulation for the identified community. It is also engaged in training and assisting faculty and staff members in assessing the needs of the outreach community."
The CESLC also prepares the proposal to extend outreach programs, services, and activities and conducts impact evaluation on the serviced community. According to De Los Santos, CESLCt monitors and evaluates as well the implementation of outreach programs, as well as the documentation and dissemination of results.
He added, "Programs and activities should strengthen the capability of the faculty, staff and student to do outreach work." Cooperative relationship with other offices in the University and with the government and non-government organizations are expected of the Outreach Team which is organized by the CESLC.
Among the remarkable activities of the CESLC was the disaster extension support to victims of typhoon Yolanda, a foreign partnership on a housing project in a northern town in Iloilo, soy-feeding program to the indigent students in Ingore, Lapaz, and a Haribon International-sponsored project in cooperation with CPU Outreach for bio-diversity and the environment held in a school in Buenavista, Guimaras.