By Jaren Marr Jaco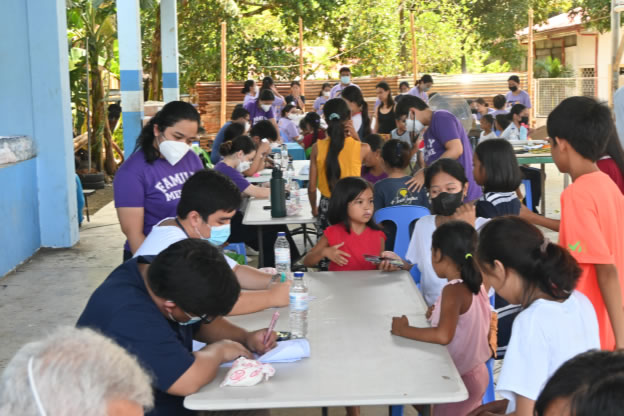 Brgy. Tabuc Suba residents line up for checking of vital signs, medical checkups, and medical prescription.
The CPU Community Engagement and Service-Learning Center in coordination with the Office for Institutional Advancement headed by its Director Engr. Dimpna "Amy" Castigador, conducted a Medical Mission at Uswag Gym in Brgy. Tabuc Suba, Jaro, Iloilo City on May 13, 2023.
The joint Medical Mission also involved the College of Medicine, with its Dean Dr. Henry Gonzales and outreach coordinator Dr. Jesus De Jesus; the College of Nursing with faculty members namely Nenalyn Abioda, Adnilre Armada, Ma. Lourdes Sampiano, Lorraine Orteg Jaroa, Harley dela Cruz, Rita Penaso, Gina Bautista, Amie Torres, Robeanna Diestro, and Liezl Bretana; the College of Pharmacy faculty members represented by Krista Palma and Jhana Siosan-Dizon.
Other church and medical organizations involved were: Full Gospel Global Community Church and Redeeming the Nation Church; St. Paul's Hospital Iloilo Family Medicine Doctors in the person of Dr. Joey Dela Cruz, Dr. Karlo Valencia, Dr. Dan Amiscua, Dr. Santia Bernasol, and Dr. Wilfredo Bonto; Post-Graduate Interns included Angelica Antenor, Jenny Cuevas, Kein Canoy, Michelle Demetillo, and Stephanie Lachica.
The program started with songs and prayers from the CPU nursing students. Brgy. Captain Joel Jabonillo, CESL Director Engr. Levi De Los Santos, Jr., FGGCC Committee Chairman Pastor Arman Pagayon, FGGCC Senior Pastor Jason Jacar, FGGCC Volunteers, Dr. Arlene Pondias, and the Colleges of Medicine, Nursing, and Pharmacy were recognized.
According to CESL Director De Los Santos, "This is one valuable medical mission among other forthcoming activities to be done by CESL with other departments of CPU for the communities."