By Nestle G. Taala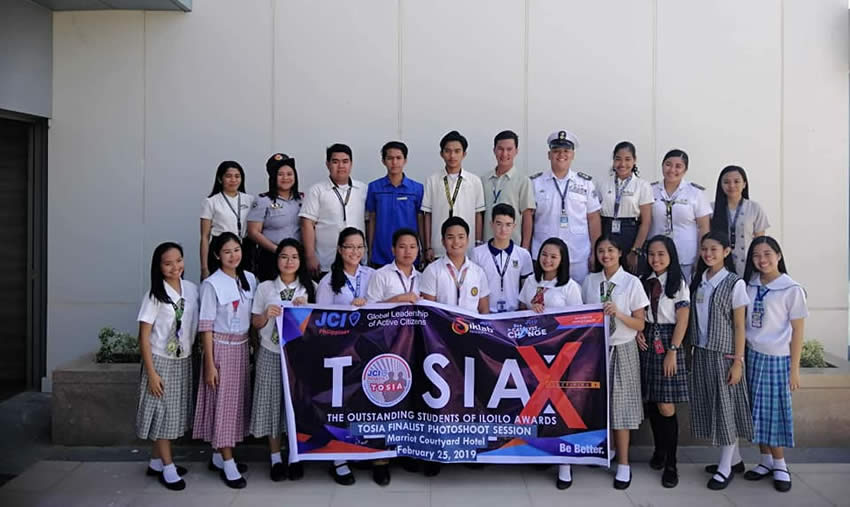 Recognizing student leaders and young innovators in Iloilo – TOSIA semi-finalists in their group picture. Photo Credit: Sandro Silverio
Centralians Peter John Abaygar, Chriselda Elaine Ador, and Vance Raphael Praire were hailed as finalists in the 10th Search for The Outstanding Students of Iloilo Awards (TOSIA) during the recently concluded awarding ceremony, Salute to Excellence, at Robinsons Place Iloilo, Iloilo City on March 17.
Peter John Abaygar, a 5th Year  Bachelor of Science in Civil Engineering and the incumbent governor of CPU College of Engineering, and Niegil Libo-on, from the College of Arts and Scienceswork student and a CPU Republic Senator made their way to TOSIA Circle of Five College Category. Meanwhile, Vance Raphael Praire, of the CPU Junior High School is part of the TOSIA Circle of Five Junior High School Category.
Abaygar, in his speech, shared that his inspiration to do and excel more were his parents who always supported him when it came to his extra-curricular activities. He also highlighted the importance of his college as he received the said award. Abaygar was also proclaimed as the TOSIA Speaker and TOSIA Leader.
Libo-on, on his part, stressed how proud he was to be a CPU work student. He emphasized that work students were more than just work students. He gave himself as an example of a work student who was also a "youth leader, a community builder and now, a TOSIA Circle of Five."
Praire, on the other hand, acknowledged how his journey to TOSIA went from being a Color Guard for last year's TOSIA Awarding Ceremony, and now, belonging to the TOSIA Circle of Five.
Junior Chamber Inc. Regatta on its 10th year Search for The Outstanding Students of Iloilo Awards recognized institutions that have TOSIA Finalists for five consecutive years in which CPU Junior High School received a citation.
The awardees are grateful for the support of the administration, their coaches and mentors, and most especially to God, who sufficiently gives heavenly wisdom and strength.