By Nestle G. Taala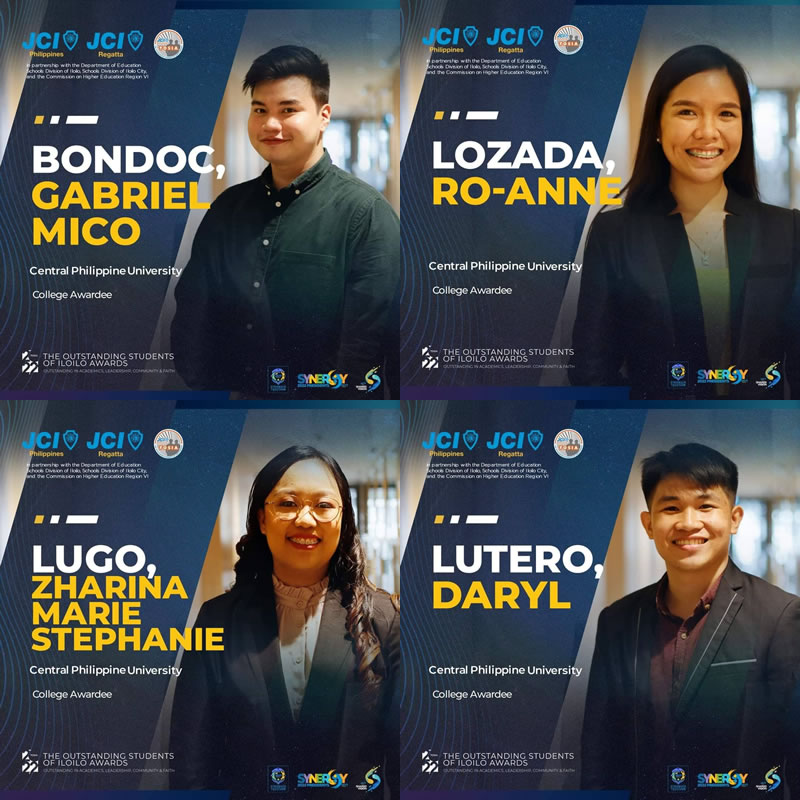 An embodiment of Exemplary Christian Education for Life (EXCEL) – Central Philippine University has once again generated students whose academic excellence, service to humanity, and faith in God go beyond the borders of this institution. Hence, they were hailed as finalists of The Outstanding Students of Iloilo Awards (TOSIA).
After a rigorous selection process, Centralians Gabriel Mico Bondoc, Ro-anne Lozada, Zharina Marie Stephanie Lugo, and Daryl Lutero were among the finalists of TOSIA, a flagship program of JCI Regatta. "These students have showcased their achievements and prowess in line with the Four (4) Pillars of TOSIA: Academic Excellence, Leadership, Community Involvement, and Faith," the committee wrote in a Facebook Post on June 8, 2022 as an announcement.
Mr. Bondoc is a 4th year student of Bachelor of Science in Accountancy, and the incumbent President of the CPU Republic (CPUR). He shared that, "As someone who almost got disqualified due to the technicalities of the application process, I cannot express how grateful I am to be a recipient of such a prestigious award. My TOSIA application journey is definitely a humbling one."
On the other hand, Ms. Lozada is a 4th year student taking up Bachelor of Science in Accountancy, and a former CPUR President for academic year 2020 – 2021. According to her, Qualifying again in TOSIA but this time at the college level is a gratifying privilege. But more than an award, TOSIA is a resemblance of our experiences as student servant leaders, may it be our struggles, failures, achievements, or successes. And qualifying for this award means that shouldn't end here. It is a cycle of dreaming, learning, growing and inspiring. After all, the essence of being an outstanding student isn't the glorious honor nor the title but one's capability to get involved, take up spaces, and be able to influence the lives of others."
Meanwhile, Ms. Lugo is a 4th year student taking up Bachelor of Political Science and Public Administration. She is currently the Literary Editor of the Central Echo, the official student publication of CPU, and its former Editor-in-Chief. "I'm thankful that the four (4) of us from CPU were able to surpass the rigid screening process of TOSIA 2022. I'm also thankful to all the people who supported us all the way," she expressed.
Mr. Lutero who is a CPUR Senator, and the Minister of Organizations and Fraternities is also a 4th Year student taking up Bachelor of Political Science and Public Administration. To him, "TOSIA allowed me to review the archives of my growth in college and after being acknowledged, I thanked God and my contributors. But I've realized that regardless of backgrounds or experiences, anyone can still grow, improve and maximize opportunities to also empower the less empowered. However, it is only possible if we choose to be criticized, learn, work, and collaborate for progress."
The awarding ceremony will take place on July 20, 2022 as scheduled by the TOSIA Committee.
While the university measures 24 hectares in area, Centralian excellence surely knows no limit nor measurement.