By Francis Neil G. Jalando-on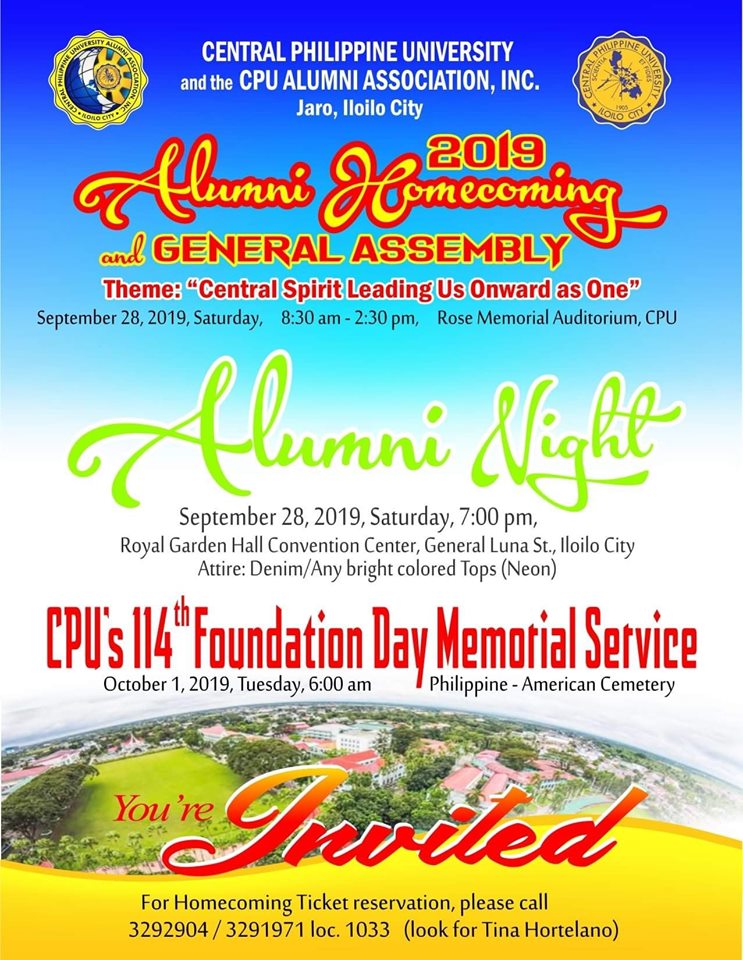 With the theme "Central Spirit Leading Us Onward as One," Centralians from all over the world are invited to attend the annual Alumni Homecoming and General Assembly on September 28, 2019 at the Rose Memorial Auditorium. The Registration fee is P400 with lunch while the Alumni Night costs P600.00. For those who have no Lifetime Alumni ID yet, there is a special promo that is good during the Alumni Homecoming only. The Registration Fee plus Alumni ID, which you could get after a few minutes, is just P600.
CPUAAI Alumni Liaison Officer, Tina Marie Hortelano, announced that the Central Philippine University Federation of Overseas Alumni Association (CPUFOAA) is sponsoring the registration fee (which includes the lunch) of 150 alumni. The criteria will be for alumni who will be attending the Alumni Homecoming for the first time.   All that is needed to do is to visit the CPU Alumni Affairs Office and sign up.
CPUAAI President, Engr. Isagani J. Jalbuena would also like to remind everyone that the deadline of the Nomination for the CPUAAI Board of Trustees, and Nomination for CPUAAI nominees for the CPU Corporation will be on September 6, 2019. If you have a nominee in mind, please email the Alumni Affairs Office at cpuaai@gmail.com for more information.
Furthermore, the following Alumni Chapters/Jubilarians are requested to register your Chapter/batch's participation to the 2019 U-DAY Parade on September 26, 2019. These batches will be honored during the 2019 Alumni Homecoming:
Batch 1959 – 60th Anniversary
Batch 1964 – 55th Anniversary
Batch 1969 – 50th Anniversary
Batch 1974 – 45th Anniversary
Batch 1979 – 40th Anniversary
Batch 1984 – 35th Anniversary
Batch 1989 – 30th Anniversary
Batch 1994 – 25th Anniversary
Batch 1999 – 20th Anniversary
Together, we move for a greater Central! See you!