By Keziah G. Huelar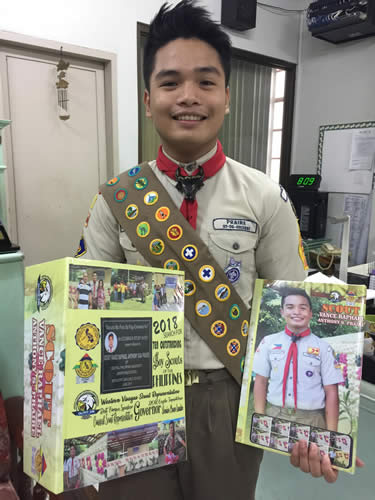 Eagle Scout, Vance Raphael Anthony S. Praire showing his bidbook.
Excellence in leadership and community service—Eagle Scout, Vance Raphael Anthony S. Praire, Grade 10-SSC, Newton and CPU Junior High School Governor, ranked number one in the 2018 Search for Outstanding Boy Scouts of the Philippines, Western Visayas held at the Boy Scout of the Phillipines (BSP) Headquarters on August 11, 2018.
Praire bested seven contenders: two from Aklan, two from Capiz, one from Guimaras, one from Iloilo and two from Negros Occidental. He, together with Eagle Scout Sean Patnubay from Aklan (Rank No. 2), will represent Region VI in the National Level on October 13-17, 2018. The screening process will take place in BSP Manila while the awarding will be held in the Philippine International Convention Center.
It can be recalled that Jethro Mark G. Jerez, currently, a Grade 12 student at the University Senior High School, bagged the same award for Central Philippine University when he was in Junior High School.
Criteria in the selection process includes: scholastic standing, academic and non-academic awards received, competitions participated in, school leadership activities, community leadership activities, church-based activities, scouting activities organized and joined, and personality and communication skills.