By Kianne Francine Duspar, ASVP Staff, College of Arts and Sciences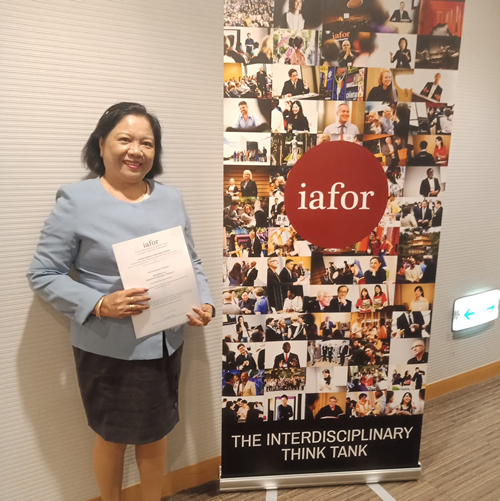 Dr. Maria Melsa Solidarios Arce is a teacher at Passi National High School.
As one of the most prestigious awards in the country, the Metrobank Foundation Outstanding Filipinos recognizes 10 Filipino exemplars who are the epitome of exemplary public service and serve as a great example to their communities. It is a career-service award; meaning, it looks into the entire professional career of the person—all their accomplishments and services rendered, whether big or small, done while in the line of duty and even beyond, from the moment they started working up to the present time.
Dr. Maria Melsa Solidarios Arce, a graduate of Bachelor of Science in chemistry, 1986, a proud Centralian who is currently a Secondary School Teacher in Passi National High School for 32 years since 1989 has been consistently a qualifier up to the second round for the 017, 2018 and 2019 Metro Bank Search for Outstanding Filipinos.
Her educational qualification which is Course Academic Requirements (C.A.R.) with specialization in Physical Science that she took at West Visayas State University opened doors for her into the teaching profession. With enthusiasm, she continued her Master's Degree Program which uplifted her to Teacher II and III positions in the Department of Education. She graduated Master of Arts in Teaching (M.A.T.) in Physical Sciences last March 1997. She took the qualifying test and interview in the Doctoral Program at her Alma Mater and immediately passed. She then enrolled in the Doctor of Education major in Curriculum, Instructions, and Evaluation on October of 1997.
While she was pursuing her Doctorate degree, she became a Resource person in several Seminar-Workshops such as in Innovative Teaching Strategies Across the Curriculum held in LNCA, Leon on February of 1999., Seminar-Workshop in Filipino held at WVSU Cultural Center on June 19 where she was designated as the facilitator. She had attended the International conference conducted by the World Council for Curriculum and Instruction and became a member of the organization from 1999 to 2005.
Dr. Arce is also a great author of review and instruction materials that her output in the doctoral program, a Chemistry Reviewer helped the Grade 9 student named Mariano Palmares and his Coaches bring home the Championship in the Regional Science Super Quiz Chemistry Contest for SY 1999-2000 while authored Chemistry Reviewer (Instructional Material) was recognized by Education Program Supervisor -Science, Division of Iloilo and credited for her Master Teacher I position.
Aside from being a second mother to her students, she always had a heart for leadership and service. She was designated the Adviser of the Integrated Science Club of Passi National High School S.Y. 1998-1999 and S.Y. 1999 -2000, President of the Science Club Adviser for District IV, Treasurer for the Science Club Advisers Association of the Division of Iloilo, and became a member of Science Club Advisers Association of the Philippines, Incorporation (SCAAP) from 1999 to 2005. She is an active member and attended various National Conferences held in ECOTECH, Lahug, Cebu City; Initao, Misamis, Oriental; Tacloban, Leyte; and Dauis, Bohol with travel approved on official time. She was designated Teacher Facilitator during the Division of Iloilo Science Camp held in Mina, Iloilo last 2001 . She received two (2) National Awards of recognition as Adviser of Integrated Science Club of the school. She was also designated as Resource Person for the assigned topics needed by her Colleagues in the Department /School during the In-Service Training. She was also designated as Coach / Trainer of Chess Tournament/ Science Investigatory Project and won from Division to Regional levels. She was designated as the 2015 Demonstration Teacher K-12 Grade 9 Curriculum during the training programs of the Department of Education.
Under RA 4670: The Magna Carta for Public School Teacher, she was granted one year of study leave with pay and had written the Programmed Instruction in Chemistry Workbook as Instructional Material used in her dissertation writing. Her dissertation proposal, need only one unit (10 Lessons) taken from the Chemistry Workbook. The content validity and reliability were taken quantitatively as fielded to different groups of learners and found effective.
In school year 2009-2010, the fielded, validated, and reliability tested material was given to all Chemistry teachers in the Division of Passi City, and Pre-Post Tests results improved students' performance. In 2013, the requirements implemented by the Civil Service Commission in the Performance Evaluation for Master Teacher was met by her through attendance as International Participant / Alumni /Author / Paper Presenter / Coordinator / Facilitator /Parallel Session Chair /Scholar / Senior Peer Reviewer Certificate from her country and abroad, specifically, SEAMEO RECSAM, Malaysia; SEAMEO BIOTROP/SEAQIS, Indonesia sponsored by ATSE, Australia; SEAMEO RETRAC, HCMC, Vietnam; SEAMOLEC, Thailand; National Library Board of Singapore and IAFOR, Japan. She even bought two books needed by her in classroom instruction and management with BEST American Authors conducted by VIBAL Company. Protocol to Travel from local and abroad approved for official time.
In 2013, She attended the International Conference held in Tacloban, Leyte. The Speakers from SEAMEO RECSAM, Malaysia gave their site and she tried to submit her Brief Paper Proposal taken from her Dissertation. She wishes for the dissemination and theory of diffusion on the Programmed Instructional Material for use rather than just to gather dust on the shelves. Thus, she received an acceptance letter and an invitation for Paper Presentation at 5th International Conference in SEAMEO RECSAM, Penang, Malaysia, She processed the Protocol to Travel Abroad and was approved by the Regional Director for official time. She arrived at the International Conference where the researchers welcomed her presence and taught her how to prepare PowerPoint Presentation. She received her two awards (Paper Presenter and Parallel Session Chair) and brought honor as she went home with the most awards received during the Conference.
Through Facebook and with her experiences in SEAMEO RECSAM, Malaysia she tried to submit a brief paper taken from her Master's Thesis to the 2014 2nd International Conference by ASMAC Philippines in partnership with SEAMEO RECSAM, Malaysia / Department of Education-Philippines. The research proposal passed the research committee and through invitation and acceptance letter, she attended the conference as Participant, Paper Presenter, Parallel Session Chair. She was elected Division of Passi City Chairman from October 14, 2014 to the present. She was also elected Auditor of the International Association of Math and Science Educators (IAMSED). She became active to the programs and activities of ASMAC Philippines and became the 2015 international conference Facilitator / Regional Winners (National Finalists) of the Most Outstanding Coaches of the Philippines during the 2016 International Conference on Sustainable Development. Furthermore, her authored research paper was accepted for presentation during the 3rd international Conference for Sustainable Development held in SEAMEO RECSAM Head Quarters at SEAMEO RECSAM, Penang, Malaysia. She was also awarded as Coordinator of the international conference in 2016.
In 2014 and 2015, for two consecutive years, she attended the International Conferences held in SEAMEO RETRAC, HCMC, Vietnam where she gained friends and was taught to open the site on international conferences. In 2015, she found out about a Scholarship Training on STEM Curriculum conducted by SEAMEO QITEP based in Bandung, Indonesia. She submitted her documents and luckily she was chosen and became an Alumna. The Directors of SEAMEO BIOTROP / SEAMEO QITEP in Science / and Manager of the ORICA Equipment from Australia was amazed by her skills and decided to send kits of ORICA EQUIPMENT / Books for Teacher and Student to use.
With the adopted IBSE Curriculum from SEAMEO SEAQIS, she enhanced her lessons by integrating the IBSE Curriculum in her Grade 9 daily lesson plan and compiled it as LESSON EXEMPLAR and had written a basic research. The research paper proposal was then accepted and presented at the International Academic Forum ( IAFOR), Tokyo, Japan during the Asian Conference on Asian Studies (ACAS) on May 2019. Her mentors from SEAMEO QITEP in Science / SEAMEO BIOTROP / Managers and Lecturers from Australian Technological Science and Engineering (ATSE), Australia became the cited Authors and can be found in the 2018 Research References Scopus Publication Tokyo, Japan. Her research studies proved her authored Program Instruction Technique or Instructional Material effective for instructions.
Dr. Arce's qualification and experiences in the field of Science Teaching brought honor to her agency- the Department of Education – the Philippines as she was recently recognized and given a Certificate of Senior Reviewer after she had met to work with more than 15 abstracts to Peer Review under time. She was requested to Peer Review 30 Abstracts for the 2019 International Conference conducted by IAFOR, Nagoya, Japan. She received another Peer Reviewer Certificate during the May 24-26, 2019 ACAS Conference. Another Peer Reviewer Certificate crafted after the 50 abstracts reviewed online Website: www.iafor.org.
She represented DepEd- Philippines to the NEQMAP-WORKSHOP UNESCO, held in Bandung, Indonesia last June 2019.
She is the AWARDEE _ WINNER of International Education Summit Award (IESA) 2020 as Outstanding Master Teacher from Department of Education–the Philippines on February 22, 2020 at Devalux Resort, Bangkok. She is also an IESA Winner 22 December 2020 via Zoom as Distinguished Science Teacher of the Year Award, and World Education Summit and Award, WELSA WINNER 2021 March 7 via Zoom, India as Exemplary Leadership for Teacher Innovation in the Teaching selected by Jurors from International Centre of Excellence in Education, India.
All these achievements and what's beyond show that Dr. Maria Melsa Solidarios Arce, a hardworking and will-driven woman deserved to be nominated and recognized as one of the Outstanding Filipinos up to this day. Her hard work and dedication towards her profession and passion lead her to greater heights of excellence yet not forgetting to share in whatever platform and means possible. Dr. Maria Melsa Solidarios Arce is an example of a great and amazing woman, a person of passion who through the years still rekindles, embodies and radiates, the true Centralian spirit.