By Cyrus A. Natividad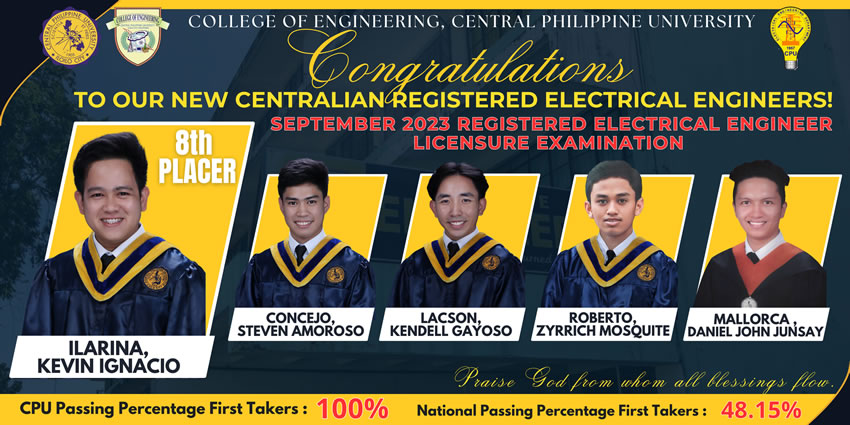 Central Philippine University College of Engineering is proud for its graduate Kevin Ignacio Ilarina (EE Batch 2023) who ranked number 8 among 1, 218 overall passers in the Registered Electrical Engineers Licensure Examination given on September 23, 2023 by the Board of Electrical Engineering.
The national exams were held in NCR, Baguio, Butuan, Cagayan de Oro, Cebu, Davao, Iloilo, Koronadal, Legazpi, Lucena, Oriental Mindoro, Pagadian, Palawan, Pampanga, Rosales, Tacloban, Tuguegarao and Zamboanga. Ilarina was with 4 other CPU board passers who took the exam in Cebu City. The five successful Centralian examinees are 100% 1st takers in the Licensure Exam. They are the following:
Ilarina, Kevin Ignacio
Concejo, Steven Amoroso
Lacson, Kendell Gayoso
Roberto, Zyrrich Mosquite
Mallorca, Daniel John Junsay
Ilarina is a native of Brg. Andagao, Kalibo, Aklan. His parents Electrical Engr.Felinil and Evelyn Ilarina, are proud of their son who has fortunately studied in CPU and did his best to be a topnotch in the licensure exam. Engr. Kevin Ilarina is also grateful to his Professors in the CPU College of Engineering who have helped him a lot during his period of preparation for the Exam.
His advice to others who will take the next exam is, "Be strong and sustain being healthy until the examination day. Look forward and avoid destructions."
The Oath-taking ceremony for the new Electrical Engineers, according to Engr. Ilarina will be on October 7, 2023 at the PICC in Manila.