By Cyrus A. Natividad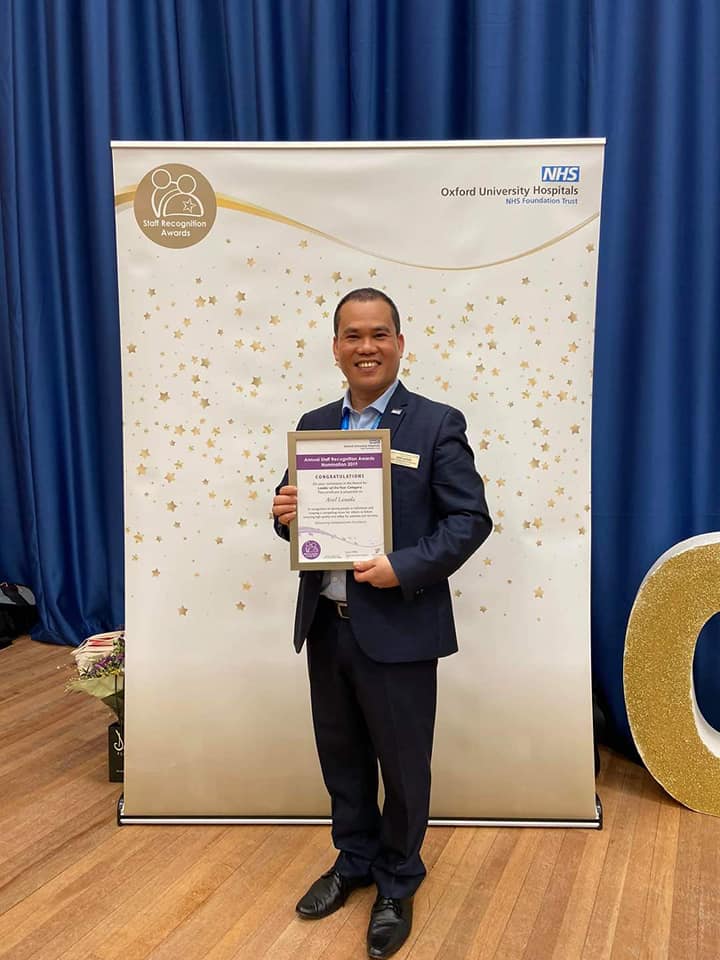 Lañada during the Staff Recognition Awards.
In 1993, Jose Ariel E. Lañada graduated from Central Philippine University to pursue his dreams of becoming a nurse. He is a dedicated and hard-working Divisional Educational Lead for the Neurosciences, Orthopaedics, Trauma, Specialist Surgery, Children's and Neonates Division at John Radcliffe NHS Hospital in Oxford City, UK.
Lañada was appointed Chairman of the Filipino Community of Oxfordshire in 2004. He has been instrumental in promoting camaraderie and unity among the community.
His acts of charity and leadership were shown when he led the distribution of food packs to the villages of Oxfordshire during the Covid-19 lockdown in Oxfordshire. He was recently interviewed by the British Broadcasting Company in the UK.
Born on March 1, 1972 in Dueñas Iloilo, Ariel as he is fondly called by his family and friends is a dreamer and achiever. "I believe that education is better than gold", Lañada said.
He finished his secondary education as Valedictorian and proceeded to enroll in Nursing at Central Philippine University as a government scholar.
He joined the nursing staff of the Intensive and Coronary Care Unit of Iloilo Mission Hospital in Iloilo City, Philippines after passing the National Licensure exam in 1994. He became a nurse supervisor and staff development coordinator in 1998.
Lañada was granted a study placement at the Philippine Center for Diabetes Education Foundation, Inc. at the Makati Medical Center in 1997 and became the Head of the Diabetes Education Clinic of Iloilo Mission Hospital. He proved his mettle in 2002 when he was appointed Officer–in–Charge of the Nursing Service Office of the IMH. During that time Lañada took up units in Master of Arts in Nursing at CPU.
He took up Adult Intensive Care Practice at Oxford Brookes in 2005 and honed his experience in clinical procedures and scope of nursing in the United Kingdom.
Joje Ariel E. Lañada is just one of our successful nurses abroad that Central Philippine University is truly proud of.